RESTAURANT STARTUP GUIDE
Menus, Marketing, & Management tips to grow your restaurant business.
Kids Menu Ideas
Creating effective kids menus for your restaurant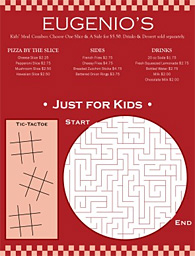 A restaurant that values its pint-sized diners and serves them well will be a favorite with loyal parents. Even if you include kids meal options on your regular menu, it's a good idea to have a separate kids menu to keep kids busy while they wait. Great kids menus follow a simple recipe: engaging activities, effective design, and delicious dinners!
Fun Activities Keep Kids Engaged
The goal of a kids menu is to keep little diners entertained and give parents a chance to relax and enjoy the restaurant atmosphere. A good children's menu includes fun activities: games, puzzles, mazes, riddles, word-search, or a drawing prompt. A seasonal or holiday design is an easy way to mark a special day or offer some variety for frequent diners. Having designed dozens of child menus for all occasions and all types of restaurants, we know that it's hard work! Start with a kids menu template from MustHaveMenus and you can easily customize for your restaurant.
Follow Kids Design Standards
A truly effective kids menus will get all the details right. The word puzzles or activities should be accessible and appropriate for children ages 6-10. There should be a coloring or maze activity for pre-readers (5 and under). Designs should be gender neutral; robots, animals, or adventure scenes will please both boys and girls. If you include meal options on the kids menu, always use a non-script, sans-serif font that is easily legible for young readers (for the record, "silly" fonts or fonts that mimic kids handwriting are not the best choice here). And of course, coloring menus should be printed on crayon-friendly paper. Learn more about printed kids menus at MustHaveMenus.
Serve up Fresh Flavors
From major chains to local independents, the approach to kids menus is changing. While the old standards - quesadilla, grilled cheese, chicken strips - are still popular, the national trend toward healthier dining options especially applies to kids menus. Whole wheat bread and pasta are easy substitutes for their nutrient-free cousins. Milk and juice are replacing soda as a standard drink option. And restaurants are finding that kids are perfectly willing to eat vegetables, especially as a flatbread pizza topping or baked into pasta.
As you create your kids menu entrees, the simplest approach is to consider which of your regular adult entrees could be simplified or served up in miniature. Some of the trends we're seeing on menus this year: grilled chicken skewers with dipping sauce; sweet potato fries; sides dishes of steamed veggies or fresh fruit; and mini desserts.
Opt for Kids Meal Combos with Options
Parents appreciate straightforward pricing, but customizable meals. Children's menu selections are typically priced as a combo - entree, side or dessert, and a drink. This pricing strategy removes the burden from parents to patch together an appropriate portion size with a la carte options, and eliminates some decision-making stress. But parents do expect the freedom to customize their child's meal by selecting a beverage, side, or dessert. Your selections should also account for food allergies; list all ingredients and allow substitutions (e.g. corn tortillas instead of flour).
Disposable Menus
Kid's menus are usually produced on disposable stock, which is fully recyclable. The benefits to this paper choice is not just that children are able to draw on the paper, but it also provides an additional level of cleanliness and safety, since menus are single-use.



Print with Us!
High-quality printing for menus, flyers, business cards, and all the essentials you need to run a successful restaurant.
Ships next business day!
Get a Print Quote