Single-Use, Disposable Menus
A Safer Option: Single-Use, Disposable Menus
Many state governments are mandating that restaurants turn to disposable menus to help protect dining rooms against the spread of coronavirus. Disposable single-use menus are the safest option for restaurants because they can be bought in bulk and recycled after each use, ensuring there's no point of contact between customers.
The use of disposable paper menus is strongly encouraged.
– Georgia Restaurant Reopening Guidelines
If you use paper menus, discard them after each customer use.
– National Restaurant Association
Create a Disposable Menu Now
Your Reopening Solution
Choose from thousands of designs to quickly create and update your disposable menus so you can reopen your doors. Disposable doesn't mean poor print quality. The print process produces a great full-color, high resolution look that will keep your brand looking as sharp as ever. Disposable menus are a lightweight paper as a cost-saving measure. And we highly recommend that you recycle as much of the paper as possible (whenever there's no food mess).
Along with single-use menus, we have the world's largest selection of restaurant marketing templates to communicate reopening schedules and policies with your customers. This includes FREE social media templates that take seconds to edit and share.
The disposable menus look beautiful! We're always pleased with your work.
– Monica Elliott, Manager at Sidelines Sports Grille, Elyria, OH
Adapt Your Dine-In Menu
A disposable menu may differ somewhat from your typical dine-in menu presentation, as it's limited to a single sheet. Many restaurants are trimming costs by temporarily offering a limited menu. If you have an extensive menu, try a larger paper size than usual, such as tabloid size (11″ x 17″), printed double-sided. Also consider moving your drinks, kids meals, desserts, and other upsell items to a table tent (the plastic holders can be sanitized after each table service), a disposable insert, or a touch-free display menu.
Need help making everything fit? Our Customer Service Team will help you adapt your current menu to a single-use design, free of charge. Just hop in a chat, and we'll get started!
Product Benefits
Available for any menu design -- thousands of templates available, or design your own!
Single or double-sided
3 paper sizes -- letter, legal, tabloid
Full-color printing, no white edges
Professional quality & next-day shipping
Bulk print discount
Recyclable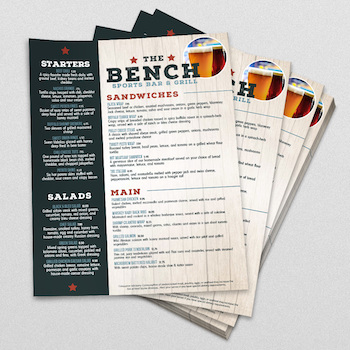 How Many Do I Need?
Disposable menus are offered at higher quantities than typical cardstock menus, so you can keep plenty on hand. Consult the table below to estimate the minimum monthly quantity you will need.
| Customers served per day | Menus per month (service 6 days/week) |
| --- | --- |
| 30 | 750 |
| 60 | 1,500 |
| 100 | 2,500 |
| 150 | 4,000 |
| 200 | 5,000 |
| 300 | 7,500 |
Restaurant Printing Experts
For over ten years, MustHaveMenus has helped restaurants meet their design, marketing and printing needs. Over the years we have gathered real-world feedback and tailored our print products - papers, sizes, finishes, quantities, folds and more - to the special needs of the food service environment.
We also ship next-business day to match our customers' tight schedules. If you're not happy, neither are we. We'll work with you to ensure that you're thrilled with your order. Our experienced customer service team is available to offer help at any stage of your project.
Get a Quote
| Quantity | Single-sided | Double-sided |
| --- | --- | --- |
| 1000 | $185.95 | $304.95 |
| 2000 | $237.95 | $397.95 |
| 3000 | $288.95 | $456.95 |
| 4000 | $334.95 | $515.95 |
| 5000 | $380.95 | $570.95 |
| 6000 | $425.95 | $625.95 |
| 7000 | $469.95 | $679.95 |
| 8000 | $512.95 | $732.95 |
| 9000 | $554.95 | $784.95 |
| 10,000 | $595.95 | $836.95 |
| Quantity | Single-sided | Double-sided |
| --- | --- | --- |
| 1000 | $248.95 | $396.95 |
| 2000 | $354.95 | $540.95 |
| 3000 | $431.95 | $659.95 |
| 4000 | $432.95 | $682.95 |
| 5000 | $497.95 | $736.95 |
| 6000 | $547.95 | $790.95 |
| 7000 | $628.95 | $843.95 |
| 8000 | $709.95 | $895.95 |
| 9000 | $788.95 | $946.95 |
| 10,000 | $866.95 | $996.95 |
| Quantity | Single-sided | Double-sided |
| --- | --- | --- |
| 1000 | $245.95 | $384.95 |
| 2000 | $354.95 | $544.95 |
| 3000 | $426.95 | $670.95 |
| 4000 | $477.95 | $726.95 |
| 5000 | $580.95 | $780.95 |
| 6000 | $685.95 | $914.95 |
| 7000 | $790.95 | $1,059.95 |
| 8000 | $894.95 | $1,195.95 |
| 9000 | $995.95 | $1,327.95 |
| 10,000 | $1,096.95 | $1,474.95 |