Coronavirus Response Kit for Restaurants
Winter Edition: Thriving in the Cold Months
Bringing you the best practices and essential products for restaurant success during the winter months, plus ways to maximize the holidays.
Broadcast Key Messages with Flyers and Signs
Between your takeout & delivery options, new policies for sanitation and purchases, and any promotions or merchandise offerings, you've got a lot of information to convey to customers. Signs and flyers can be effective both in-store and beyond.
Post your open hours & takeout options in a prominent place, like the door or front window. Your phone number, website, and any delivery partners are key info for generating business.
Display a flyer with health & sanitation information. Customers will be reassured to read about the extra precautions you are taking to protect everyone's safety.
TIP: Takeout bags aren't just for food! Insert a flyer with current promos, your safety policies, or reheat instructions.
Post reminders by the register about safe distancing during pickup (i.e. 1 customer at the counter at a time, please or please keep 6 feet apart) and any purchase requests, such as cashless or touchless mobilepay.
Affix curbside pick-up signs and pickup instructions (i.e. Stay in your car & give us a call!) to be visible from your parking lot.
Insert health and safety information in takeout bags. A letter-size flyer or smaller insert size can be cost-effective to print and include with each order.
Share your signage on your social media and website as well. It's a good rule of thumb to limit text on a social post to 100 words, but you can always include more details in a caption.
If your business is temporarily closed, post a large sign on the door that can be seen from the street. Temporarily closed and We look forward to serving you soon are positive messages to maintain community connection.
Gift Cards Sales to Bolster Cashflow
Restaurants are a vital part of the community. Customers want to help their favorite ones stay open and survive these tough times. Offering gift certificates provides them a way to support your business, even when they can't dine with you or spend money in-store. Your restaurant receives the cash today, and the customer gets to look forward to visiting you down the road.
As an extra bonus, gift certificates allow your customers to spread the love by gifting your food to loved ones and close friends. This opportunity fosters communal support and a gift-giving spirit -- steps we've all been looking to take as we rally together and face this unprecedented challenge.
Your suggestions, tips and materials for this crisis are amazing! Thanks for all your hard behind-the-scenes work!
— Julilyn of Surfside Rooster, Maryland
Creating a gift certificate
Unusual times call for different marketing and design strategies. Don't be afraid to customize your gift certificates to speak to the current climate and your needs.
Include messages of loyalty of solidarity.
Thank your customers directly on the gift certificate.
Add promotions for your takeout and delivery so customers know how they can still access your food.
Couple free appetizers and other promos with your gift certificate sales for extra incentive.
See all gift certificate templates
TIP: Don't be afraid to remind customers that buying a gift certificate means a lot to your business.
Promoting your gift certificates
For most restaurants, generating immediate cash during these down times is worth losing some on the backend when they reopen. You can offer $5 bonus for every $20 they spend today on gift certificates, or thrown in an extra $25 if they spend more than $100.
Other messaging ideas:
Pay Now, Eat Later
Support us today with a Gift Card for tomorrow.
Give yourself something to look forward to while giving us a chance.
Restaurant bond - increased value in a given time frame (buy for $25 today, redeem for $35 in July, $45 in August)
Leverage your Customer Outreach Channels
Without foot traffic, you may be wondering how to reach new customers. There are many channels to explore in the coming weeks to drum up your takeout business.
Target your email list. If you have a loyalty program and a log of customers' emails, send an email showcasing your current offering and perhaps rewarding loyal patrons with a special promotion. Don't overwhelm the list, but a weekly email will keep you fresh in diners' minds.
Use social media, even if you never have before, so that anyone who lands on your page will immediately be able to see your offerings, hours, and delivery options. A facebook page is easy to set up, free to maintain, and will help consumers find you via Google searches.
Post signs at your location. Put a large flyer in your window or parking lot to let drive-by traffic see that you're open for takeout. Window paint is another quick, cheap option.
Neighborhood promotion is old-fashioned but it works, especially with everyone stuck at home right now. Print a few hundred flyers or takeout menus and drop them on car windshields or under doormats in local neighborhoods.
TIP: Check if your city has a Facebook group for restaurants that are still open, to add your menu and promos.
8 Great Promo Ideas
Unique times call for unique offerings. Here are some ideas for limited-time promotions to grab diners' attention on your social media feeds & keep cash flowing:
Offer meal-kits (i.e. make your own tacos, pizza dough + toppings).
Offer family-style dinners (i.e. fried chicken dinner for 4) with larger quantities than usual.
Throw in free or discounted upsell items -- appetizers, desserts -- with every order.
Discount after a certain purchase minimum (i.e. 10% off every dollar over $60)
Discount for multi-meal or multi-day orders. For example, 15% off pickups order for tomorrow.
Reward frequent diners with a simple loyalty program (i.e. your 10th pizza is free).
Appeal to families by offering free kids meals on a certain day, or kids eat free with any entrées promos.
Offer discounts on certain days (i.e. 10% for Takeout Tuesday) or certain demographics (i.e. 15% discount for healthcare workers, seniors, teachers)
Creative Showcase
MustHaveMenus' restaurants are creative and dynamic, adapting swiftly to the special circumstances. See what your fellow restaurateurs are posting on their social media to maintain sales and build customer engagement.
You guys saved us.
— Mike of Ama's Mexican Restaurant, Texas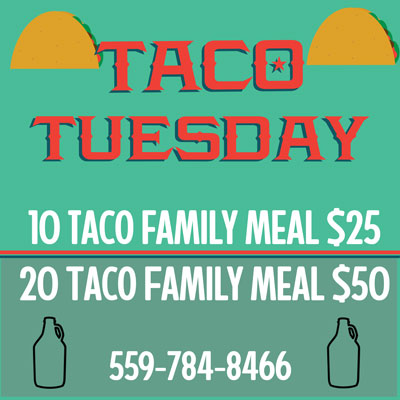 Don Vino's Italian Bar and Grill, California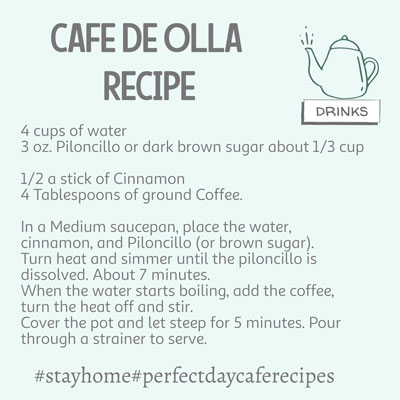 Perfect Day Cafe, Texas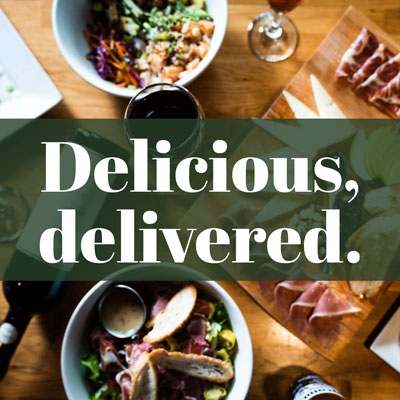 Craft Manayunk, Pennsylvania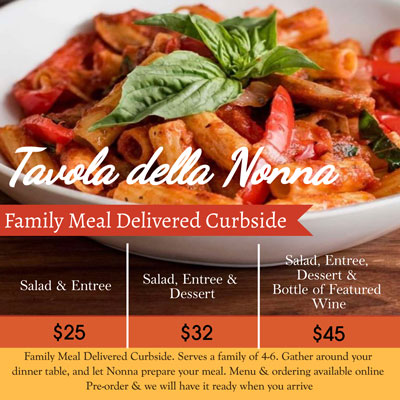 Michaelangelo, Arizona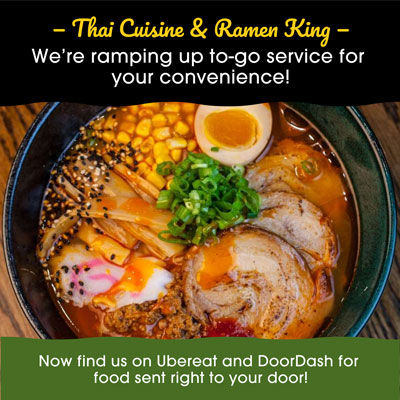 Thai Cuisine & Ramen King, Texas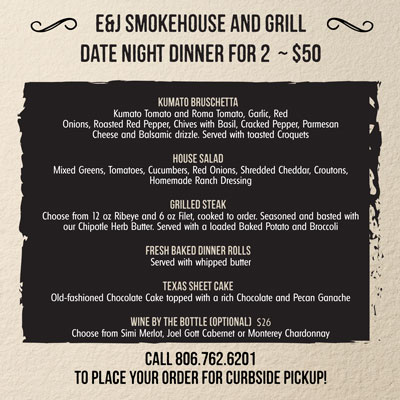 E&J Smokehouse and Grill, Texas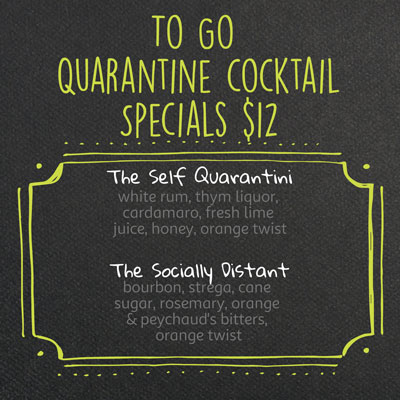 Verde Pizza, Maryland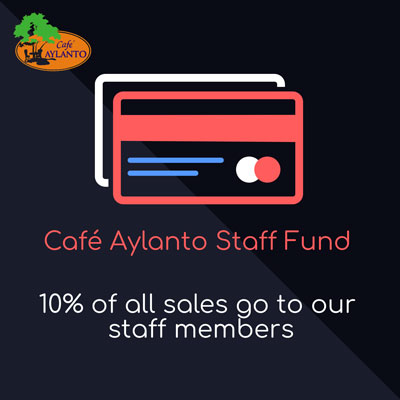 Cafe Aylanto, Pakistan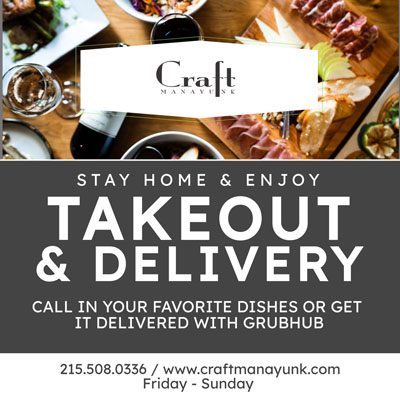 Craft Manayunk, Pennsylvania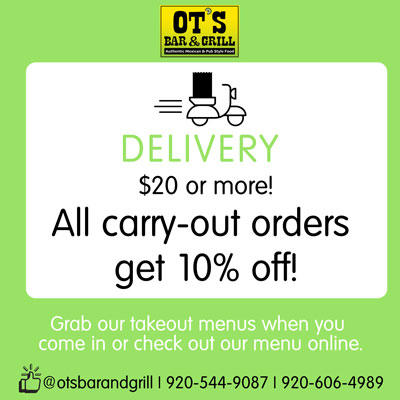 OT's Bar & Grill, Wisconsin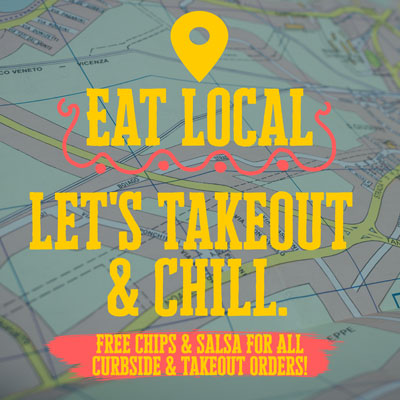 La Calle, California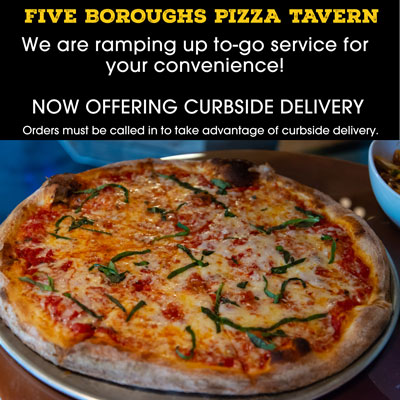 5 Boroughs Pizza Tavern, Georgia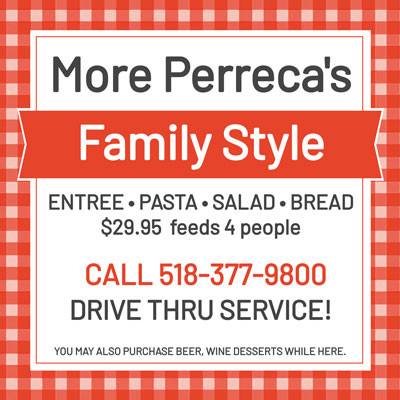 More Perecca's Bakery, New York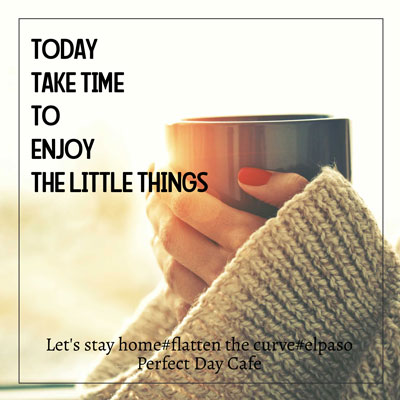 Perfect Day Cafe, Texas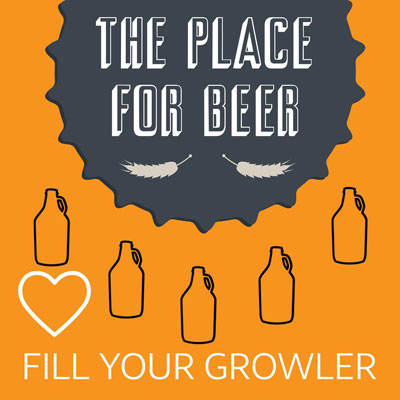 Don Vino's Italian Bar and Grill, California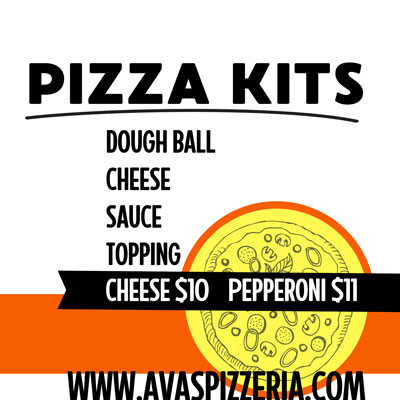 Ava's Pizzeria, Maryland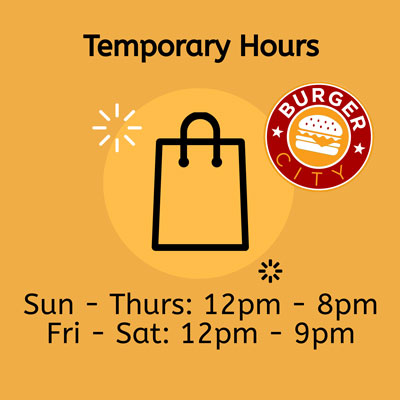 Burger City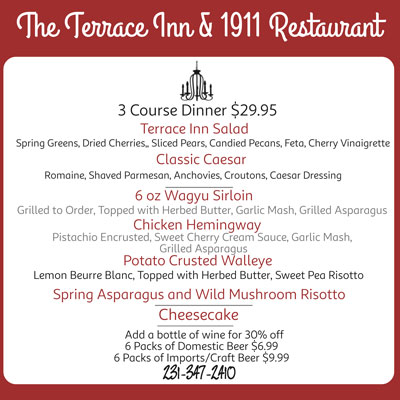 The Terrace Inn, Michigan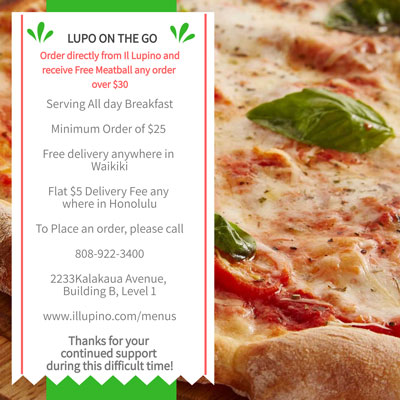 Il Lupino, Hawaii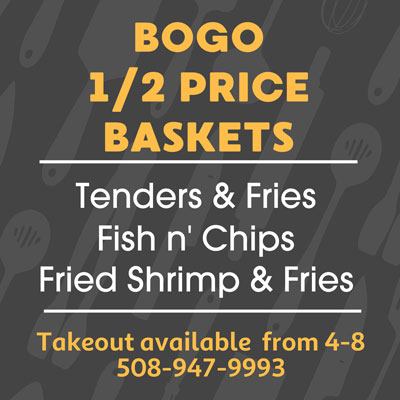 The Back Nine Club, Massachusetts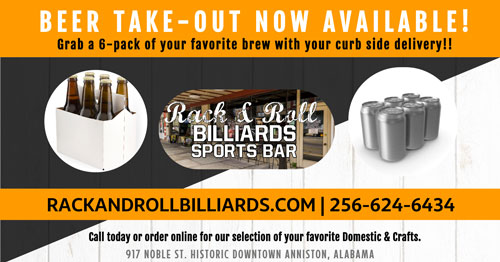 Rack & Roll Billiards and Sports Bar, Alabama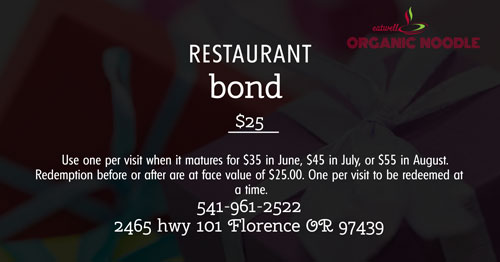 Eatwell Organic Noodle, Oregon
Restaurants Adapting Fast to Uncertain Times
Restaurant Q&A with NW Raw
While every business sector is feeling the effects of the coronavirus outbreak, restaurants are being hit particularly hard. Employees can't work from home and customers are heeding calls to limit their social activities. Ton instill confidence in their customers and employees during this time of uncertainty, some restaurants are taking quick steps to adapt.
To get a first-hand idea of how restaurants are responding to the Coronavirus, we spoke with Braden Cluff, Manager of NW Raw, an organic eatery with a large casual dining room in Ashland, OR.
Q: How has NW Raw been affected so far?
We didn't really see any effect until last week (the week of the President's first national address on the epidemic) when business notably slowed down. There was a marked decrease in customers coming through our doors. We anticipate this trend will continue into the immediate future, but it's hard to know the full impact. So we're taking things day by day, hour by hour, even.
Q: How are you fighting the slowdown in traffic?
We're working hard to add a delivery service like DoorDash or UberEats. We haven't needed it up to this point because we have a lot of tourists and foot traffic. But now people really want a way to get our healthy, organic food at home. We are also strategizing ways to offer curb-side pick-up.
Over the past week, we've also expanded our selection of grab-and-go items. Our salads and juices have always been popular carryout items, but now we're seeing that people really don't want to linger inside the restaurant and risk further exposure.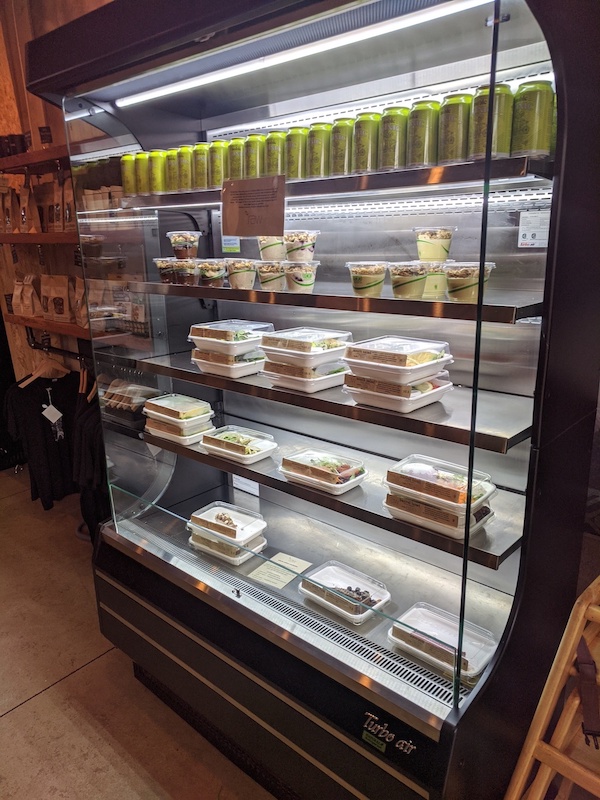 Grab'n'go
Q: Are you making any menu changes?
Absolutely. We're focusing on how we can maximize our takeout business in a very short period of time. All of this requires us to review our menu and come up with the right subset of items that can be carried out or delivered. Our main menu includes warm, cold, and room temperature items, so it's not realistic to offer everything for takeout.
Q: What steps are you taking to ramp up health and safety measures at your restaurant?
We've made it a main focus to ramp up our sanitation practices. For starters, we managed to get our hands on an automatic hand sanitizer that we keep up front at the register. We've also begun wiping down our touch screen at the cash register in between each customer. On top of that, my employees and I spend any downtime walking around the restaurant, cleaning commonly-touched surfaces like handles, tables and chairs. Finally, we're experimenting with new checkout technology that would allow customers to pay from their own devices and avoid having to touch any of our equipment.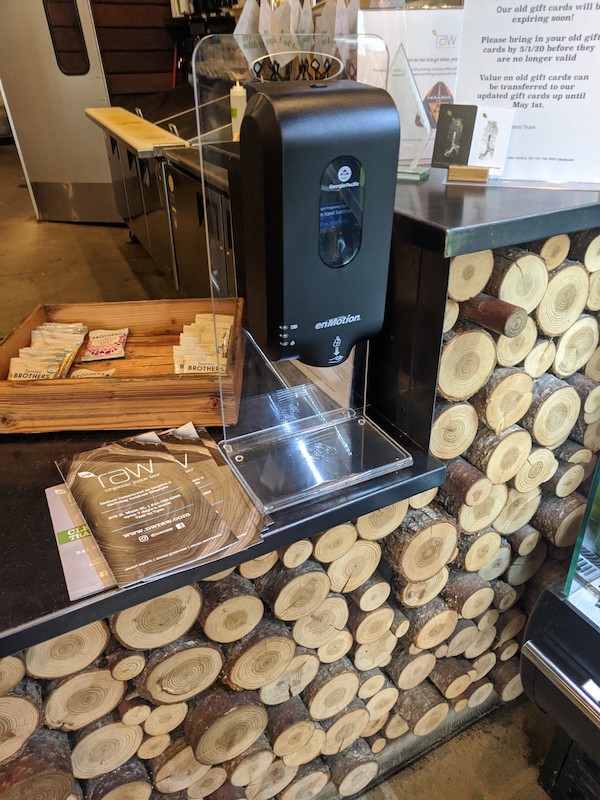 Keeping hands clean at register
Q: How do you communicate new plans to your organization?
That starts with open communication between the owner, myself and our 35 employees. We keep a bulletin board where we post updates on schedules and sanitation practices for employees to read the second they arrive to work. We're insisting that our staff stay home if they have any signs of illness. As for staffing, we're still hiring for summer employees but that could change any day as well.
Q: How are you communicating changes with customers?
With a situation so fluid and uncertain, it's critical that we communicate with our customers in a clear and timely manner. We stay engaged on Instagram and Facebook with news and updates, plus we keep a sign near the register to let in-store customers know what's going on.