We'll get through this together.
Coronavirus Response Kit for Restaurants
Ideas, tools and templates to help you take immediate action for the health of your restaurant, staff, and community.
Last Updated on March 25th, 2020, 2:30PM PST
Table of Contents
Takeout and Delivery

Limit the menu items

Offer grab-n-go

Offer curbside pickup

Add delivery partners

Put promos in bag

Put safety notes in bag

Promote cashless pay

Try meal kits

Communication

Be active on social

Use flyers in-house

Post about takeout

Post about delivery

Post about hours

Post encouragement

Post cleaning policies

Same for website!

Bonus Ideas

Promote gift certificates

Use loyalty cards

Sell merchandise
7 Ways to Maximize Your Takeout Service back to top
Starting or expanding a takeout service has become critical for restaurants as state and local governments encourage people to stay home and avoid large social gatherings. In most states, it's been decreed that takeout and delivery are the ONLY options allowed for restaurants and bars at this time.
We anticipate further measures will be enacted in the weeks to come. Through all this uncertainty, MustHaveMenus will continue to find the best solutions for your business. Below you'll find a list of seven ways to maximize your takeout service.
#1. Create a takeout-specific menu
This may seem obvious, but you'll need a takeout-specific menu because takeout differs in many ways from dine-in service.
First, not all of your food and drink items will be practical for takeout. Everything needs to travel well and maintain the right temperature, consistency and presentation, from your kitchen to their door. For economic reasons, you may want to limit your takeout menu so you can streamline all the extra preparation and packaging considerations. Perhaps sell only the most popular meal items that will travel well.
Finally, the menu itself should be small and conveniently storable. While many of your customers will access your menu online or via your social media, others will still be happy to have a paper copy they can post on their refrigerator or keep at their desk. The classic takeout menu formats are trifold 8.5 x 14 or 8.5 x 11.
#2. Have an efficient ordering system
You don't want customers sitting and waiting at your restaurant to pick up their takeout order. That increases their risk of exposure and defeats the purpose of takeout. You'll want to organize an efficient priority and timing system based on when and how the orders are coming in.
Here are some tips:
Ordering by phone, email, or text: Give them an expected pickup time and ask if that works. Make sure the order is already packaged and waiting by that time so they can grab it and go.
Ordering on the web: If you have a modern POS system, it's very possible that your POS provider also allows you to take orders from your website. TouchBistro, Square, and Toast all have online ordering options, and often they let you avoid 3rd party service charges. Give your rep a call and find out today!
Ordering via mobilepay: If people can pay via online systems such as Google Pay or Apple Pay, they should. This limits face-to-face exposure from swiping credit cards and handing over cash.
#3. Instate curbside pickup
During the crisis, you may need to go the extra step and deliver packaged food to people waiting outside your restaurant. This may also be the most sanitary option for your customers and employees. There are extra logistics to work through, especially when it comes to timing the drop-offs from kitchen to curb. Set pick-up order times with customers to help mitigate this. But such a service could win you a lot of repeat business from your customers as their options for restaurants dwindle. This would be a huge announcement on your social media!
#4. Consider grab-and-go products
If you already have a section of your restaurant or cafe that has pre-packaged products to go, great! Keep that area well-stocked and consider adapting other menu offerings to grab-and-go as well. One idea would be to pre-package complete meals and advertise those as specials. Any idea that helps people make healthy choices fast is going to be important during these uncertain times. Grab and Go Refrigerators or Open Air Display Coolers can be easily ordered online if this is a new area for you.
#5. Determine a delivery service
The food delivery services have come a long way in recent years and now serve many communities outside the major metropolitan areas. Though many began as marketplaces for ordering, now kitchen-to-customer delivery services are an
Be Sure Your Takeouts Include...
Menu items that prep fast and easy, and travel well.
Business name, phone number, and physical address.
Any new policies around hours, delivery partners, pick-up, purchasing.
Where to connect - website or social media presence
Reassure your customers that you are looking out for their safety.
Cut items that don't apply now, like happy hour or dine-in.
integral part of their model. You should view these services as an add-on to your internal takeout services. They can bring you incremental business, but they can also harm your margins.
The top delivery services include GrubHub, DoorDash, Caviar, and UberEats. You may want to partner with more than one service as they can reach different audiences.
Key questions to ask:
How much will it cost? What are the service charges? Marketplace charges? Advertising up-charges?
How will orders be received?
How will the handling and delivery of food work?
What customer service systems are in place and policies are in place?
What benefits are different services offering? Eg: some are waiving delivery fees
Want to learn more about how third-party delivery services can help your restaurant? Check out our helpful guide.
If possible, it's a good idea to provide your own delivery. This eliminates food coming in contact with more people, and you can be in greater control of the sanitary practices. This can also help to keep more of your staff employed. If you go this route, don't forget to talk to your insurance company about adding them to the policy.
#6. Continue to prioritize sanitation
Sanitation has become even more important for your restaurant. Keep thinking outside the box about how you can best transfer your in-store sanitation practices to other areas of your business like takeout and curbside:
Limit the amount of people coming in contact with food. This includes people preparing it, boxing it up, and delivering it.
Remember that the CDC has stated that hand washing is still the best way to prevent the spread of viruses -- require staff to do it more frequently than usual
If you use a delivery service, know their policy on how their employees are expected to handle food. Eg: some services are instructing drivers to leave food at the door instead of handing it to customers in order to limit exposure.
We all want to cut down on single-use takeout products, but given the current climate, it's best practice to make sure food is fully in a container or bag to hand to people. You can add sanitary wipes to the bag so people have the option to wipe down utensils, boxes, etc. before eating.
If you are doing curbside pick-up, many restaurants are encouraging patrons to call them when they are outside at the curb so food can be brought out to them. This limits the amount of people coming in contact with your restaurant, and customers coming in contact with staff. You can mention this to customers when they call in orders, or put a sign outside your door with your number so people know to call when they roll up. Make sure any staff that brings food out are avoiding hand-to-hand contact if possible and washing their hands immediately after the exchange.
Communicate the measures you are taking to keep staff and the community safe via social media, flyers, etc.
#7. Announce your takeout service through all mediums
Social media
Emails
On your website
Table tents
Signs on doors and windows
Stickers/other marketing materials
On your menus
Essentially, everywhere you can. Communication is going to be KEY during this time of uncertainty -- the more customers know what you are doing and how, the better they will feel about using your services.
We are offering a 20% discount on our takeout menus through May.
Additionally, our Customer Service Team will convert any of your current dine-in menus to a takeout for free.
Chat with us
With dine-in restrictions evolving so fast, and for unknown duration, a traditional trifold takeout menu may not be the best option for your business. Maybe you're unsure of the menu items. Maybe you'll have new pickup or payment options to promote. Maybe economic and prep reasons dictate that you offer only a subset of your normal menu at this time.
As an alternative to traditional takeouts, consider crafting a special limited-item menu, on a smaller, half-page paper size. This format is cost-effective to print front-and-back and drop into each carryout bag.
As with any takeout menu, be sure your business name, phone number or website, and physical address are prominently included. Hours, service details (curbside pick-up), and delivery partners are key information as well.
How to Use the Share Tools back to top
Social Media is the fastest way to communicate with your customers.
The impact of Coronavirus on restaurants is rapidly evolving. Keep in touch with your customers in real time by posting your up-to-date messaging on your Facebook page and website. The Share tool lets you instantly publish designs to your social pages.
Grab your flyer or social post template, then click on Share in the toolbar. Choose Facebook or Twitter to connect to your account, add a caption, and post to your page. Share Link will generate a custom url that you can link to via email, your website, or elsewhere.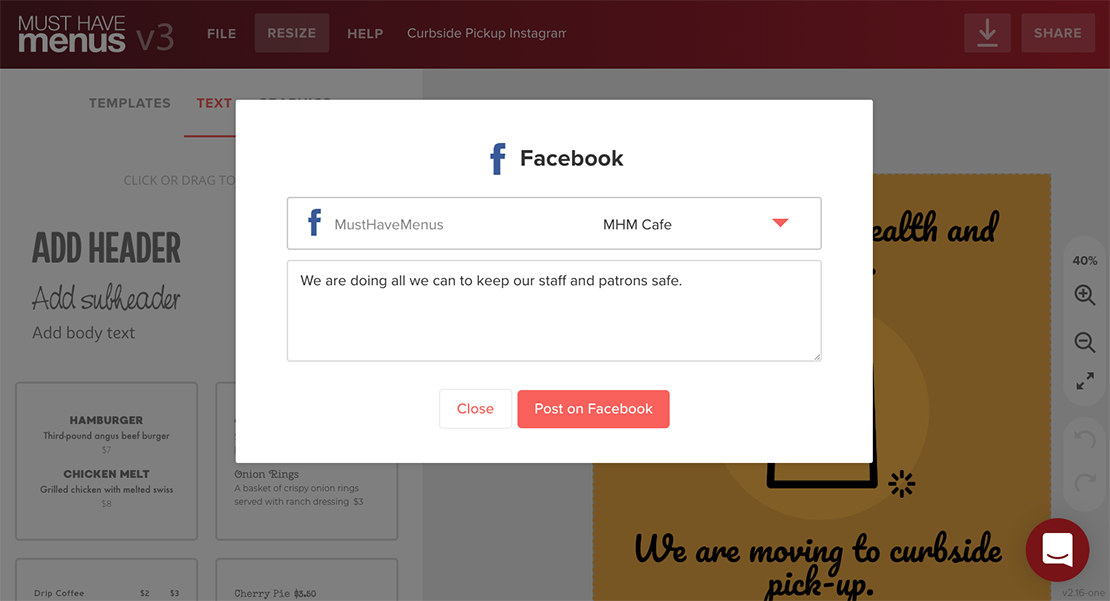 Messages you can share on Social Media:
Your takeout menu, if you are accepting carryout & delivery orders.
Flyers to reassure your customers about safety guidelines.
Social posts conveying your current open status and hours
See All Response Templates
Restaurants Adapting Fast to Uncertain Times back to top
Restaurant Q&A with NW Raw
While every business sector is feeling the effects of the coronavirus outbreak, restaurants are being hit particularly hard. Employees can't work from home and customers are heeding calls to limit their social activities. Ton instill confidence in their customers and employees during this time of uncertainty, some restaurants are taking quick steps to adapt.
To get a first-hand idea of how restaurants are responding to the Coronavirus, we spoke with Braden Cluff, Manager of NW Raw, an organic eatery with a large casual dining room in Ashland, OR.
Q: How has NW Raw been affected so far?
We didn't really see any effect until last week (the week of the President's first national address on the epidemic) when business notably slowed down. There was a marked decrease in customers coming through our doors. We anticipate this trend will continue into the immediate future, but it's hard to know the full impact. So we're taking things day by day, hour by hour, even.
Q: How are you fighting the slowdown in traffic?
We're working hard to add a delivery service like DoorDash or UberEats. We haven't needed it up to this point because we have a lot of tourists and foot traffic. But now people really want a way to get our healthy, organic food at home. We are also strategizing ways to offer curb-side pick-up.
Over the past week, we've also expanded our selection of grab-and-go items. Our salads and juices have always been popular carryout items, but now we're seeing that people really don't want to linger inside the restaurant and risk further exposure.
Q: Are you making any menu changes?
Absolutely. We're focusing on how we can maximize our takeout business in a very short period of time. All of this requires us to review our menu and come up with the right subset of items that can be carried out or delivered. Our main menu includes warm, cold, and room temperature items, so it's not realistic to offer everything for takeout.
Q: What steps are you taking to ramp up health and safety measures at your restaurant?
We've made it a main focus to ramp up our sanitation practices. For starters, we managed to get our hands on an automatic hand sanitizer that we keep up front at the register. We've also begun wiping down our touch screen at the cash register in between each customer. On top of that, my employees and I spend any downtime walking around the restaurant, cleaning commonly-touched surfaces like handles, tables and chairs. Finally, we're experimenting with new checkout technology that would allow customers to pay from their own devices and avoid having to touch any of our equipment.
Q: How do you communicate new plans to your organization?
That starts with open communication between the owner, myself and our 25 employees. We keep a bulletin board where we post updates on schedules and sanitation practices for employees to read the second they arrive to work. We're insisting that our staff stay home if they have any signs of illness. As for staffing, we're still hiring for summer employees but that could change any day as well.
Q: How are you communicating changes with customers?
With a situation so fluid and uncertain, it's critical that we communicate with our customers in a clear and timely manner. We stay engaged on Instagram and Facebook with news and updates, plus we keep a sign near the register to let in-store customers know what's going on.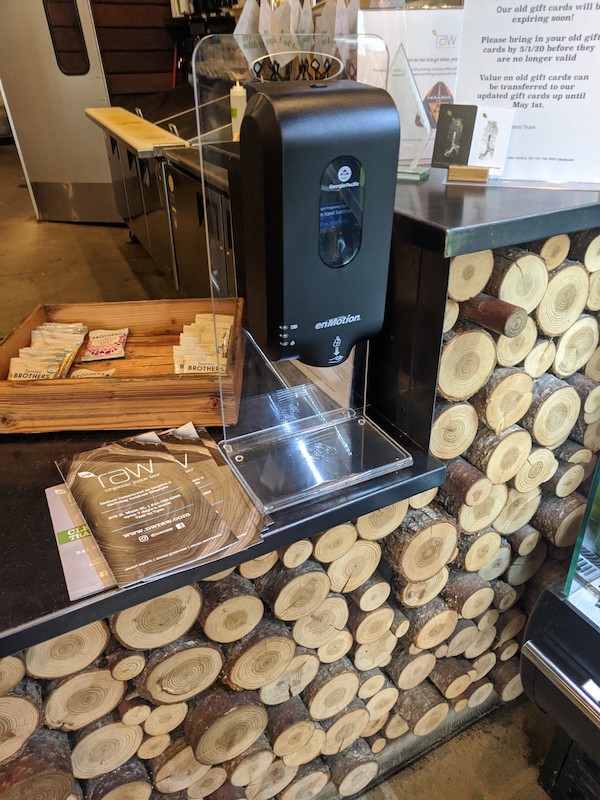 Keeping hands clean at register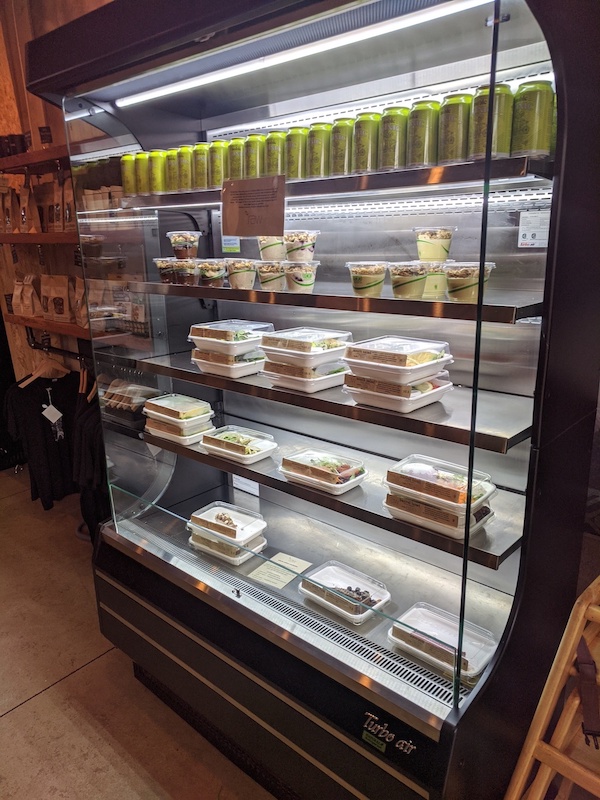 Grab'n'go