Social Media Marketing for Restaurants
Social Media — A Lifeline for Restaurants
With dining rooms closed across the nation, restaurants are pivoting their offerings overnight. In addition to an urgent need to drum up takeout business, you may have modified hours, different or limited menu options, and situation-specific promotions. How can you get the word out to would-be customers?
Social Media is an instantaneous way to communicate with consumers, as limitations and offerings change day by day. It's also a great way to build community and keep your restaurant fresh in diners' minds, even if your restaurant is on temporary hiatus.
30-day Coronavirus Response Marketing Campaign
Don't be intimidated; a social media marketing campaign can be flexible and fluid, and fully customized for your restaurant's needs and offerings. By campaign we mean a series of posts over time, not just a one-time blast or post of your menu. Follow these basic tips to build a strategy that will work for you.
Thanks again, it's great that you guys are doing this. This helps those of us trying to survive right now.
— Scott of Snipe Island Crafthouse, California
1. Update your info
Be sure your business info section is updated with your current hours, phone number, and key contact info.
Take the guesswork out of takeout ordering; phone number, online ordering links, and delivery partners should be clearly posted.
If open for takeout, re-post your menu once a week.
TIP: If you participate in a social trend like #takeoutTuesday, post your menu each Tuesday morning.
2. Map out your messages
Make a list of 8–10 messages to post over the next few weeks. This will keep your newsfeed fresh and give customers a good reason to hear from you.
First and foremost, tell people if you are open for takeout!
Keep text on the posts short and sweet. Details, like your open hours or delivery minimums, can go into the caption.
Stay positive. Your consumers don't need news or politics from you. They just need food.
TIP: Facebook has a delayed-publishing feature, so you can create posts at your convenience and schedule when you want each one to show up on your news feed. Learn how to do it.
3. What to share on social media
Your menu, open hours, and current offerings (i.e. curbside pick-up, delivery service partners).
Food promotions, such as meal kits or family-style dinners.
Social media is a visual feast. Decadent pics of your food can hold their own as enticing posts. Drop the details about your meal kit, delivery, discount, or other offerings in the caption.
Current safety policies, to reassure customers that you are committed to their wellness. For example: only one person at the carryout counter at a time; stay in your car and call us, we'll bring the food to you; cashless purchases only.
Any other ways people can support you, such as gift card purchases or merchandise.
Your community efforts, such as food drives for seniors or donations to hospital staff.
Participate in trending campaigns and hashtags (i.e. #takeouttuesday, #carryoutwednesday).
Promotion Ideas
For most restaurants, food sales remain the critical priority. Whether your restaurant is adapting to takeout for the first time or has a booming takeout business, consider offering some specials and special promotions to boost sales in coming weeks. Whatever specials suit your model, promote your offerings aggressively on social media. For example, if you are participating in #takeoutTuesday, post about it each Tuesday morning.
Daily specials
Takeout Tuesday
Discount days, i.e. 15% off on Mondays
Meal kits, i.e. DIY Pizza
Family-style meals, i.e. BBQ for 5
Free or discounted dessert with any meal purchase
Family-oriented offerings, i.e. Kids eat free with any 2 entrees
Discounted gift certificates, i.e. $50 gift card for $40
Discount for phone orders
Beer & Wine delivery, i.e. Growlers to-go
Free pint or other coupons with each pick-up order
Free delivery, or low minimums
Quarantine cocktails
Happy Hour at Home
Discounts on new entrées, i.e. New Entrées - New Deals
Unconventional takeout - whole quiches, breakfast sandwiches & coffee, family-size salads, liters of soup, sides by the pound
Donations and crowd-fund drives for healthcare personnel
BOGO meals
Pop-up shops for beer/wine and prepackaged foods
Community-Building Post Ideas
Whether your restaurant is open or not, keeping in touch with customers via your social feed fosters a sense of solidarity and community, and showcases the real people behind your counters. Investing in this goodwill campaign now can pay dividends in the future.
Encourage followers to share their favorite pics or memories from your establishment
Share a secret recipe or cooking tip
Hold a contest
Let your followers vote on their favorite item or a new flavor
Do a live cooking demo or quick video about your offerings, to put a friendly face to the business
Communicate your commitment to your own staff and how you are supporting their jobs and wellness
Show your support for other essential workers
Remind your customers that you miss them and look forward to feeding them in the future
Showcase your employees, celebrating their efforts
Tune in to local movements and needs in your community, such as lunch donations for the elderly or school children
Encourage customers to support staff members with making an emergency-fund donation
TIP: Even if your business is closed, a simple message like We miss you. Stay well, [City Name] can build connection with your community.
How-To's for Social Media
The impact of Coronavirus on restaurants is rapidly evolving. Keep in touch with your customers in real time by posting your up-to-date messaging on your Facebook page and website. There are tools on MustHaveMenus and on Facebook that make your social campaign easy to manage.
MustHaveMenus Tools: Share
The Share tool lets you instantly publish designs to your social pages. Open your flyer or social post template, then click on Share in the toolbar. Choose Facebook or Twitter to connect to your account, add a caption, and post to your page.
Note: the Share Link option will generate a custom url that you can link to via email, your website, or elsewhere.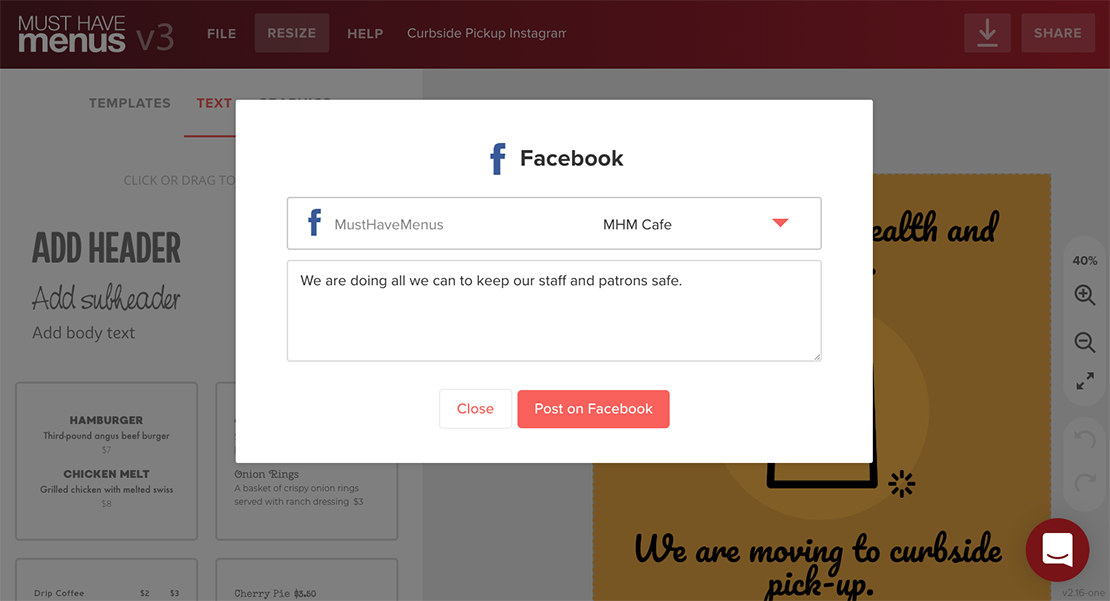 Facebook Tool: Scheduled Posts
Facebook now has a convenient scheduling tool that lets you set a specific date and time for publishing individual posts. You can even backdate a post, or save a draft for later. These features let you map out a marketing calendar, and save time by creating posts at your convenience.
Select the business page you would like to work with on Facebook.
Then select the Publishing Tools option from the white bar above the business page. A list of published posts will appear.
Select the blue colored +Create button in the upper right.
A pop up will appear where you can create the post and upload any images, add any links, etc. similar to regular posting.
Once the post is ready, do not select the blue Share Now button. Just above it, there's a drop down labeled Share Now in black text. That will expose 3 options: Schedule, Backdate and Save Draft.
Select the Schedule option from the drop down list to schedule the post to publish later. Then select the day and time. You can schedule multiple posts this way without having to constantly monitor your Facebook page.
To backdate a post, moving it to an earlier date on your timeline, select the Backdate option from the drop down list.
The Save Draft option saves the post so you can finish and post it later.
TIP: Facebook is offering cash grants and ad credits to small businesses during the pandemic. Learn more.
Facebook Tool: Pinning Posts
This feature will allow you to pin a single post to the top of your Facebook business page timeline so your visitors will see it first. It's a great feature for a menu post or any type of big announcements.
Find the post you want to have pinned at the top of the Facebook business page timeline.
In the upper right corner of the post, there will be 3 dots.
Select the 3 dots, then a drop down list will appear.
Select the Pin to Top of Page option from the drop down list.
When you are ready to change the pinned post to a different post, follow the same instructions as above. This will replace the first pinned post with the new one.
If you want to remove the pinned post from the top of the timeline without pinning a new post, click on the 3 dots of the pinned post, then select the Unpin from Top of Page from the drop down list. The post will still be in the timeline, but it will no longer appear at the top.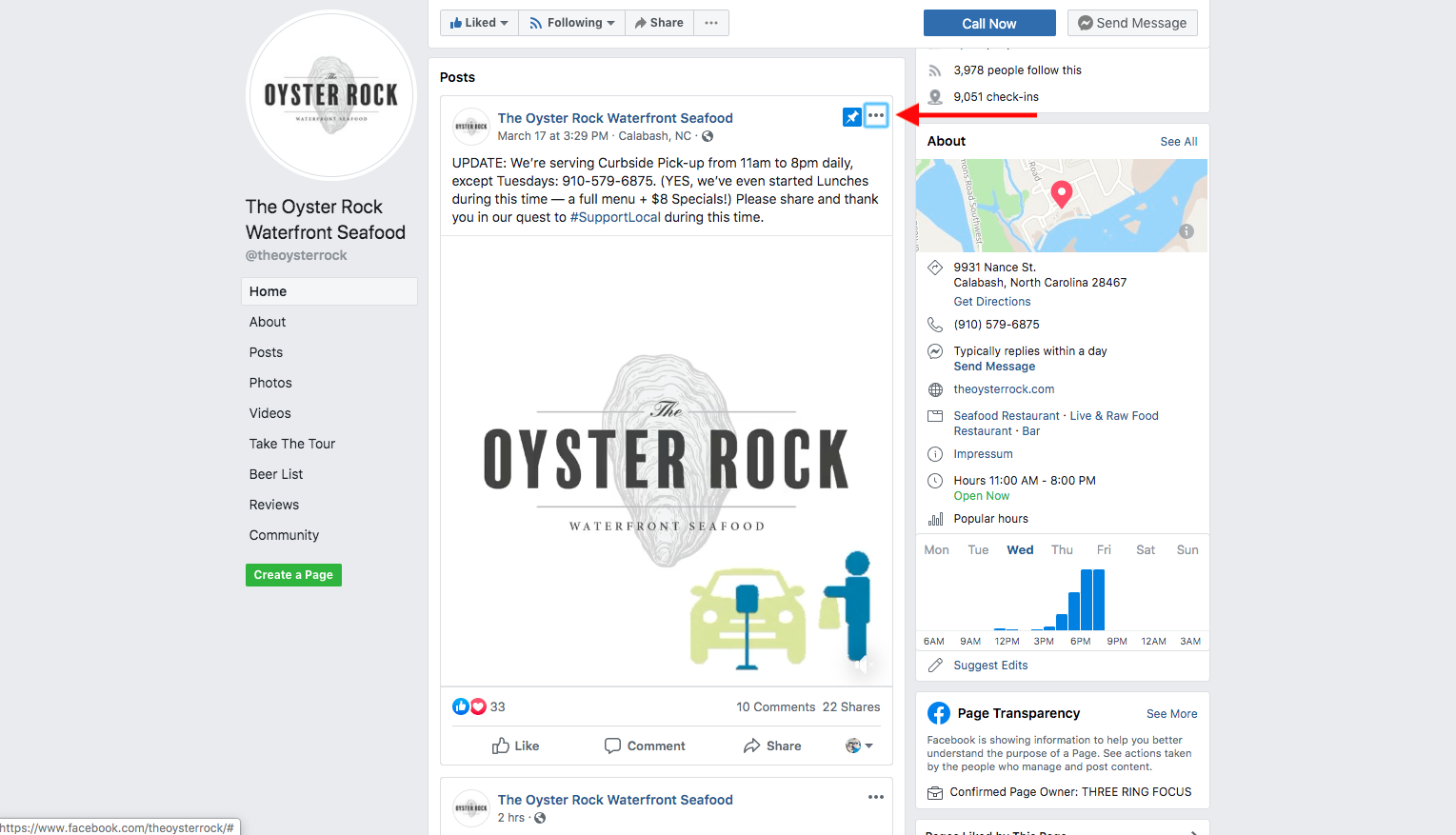 Facebook Tool: Boosting Posts
Facebook offers a way to boost posts you want to promote—such as new menus, specials, announcements—for a minimal fee. The feature gives you options to attract a specific type of audience and boost the post for a certain amount of time. Note: you can only boost posts that you have created, not shared content that someone else posted first.
To boost/promote an already published post, find the post on the Facebook business page timeline. Under the post, you will see a blue Boost button.
Click on the blue Boost button. A pop up box will appear with information about the post and what options you have for boosting it.
If you scroll down on the left of that pop up box, there will be options to set your budget and timeframe of how long you want the boost to run as well as payment information.
Depending on the options chosen, your post could reach thousands of people a day on Facebook. This can help bring customers to your Facebook page and increase your profits.
You can also boost posts from the Publishing Tools for your Facebook business page.
Facebook Tool: Update your Cover Photo
When a customer visits your page on their phone or desktop, your cover photo is the first thing they see. You can update this image with important information.
To update your cover photo or video, start by signing in and going to your business page.
For the best experience, you will want the dimensions of your cover photo to be 820 x 312 pixels. Our Facebook posts templates are perfect for this. Click here to create a cover image. Once it is designed, be sure to download as a png or jpg image file.
Return to your Facebook page, hover over your cover photo and click on the Change cover photo in the upper left. Choose upload Photo/Video and select a design saved on your computer.