Best Practices for Restaurant Outdoor Dining
Extending your restaurant's outdoor dining into the winter
New York City recently announced that their Open Restaurant Program, which provides NYC restaurants more room and flexibility to offer outdoor dining, will extend past its initial October 31st end date and become a permanent city fixture. The Open Restaurant Program has been a lifesaver for restaurants operating under strict capacity limits during COVID, saving an estimated 90,000 jobs citywide. Chicago announced a similar extension to their outdoor dining program, so expect more cities to follow suit in the coming weeks.
When city governments gave restaurants the green light to expand into the streets and sidewalks this summer, something extraordinary happened. Decking, tables, and protective barriers all went up in an unprecedented flurry of activity as restaurants moved their dining rooms outside. The joyous atmosphere that comes from sharing good food and conversation soon followed, expanding out from the restaurants and into the surrounding parking spaces, sidewalks and alleyways.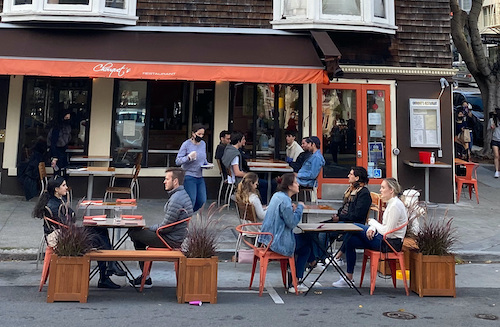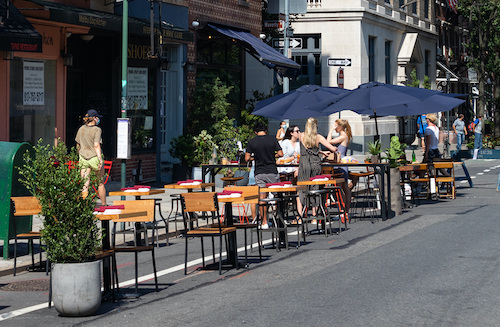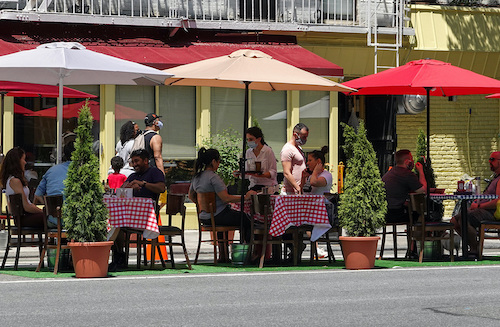 None of this would have been possible without local governments racing to change the rules practically overnight. City spaces reserved for cars and commuters were transformed into places where diners could sit and chat for hours. In some cases whole streets were blocked off to allow maximum, socially-distanced outdoor dining. It was a big financial boost for restaurants and a great reminder to the public to stop and eat.
The imperative of maintaining outdoor dining is underscored by the fact that restaurants can't stay afloat for the whole duration of winter on 25% indoor capacity (as required in NYC), and probably not even 50% capacity. Restaurants operate on low margins/high volume, and the math simply doesn't work if you cut volume in half. This means that restaurants will have to try everything to maintain outdoor dining during the winter months.
Ways to Winterize your Outdoor Seating
Propane heat lamps are the first and most obvious way to keep your window for outdoor dining open when the weather turns. Many restaurants have used these for years to extend winter or nighttime activities, so it's not far-fetched that more restaurants could adopt them. NYC, which has restricted the use of propane heaters at its restaurants in the past, announced they would now allow them as part of their Open Restaurant Program.
Decks and patios can quickly be transformed into cozy outdoor dining rooms by walling them off with plastic sheets. Some cities have even experimented with plastic bubbles that seat individual parties. Customers love novelty, and the combination of heaters and a make-shift dining room create a fun outdoor ambiance within a comfortable, semi-private space. For most restaurants, parking lot space will not be a priority with such limited dining capacity. Transforming yours into an additional dining space with tents and heaters will most likely be a better use of that space and generate more revenue.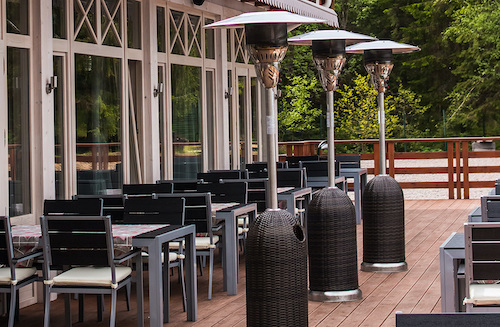 Communicating with Customers
In order for restaurants to continue safely offering outdoor seating, customers will need to follow all the required safety policies. Restaurants can help by posting their safety policies at the entrance to their outdoor seating, and around the dining area as little reminders. As part of our Coronavirus Response for Restaurants, MustHaveMenus has created hundreds of safety templates to clearly and effectively communicate new safety policies to customers. These include designs for sandwich boards, flyers, posters, table tents, and social media posts.
What's Next?
Looking forward, it is imperative that city governments continue to pass policies that make it easier for restaurants to capitalize on outdoor seating. And the restaurants need to take advantage of these policies and explore all possible avenues to extend their window for outdoor dining, even as the weather gets a little chilly. If restaurants can keep outdoor dining open 80% of the time, closed only for major storms, that's a big win. There might even be a little romance in it for diners who cozy up with the elements.