Best Practices for Restaurant Indoor Dining
Indoor Dining
Unless you live in a particularly temperate part of the country, outdoor dining will no longer be an option once winter sets in and temperatures drop. Restaurants will need to rely on takeout and indoor dining, the latter of which comes with a bevvy of health and safety challenges during COVID-19.
Besides the obvious ones, like employees wearing masks and frequently washing their hands, here are some ways your restaurant can prepare to safely welcome more customers back indoors this winter season.
Go Touchless
Touchless dining has become the norm as restaurants reckon with how to stop the spread of COVID within their dining rooms. Limiting points of contact is and will continue to be a critical element to safely welcoming large numbers of customers back into your restaurant.
QR Codes
By this point, you've probably already encountered QR codes at one of your favorite restaurants. The little square barcodes have surged in popularity because they allow customers to access your menu from the safety of their own device. All they have to do is point their camera at the code, and their phone will do the rest.
With our new QR code generator, it's easy to create a QR code that leads to your online menu, and then display that QR code on all manner of marketing materials.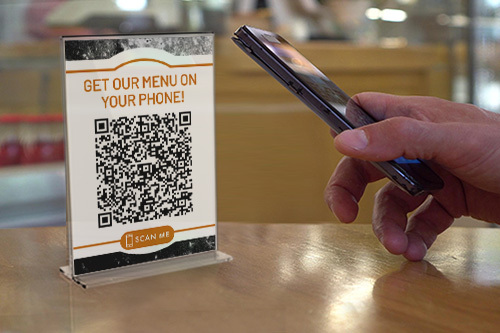 Post your Safety Policies
To create a safe and comfortable indoor dining experience for your customers, it's paramount that you are on the same page when it comes to safety policies. Your employees can carry the message and instruct customers on how you need them to act to keep your employees and other customers safe, but you should post your policies around your dining room as well.
The following products can help convey your message quickly, clearly and from a distance: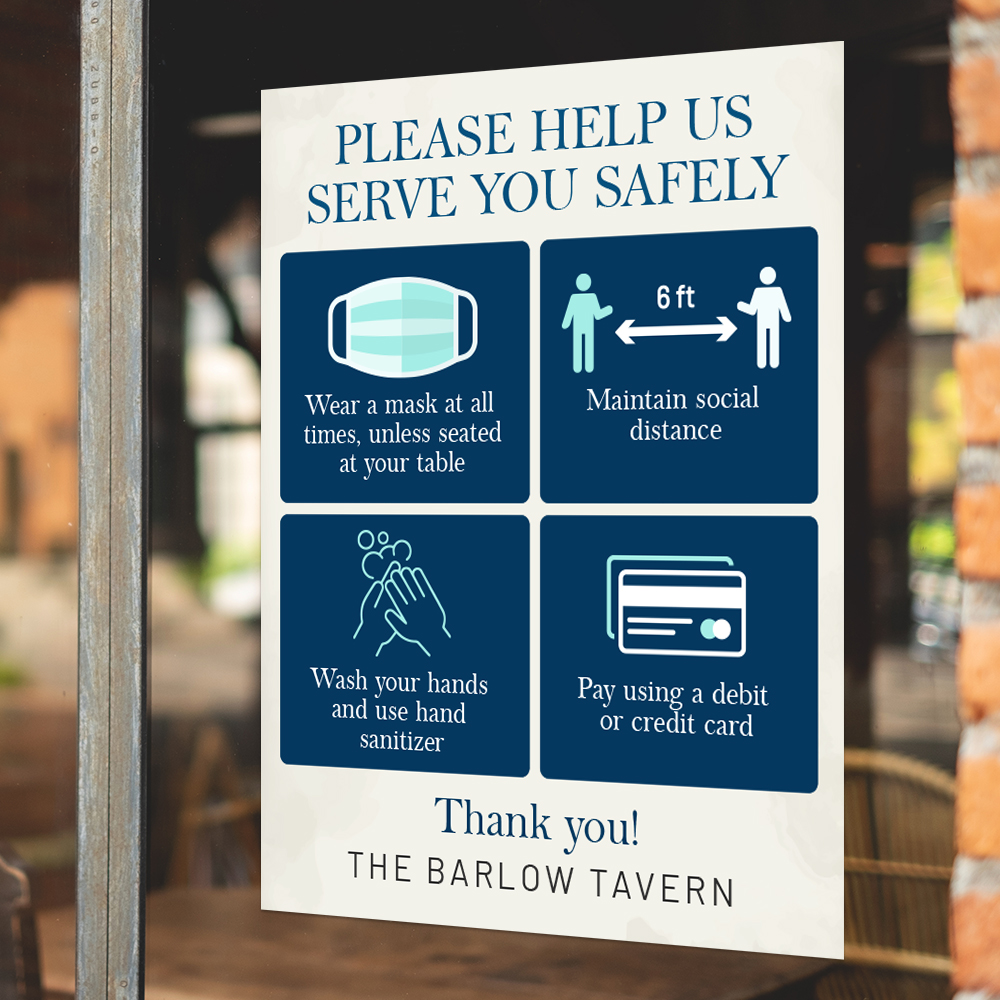 Posters
Stick them up in your window, on your walls, on your door to let customers know what you expect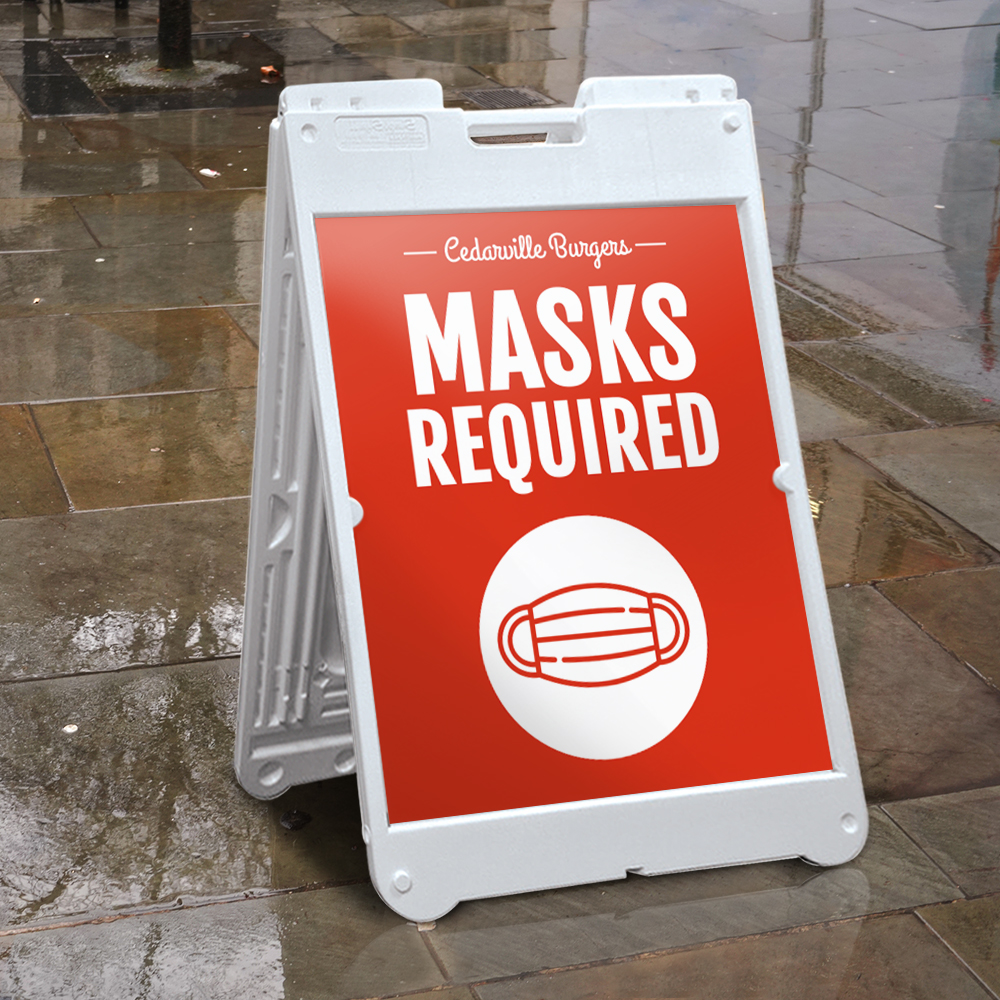 Sandwich boards
These free-standing sidewalk signs instruct customers how to act in your restaurant before they even set foot in the door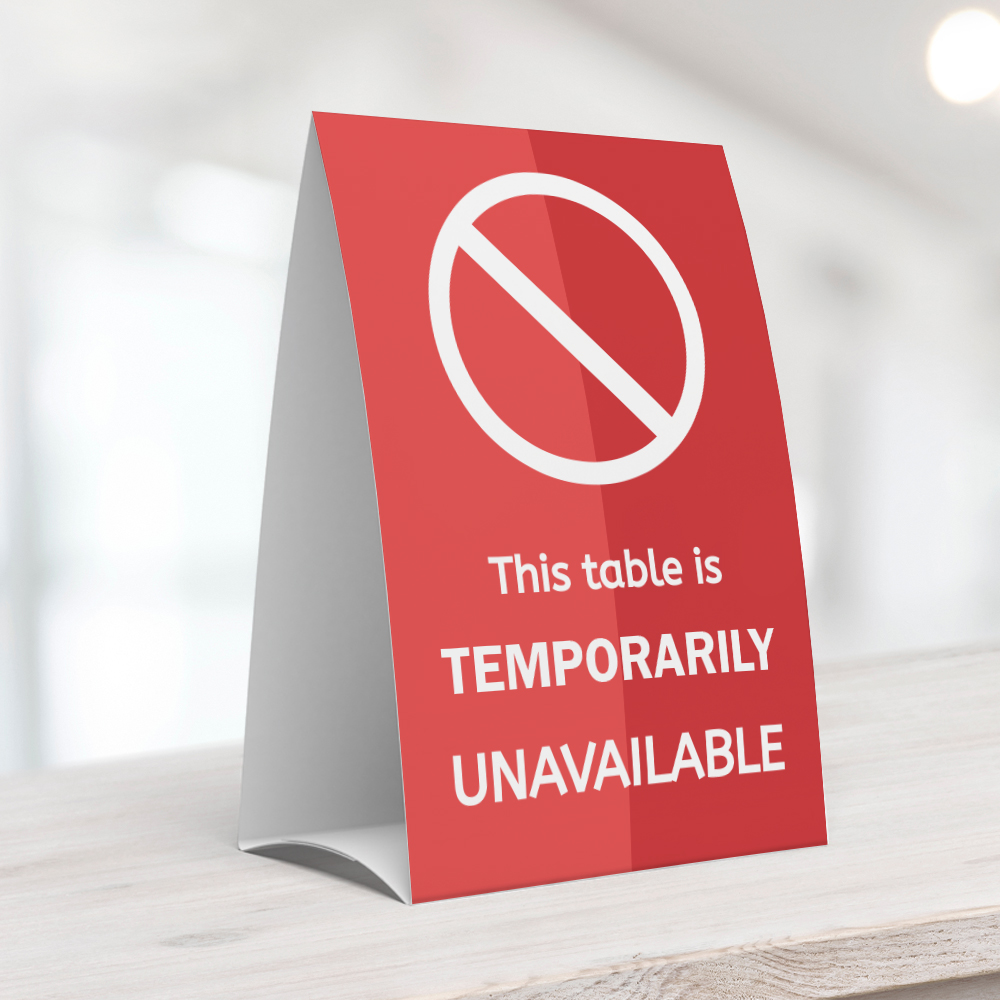 Table tents
Set them up on your tables or bartop to put an unobtrusive reminder of your safety policies right in front of your customers midmeal
Maximize your Space
One of the perks of outdoor seating is that it's easier to space out the tables and socially distance. Not so with indoor dining where you're constrained by your four walls.
How can you keep the state-mandated six feet between customers while still sitting enough of them to justify having your doors open? The following tips can help you stretch the limits of your indoor seating in a safe and socially-distanced manner.
Remove larger tables. Must states have restrictions on the size of dining parties, so it's better to ditch larger tables in favor of smaller ones, so you can accommodate more parties at one time.
Limit unused space. Certain comforts and aesthetic choices may need to be sacrificed to the goal of fitting as many socially-distanced seats in your dining room as possible. Any unused space, like entryways, foyers and waiting areas can be converted into more seating. Since customers won't be loitering and interacting as much outside of meals, these spaces won't have the same importance as before.
Create alleyways for travel. Take a cue from city planners when it comes to maximizing space and facilitating travel by creating alleyways between tables for both servers and customers to travel. This will cut down on unused space that would typically be reserved for free movement between tables, and it will help everyone in the restaurant social distance as they move from door to table, table to bathroom, and so on.
Ventilate and Filtrate
If you can afford it, a new air filtration system can go a long way towards recreating the airflow and safety conditions of outdoor dining inside your restaurant. According to the experts, proper ventilation is the key to a safe indoor dining experience, especially with COVID-19 which primarily spreads through the air.
While all the experts agree that air filtration and proper ventilation are in no way a replacement for other safety precautions like masks and frequent cleaning, they generally agree that it will decrease the likelihood of COVID spreading through your restaurant. The price tag for a new filtration system is high ($5,000 - $10,000) but it can be worth it for restaurants who want to show their customers they are going above and beyond to create safe dining conditions.
Stickers and Labels
20% OFF
They may seem like a small product, but they have big benefits during this time of rapid change for restaurants. Stickers and labels can help prepare your dining room for the Winter by serving as a patch for several communication and logistical challenges that might otherwise require new signage or reprints.
With stickers and labels, you can: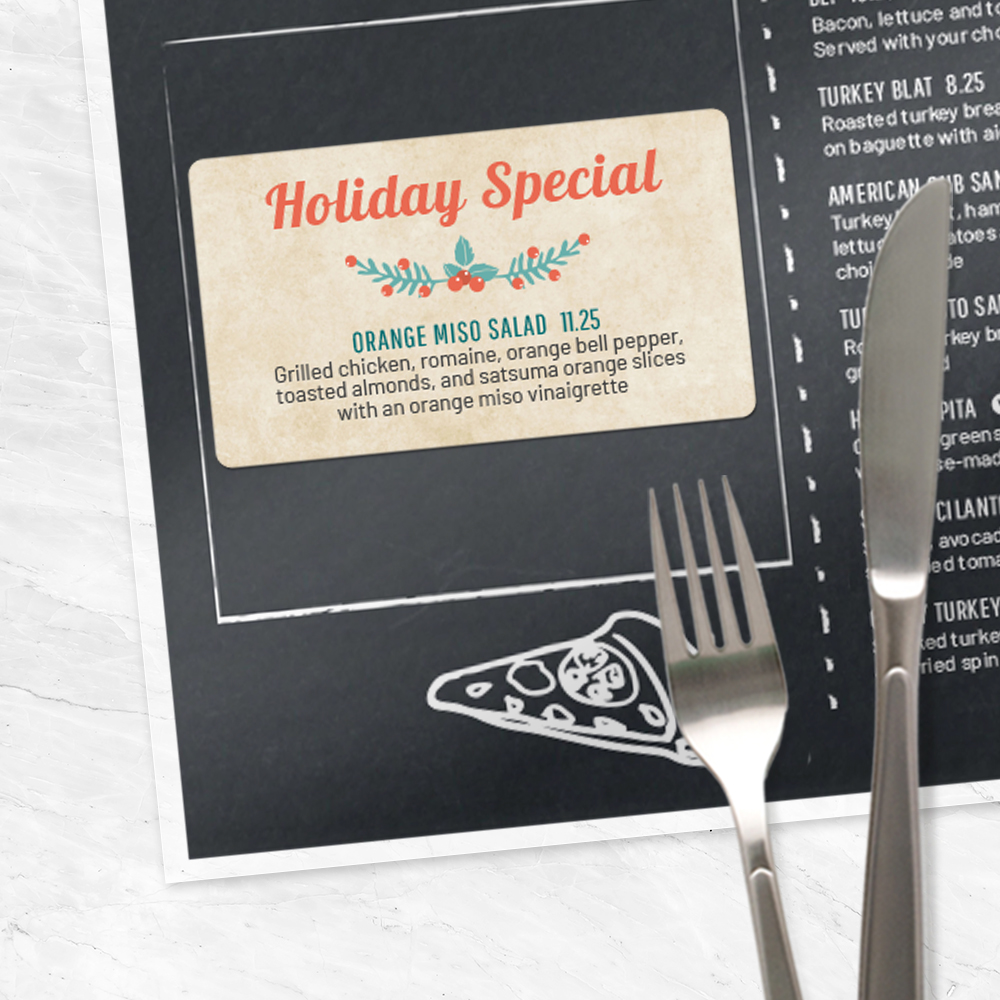 Add seasonal or holiday specials to your menus without having to reprint them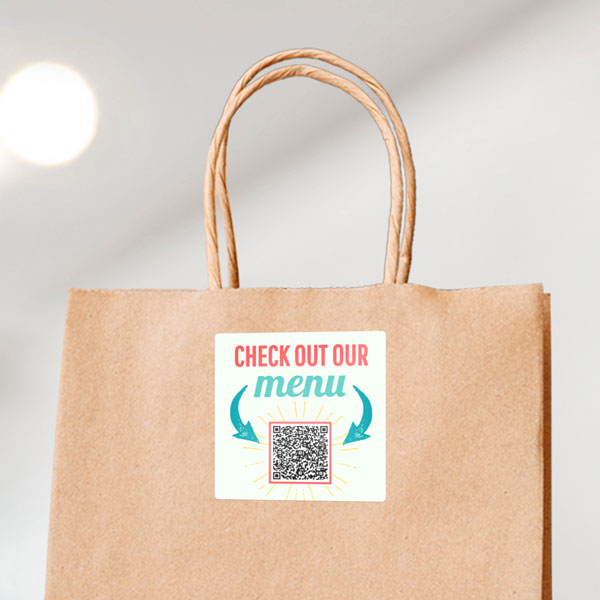 Display QR Codes around your restaurant for easy scanning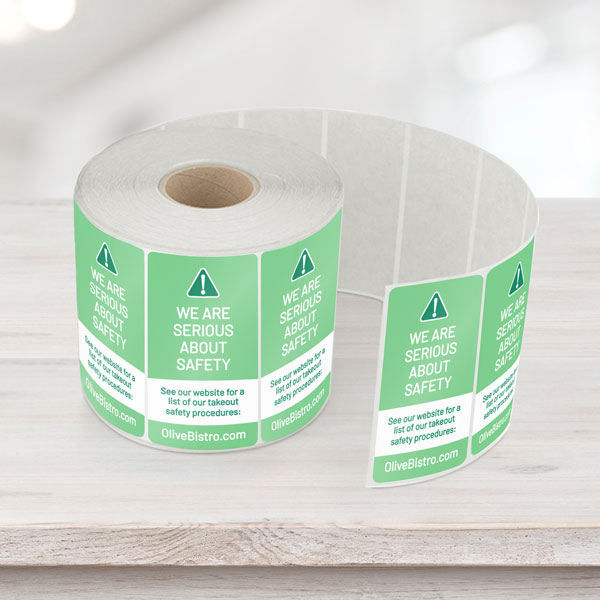 Post safety policies where your customers will see them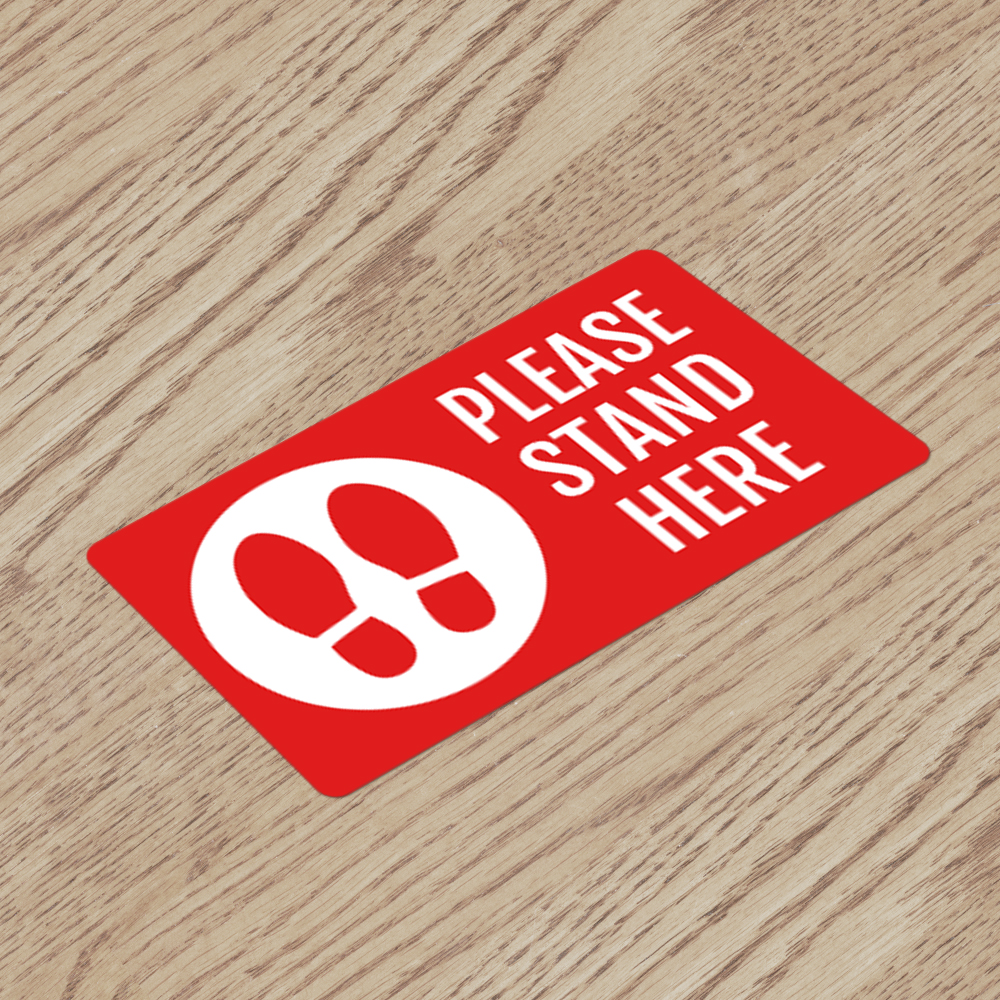 Mark off social distancing spots on the ground