RESTAURANT STARTUP GUIDE
Menus, Marketing, & Management tips to grow your restaurant business.
Family Friendly Dining
Make your restaurant a great place for families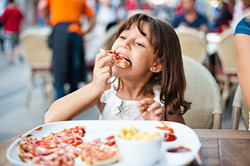 Dining out can be a wonderful time for families to get together and catch up on each other's busy lives. Family-friendly dining environments help families connect by giving them a place to relax and share a meal. But the restaurant experience can also be taxing for parents and little ones. With a few simple strategies, you can make your restaurant more family friendly, and help everyone have an enjoyable dining experience at your establishment.
Setup for Success
Consider the unique needs of families in your basic restaurant setup. The waiting area should have some seating; a parent holding a squirming toddler will appreciate the chance to sit down. Keep high chairs and booster seats on hand. Restrooms should include a changing table. If your dining atmosphere is formal or subdued, seating families with young children near the kitchen or entrance will be most considerate to all your diners.
Keep the Kids Happy
A kids menu is a simple, affordable way to keep children occupied while they wait for food. Our kids menu templates include coloring activities, mazes, puzzles, word searches, and riddles to keep little hands busy. The professional designs are age-appropriate, gender-neutral, and quick to customize for your restaurant. See our collection of Kids Menus, or learn more about what makes a great kids menu.
Address the Mess
Serving children's drinks in a cup with a lid and straw is a simple way to prevent spills. And a children's coloring menu easily doubles as a placemat, making cleanup easier when guests leave. When spills (or other inevitable kid accidents) do occur, be sure your servers are trained for quick response.
Food Safety
Your childrens menu items should account for special safety considerations. Kids meals should not include spicy food or bone-in meat. If a child orders these items from the regular menu, give parents the option to substitute. Hot items, such as soup or hot cocoa, should be cooled to a reasonable temperature before delivering to the table.
Building Safety
Kids can only keep to their seats for so long. If your premises include any hazards for roaming children - basement stairs, open cooking ranges or ovens, easy access to the kitchen - consider posting a friendly sign, so parents can be extra attentive. Restrooms should be clearly posted. Advise your wait staff of particular hazards, as well, so they can be on the lookout for little ones.



Print with Us!
High-quality printing for menus, flyers, business cards, and all the essentials you need to run a successful restaurant.
Ships next business day!
Get a Print Quote