RESTAURANT STARTUP GUIDE
Menus, Marketing, & Management tips to grow your restaurant business.
How to Design a Bar Menu
Mix it up with classics, regional drinks, and a splash of originality
We've used our many years of experience designing bar menus or menus with great cocktails to provide these design insights for your next menu. Just like a signature cocktail or traditional brew, the right ingredients and approach will mean menu success. By organizing your menu clearly, using fun descriptions and giving visual priority to your most profitable or signature items, customers will engage in a meaningful way, and often with the most premium items.

Follow these simple steps to create a menu that showcases and sells beer, cocktails, wines and other signature beverages.


1. Make sure drinks stand out on your menu.
Separating food and beverage items is important for a successful bar menu. Create a drinks section or page in your menu after or before food items to draw attention and provide a seamless ordering experience for your customers.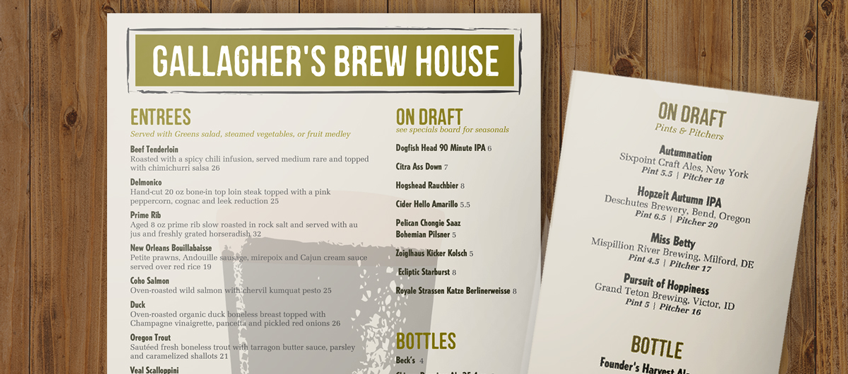 2. Use a drinks menu when possible.
A standalone menu can encourage patrons to spend more time getting to know all the tasty beverages you offer and a table tent is a powerful table side tool to sell more where it counts most.
Easily find the perfect size
for your new bar menu from our wide variety of selections. And if hygiene is of extra importance, nearly all of our menus are available with
washable
or
disposable
options.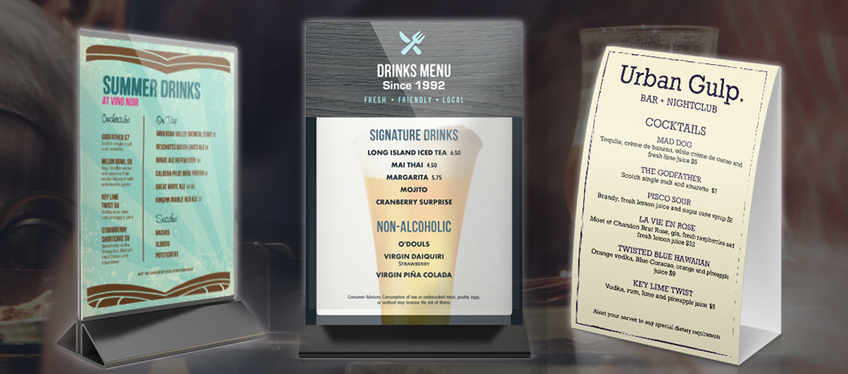 3. Use appropriate titles.
Sometimes your bar menu calls for no-fuss clarity, as when it comes to wines. Wine lists tend to be long, and customers tend to have existing affinities for their favorite wines, so straightforward organization with sections like "Pinot Noir" or "Chardonnay" are important. Alternatively, for a Cocktail Menu, customers may be looking for a new experience, something surprising. Show them how creative your bartender can be with playful names like Summer Dream or The Godfather. The time spent matching your drink titles to the customer mood will be well spent.
4. Use great photos.
Professional or high quality visuals show your beverages to their best advantage and set a standard of luxury for your brand. Good photos also cue cravings and prompt sales when customers see the best your establishment has to offer.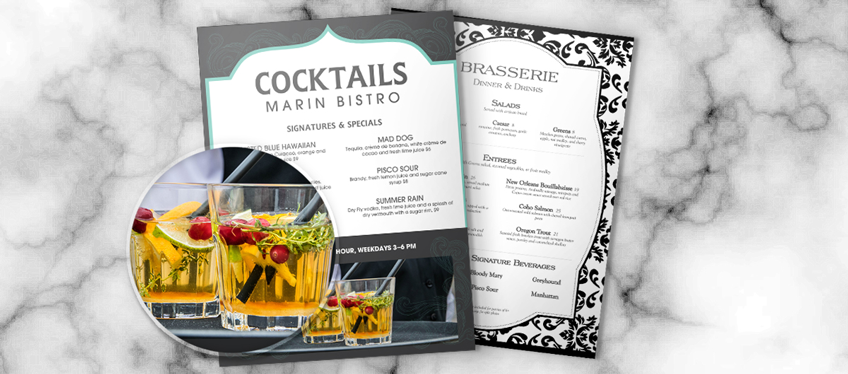 5. Spotlight your specials.
Use graphics, like a border or banner, to highlight your best items. Consider placing your most profitable or signature items at the top of your menu or calling them out with highlights so they can't be missed. The
Menu Maker's
robust features require no previous design experience and allow users to add accents to any menu with ease.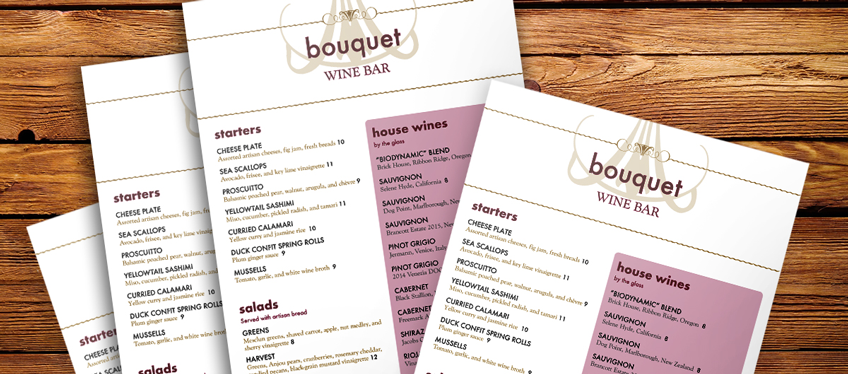 6. Get creative with copy.
Inventive or entertaining descriptions sell more product, enhances the experience and, most notably, helps to build your brand with a transferable enthusiasm that keeps customers coming back for more.
7. The right look makes a menu memorable.
Your logo, brand colors and a high contrast background or accents keep your menu on trend and exciting. With thousands of
customizable themes
, you can coordinate your beverage menu with your logo, glassware, or decor and swap themes easily with just one-click.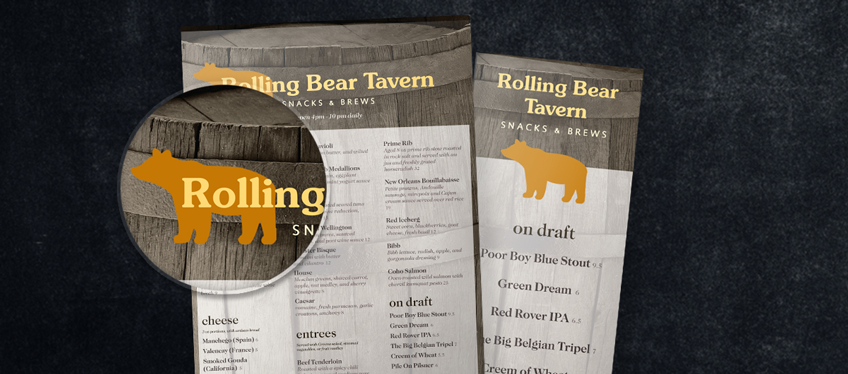 With these steps in mind, start creating your new menu now! Our
exclusive online menu maker
requires no previous design experience and will empower you to create, control and make updates to your menu, on your schedule, at your convenience. Short on time? No problem. Use the
MustHaveMenus design team
to get
bar menus
you love!
When it comes to printing your bar menus, save yourself the hassle of trips to local printers. You can get press proofs and any type of menu printing done at MustHaveMenus with unmatched convenience. Our
professional printing services
will give you high-quality options that are affordable and easy.



Print with Us!
High-quality printing for menus, flyers, business cards, and all the essentials you need to run a successful restaurant.
Ships next business day!
Get a Print Quote