Bar Menu Maker by MustHaveMenus
Create a Bar Menu
Looking to standout with a gorgeous new bar menu? Highlight and promote specialty items that are separate from your main menu or specific to your bar. The process is simple. Choose a bar menu template, customize it with our easy design editor, and order your prints.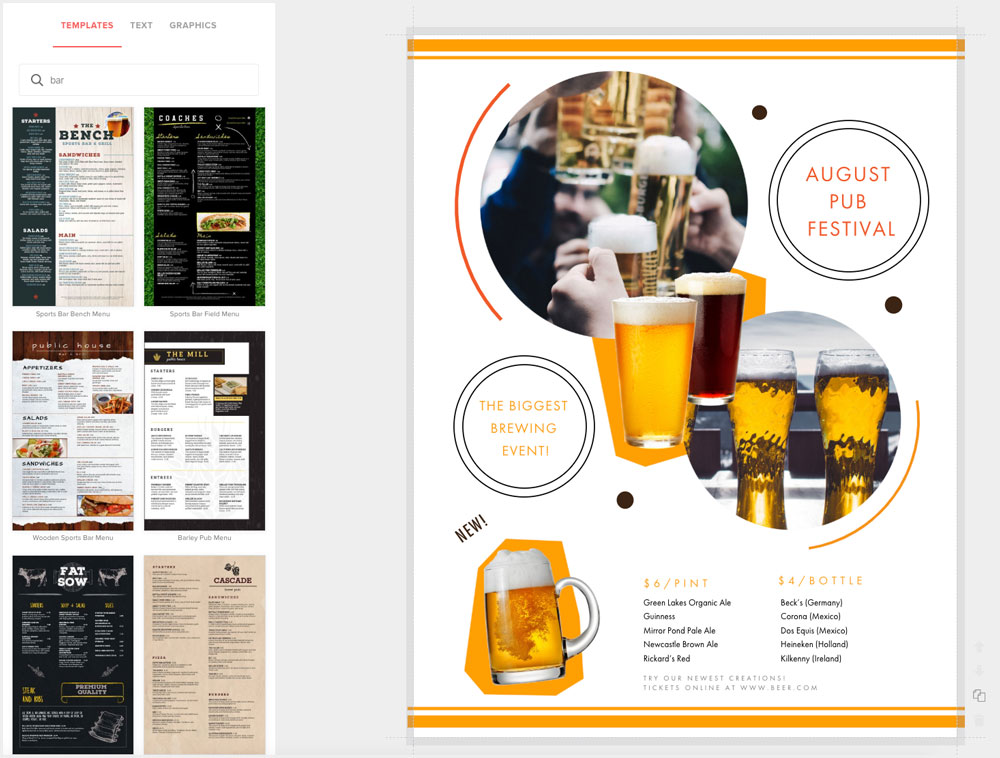 A great bar menu can elevate your entire presentation. Create yours today. With menus designed specifically for bars, it's easy to find a template that suits your needs. Personalize it, place your order, and we'll do the rest.
How to Design the Perfect Bar Menu for your Restaurant:
1. Choose a template. Choose a bar menu design that you like.
2. Add photos. With our Menu Maker, you can easily add and swap photos. Include full spreads of your bar or individual pictures of each drink.
3. Insert your logo. Drag and drop your bar's logo into the design. Or create your own logo using our collection of bar graphics.
4. Switch colors. Swap colors so that the aesthetic matches your bar's brand. If you're a whiskey bar, you can choose from rich browns and pastels. If you're more into cocktails, we have electric blues and pinks.
5. Order prints. Once you're happy with your bar menu, just order your prints. If you want them to be spill-proof, always useful at a bar, consider laminating them.
6. Update whenever. Your custom bar menu is saved to your account so you can make edits and updates whenever! Add more drinks, include your food, and more.
Bar Menus Designed for your Restaurant
At MustHaveMenus, we're food experts. We have over a decade of experience partnering with restaurants to promote their food and enhance their experience. Since we specialize in menu templates for restaurants and bars, you won't need to search through hundreds of generic menu designs that don't fit what you're looking for. Plus, if you create your bar menu with us, you'll have access to all of our other restaurant templates for menus, flyers, social media and more.
Personalize Your Bar Menu
With our simple-to-use menu editor, it's easy to customize your bar menu to represent your restaurant. Bar menus should be fun! Inject a little personality into yours. Just pick a bar menu template that works for you, tweak and edit until it's perfect, and then place your order. We'll professionally print your bar menus and ship them right to your restaurant's doorstep. If you run into any issues, our professional Customer Service reps are always happy to guide you through the process.
Professional Bar Menu Printing
As soon as you're thrilled with your bar menu design, just place your order and we'll ship the bar menus directly from MustHaveMenus. It's that easy! You can also post your new bar menu online for simple internet marketing and search engine value.
Get Started!
Start creating your new bar menu with any of these templates below.