Make Half Page Menus
Create a Half Page Menu
Looking for a convenient menu design that features all your delicious menu items while minimizing clutter and maximizing convenience? If so, look no further than our half page menu templates! They're perfect for happy hour, dessert, daily special menus, and much more!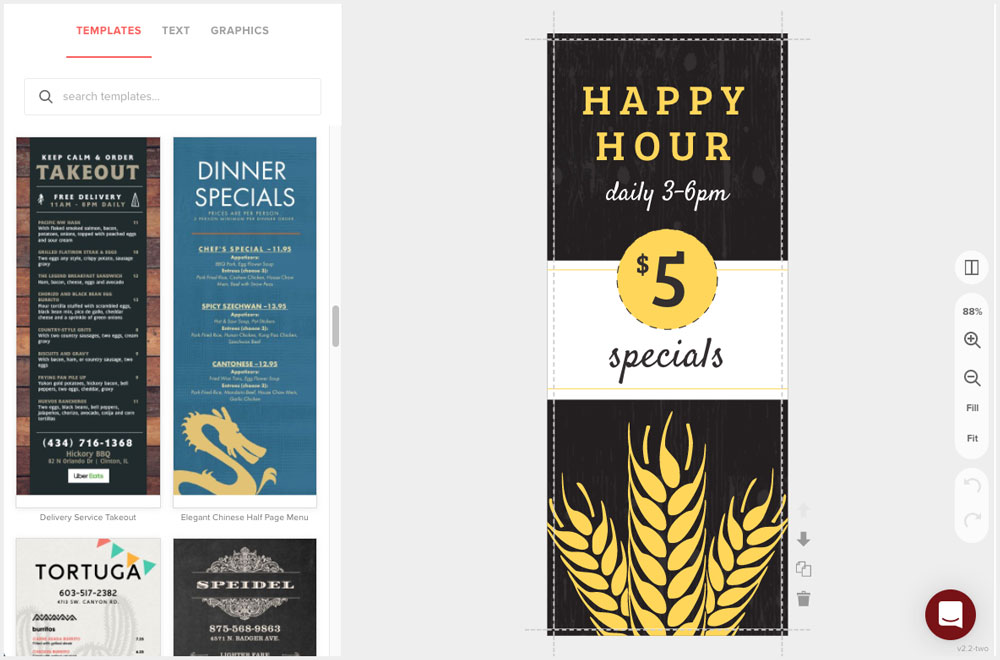 Designing your ideal half page menu has never been easier with MustHaveMenus' simple-to-use editing tool! First, select a template that catches your eye. Then, get your creative juices flowing - because our editing tool makes it easy to add your own logo, insert images, swap colors, change text, and replace fonts! Before you know it, you'll have a professionally-designed half page menu for your business.
How to Make an Expert Half Page Menu:
1. Choose a template. Pick from our collection of beautiful and engaging half page menu templates designed for any style of restaurant business. Each template style will achieve a different goal depending on how you design it, so make sure to locate the best template that suits your vision.
2. Edit text. Supplement your half page menu design with text of your choosing. In a few quick clicks, you can change, add, or remove text boxes to fulfill your design needs. This tool is useful for highlighting a specials section, or maybe putting emphasis on your delicious dinner offerings.
3. Insert your logo and photos. Incorporate your logo into your design by dragging and dropping it anywhere onto your half page menu template. Photos serve as the perfect opportunity to give your eager customers a glimpse of your delicious menu items, and we know that - we've enabled you to insert photos wherever you'd like.
4. Swap colors. Change or add colors to your template so that it fits the aesthetic of your restaurant business, or use this design option to express yourself and your brand in a unique way.
5. Order prints. Once your design is complete, order your new professional half page menu prints through our unparalleled print services. They'll arrive straight to your door, ready to use.
6. Edit your design whenever you like. Your half page menu is saved to your personal account so you can make alterations - all with just a few clicks.
Master-crafted Half Page Menus
Our expert team of designers are constantly producing a wide range of half page menu templates designed for all manner of restaurants and related businesses, so you can count on finding a half page design that checks all your boxes without searching through hundreds of unrelated templates. Plus, you'll also have access to all our other designs for menus, takeout menus, sandwich boards and more!
Half Page Menu Maker
With our drag-and-drop design tool, it's easy to make an original half page menu for your restaurant. All you have to do is choose a template and edit it to feature your logo, fonts, colors, and content of choice. If you have any issues, our accessible and friendly Customer Service team is on call to aid you with your design process.
Half Page Menu Printing and Delivery
Once you've made your ideal half page menu, all you have to do is order the prints and we'll take care of all the rest! It's that easy! We will have your beautiful prints to your door in as little as the next business day. You'll be stunning your customers with your stylish new menus in no time!
Get Started!
Start designing your new half page menu with any of these templates below.