Make Bar Flyers with MustHaveMenus
Make a Bar Flyer
Update the community with what's going on at your bar with a new flyer! Our attention-grabbing designs are sure to catch the eye of anyone who walks by and are a great way to announce special events, promotions, business hours, and happy hours. Make sure your bar is the one people think of when they want to watch the game, or just catch up with friends.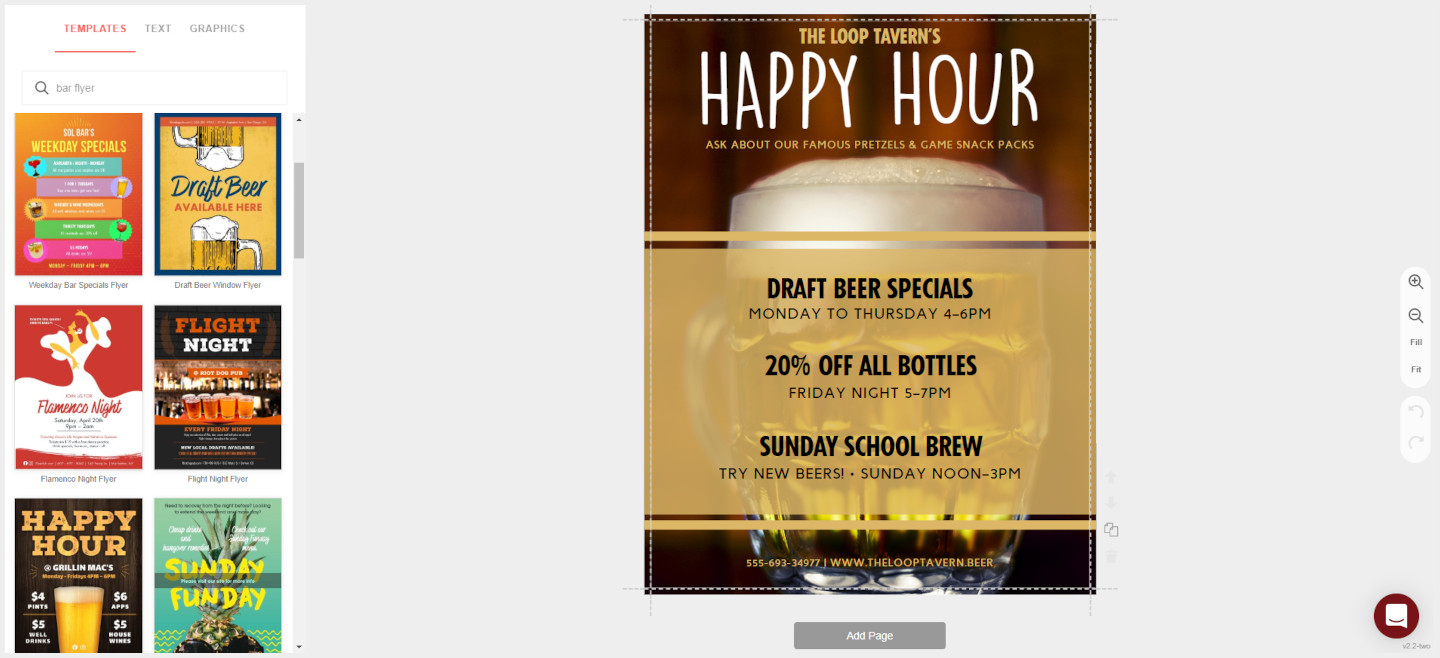 Created with the user in mind, our intuitive Bar Flyer Maker will allow you to create the perfect marketing companion to your business in just a few simple steps. Get ready to turn passersby into paying patrons!
How to Create Stunning Bar Flyers:
1. Select a template. Choose from a range of professionally-designed bar flyer templates built for any type of announcement. Each template has a different style and design depending on how you'd like to market your message, business, and brand.
2. Change text. Replace the text with your own in a few simple steps. Click on the text boxes and add what you need -- updates, contact information, or a fun message.
3. Insert your logo or photos. Add your logo by dragging and dropping it on the template. If you want to highlight specials, drinks, or food, include quality photos of your fare. You can even create a unique QR code that makes it easy for customers to scan and access your menu before they even step inside.
4. Swap Colors. Feel free to change or add colors as you see fit. Reflecting your restaurant's aesthetic and unique color scheme is a great way to further solidify your bar in customers' minds.
5. Order prints. Once your design looks great, order your new bar flyers through our professional flyer printing service. They can be printed in bulk or in small orders, so you'll always get just what you need.
6. Come back whenever you like. Your bar flyer is saved to your account so you can make changes at any time.
Bar Flyers Designed for Restaurants
With over 10 years' experience working alongside the restaurant industry, we know what it takes to create quality marketing materials. Our unmatched graphic design team creates bar flyers specifically with restaurants in mind, so you can count on finding a bar flyer design that fits your needs without having to look through a bunch of unrelated templates. Plus, you'll have access to all our other designs for bar menus, table tents, social media templates, sandwich boards, and more.
Bar Flyer Maker
With our state-of-the-art Bar Flyer Maker, it's easy to make a bar flyer that's exclusive to your establishment. Just choose a professionally-designed bar flyer template and alter it to incorporate your logo, fonts, colors, and message. Feel free to check out our restaurant flyer templates for even more inspiration. If you have any issues, our Customer Service team is ready to help design the perfect bar flyer for your business.
Bar Flyer Printing and Delivery
Once you've designed a bar flyer that fits your needs, all you have to do is order the prints and we'll take care of the rest. They will come with a gloss finish for bright and vivid colors. Our printing services have the G7 Master Qualification, a certification for the highest accuracy, consistency, and quality of full-color printing -- plus a 100% satisfaction guarantee from our team -- so you'll always be amazed with how your flyers turn out. Our professional printing and quick delivery make it easy for you to start marketing like a pro in no time!
Get Started!
Start designing your new bar flyer with any of these templates below.