Kids Menu Maker by MustHaveMenus
Create a Kids Menu
Looking for a fun menu that's easy for children to read and understand? Check out our menu templates designed for kids. They feature big graphics, splashy colors, entertaining activities and zany fonts. They're printed on matte paper so kids can easily draw on them with crayons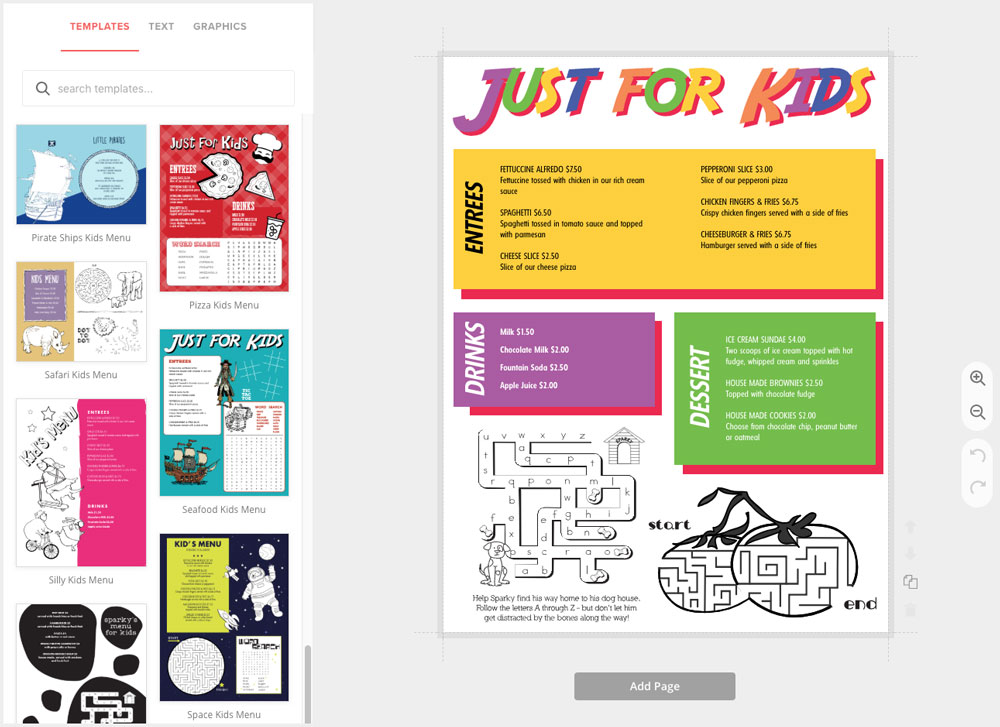 With our Menu Maker tool, it's easy to customize your kids menu so that it matches your brand. Add photos, edit text, switch colors, and much more! Order your prints and start putting out a menu designed with your youngest customers in mind.
How to Make the Perfect Kids Menu:
1. Choose a kids template. Pick a kids menu template you feel best connects with your younger customers. We have designs with dinosaurs, spaceships, pirates, cowboys, and much more.
2. Change the text. Click on a text box to edit it. Add in your food items that are made for kids, like grilled cheese and chicken tenders.
3. Swap colors. Kids menus should be fun and eye-catching. Swap in electric colors to reflect your brand and grab younger customers' attention.
4. Upload a kids logo. If you have a separate, kid-friendly logo, you can upload and insert it. Kids menus are also a great place to include a logo that kids can color in with crayons. 5. Add images and activities. With our editing tool, you can easily upload images. We also have a large collection of fun activities that you can swap in and out of your design. 6. Order prints Once you've nailed your kids menu design, just order prints and we'll ship them to you. All kids menus are printed on crayon-friendly matte material. 7. Update your design. Your design is saved to your personal account, so you can come back to edit and update your kids menu whenever you want!
Menus Designed for Kids
With over a decade of experience, we know how to design our menus so they appeal to kids. You no longer have to search through hundreds of generic or unrelated menu templates. If you choose to create your new kids menu with MustHaveMenus, you'll also have access to our entire collection of restaurant templates for menus, flyers, social media posts and more.
Kids Menu Maker
Customize your kids menu with our easy-to-use Menu Maker tool. Appeal directly to your young audience by inserting crazy colors, awesome images, or exciting fonts. Just pick a template, make your edits, and order your prints. If you get stuck, our Customer Service team is happy to help you create a great kids menu.
Professional Printing
Once you've settled on a design for your kids menu, order your prints and we'll ship them directly to your door. All you have to do is select the quantity and preferred paper choice, track your delivery, and wait for your new kids menus to arrive!
Get Started!
Start your new Kids Menu today with any of these templates below.