Daily Special Menu Maker by MustHaveMenus
Create a Daily Special Menu
Keep your restaurant experience fresh with a new Daily Special Menu. Browse dozens of menu templates for daily, weekly and seasonal specials. Choose one you like and customize it in a few easy steps.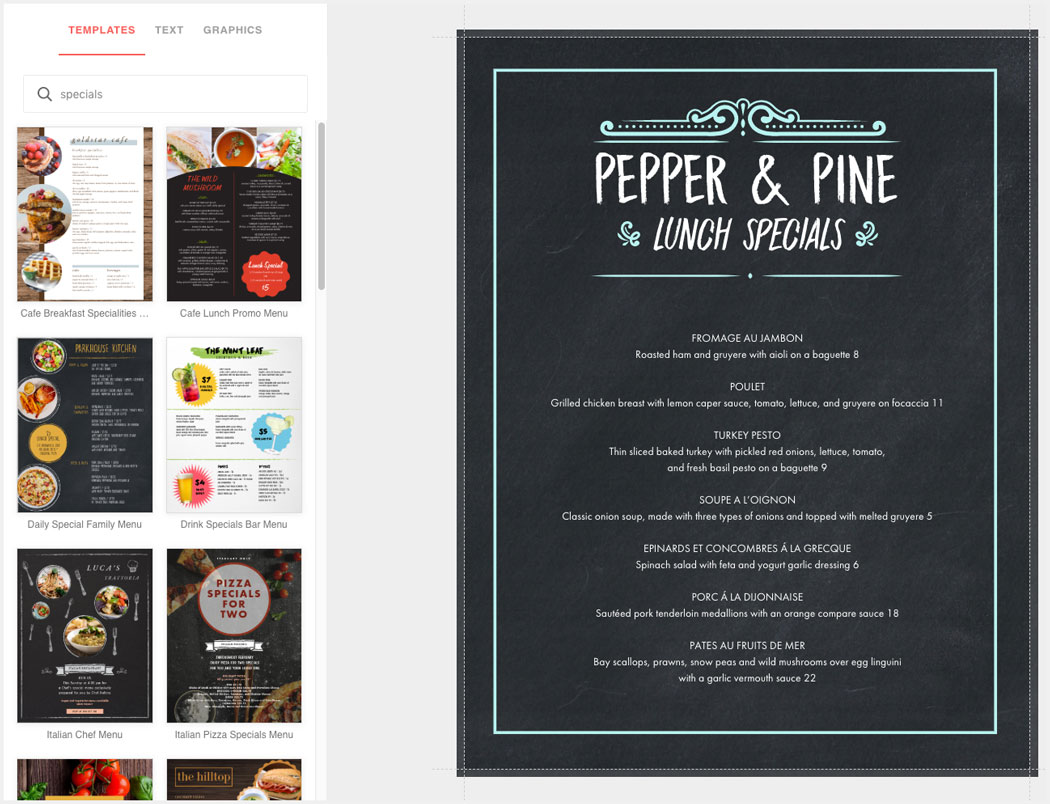 Daily Special Menus are a great way to keep your customers coming back to see what new dishes you're offering. Our easy-design Menu Maker lets you customize the template to fit your restaurant and food.
How To Design A Daily Special Menu:
1. Pick a template from our collection of daily special menus. We have 100+ designs to fit every restaurant and type of food.
2. Add imagery of your daily specials with a few clicks to give your customers a preview of the dish. Upload your own files or choose ones from our image library.
3. Upload your logo or create a new one to brand your menu. While a daily special menu is usually separate from your main menu, it should have the same branding.
4. Change colors for fonts, borders frames, backgrounds and any other design elements. Poppy colors can add a fun differentiator between your main and daily special menu.
5. Download your design, or choose your preferred paper type and order your prints. We work on restaurant time and ship next business day, so you can start putting out your daily special menus as soon as possible!
6. Your design saves to your account, so you can edit and update it with new daily or weekly specials whenever you like.
Menu Experts
At MustHaveMenus, we've partnered with restaurants to help create beautiful, one-of-a-kind menus for over 10 years. We curate and tailor our menus specifically for the industry, so you can always find a template that reflects your business and the type of daily special you're offering. As an added bonus, if you create your daily specials menu with us, you'll have access to all of our other templates for loyalty cards, business cards, flyers, comment cards and more.
Daily Special Menu Maker
With our easy-design Menu Maker, customizing the menu is quick and easy -- two important factors for creating daily special menus on short turnarounds. It's a simple process: browse our template collection and choose a template, make it your own by adding imagery, editing text, swapping colors, inserting graphics, changing fonts and more. If you run into any problems, our wonderful Customer Service team is ready to step in and help.
Professional Menu Printing
Once you've created a daily special menu that you're thrilled about, place your order and we'll ship the menus out next business day. If you're on a time crunch and want to put our a specials menu in the next hour or day, download your design and print your daily special menus from home.
Get Started!
Create your new Daily Special Menu with any of the templates below.