Cocktail Menu Creator by MustHaveMenus
Create a Cocktail Menu
Want a classy menu to show off your drink choices? Check out our collection of cocktail menu templates. With our drag-and-drop Menu Maker, it's easy to customize your own cocktail menu.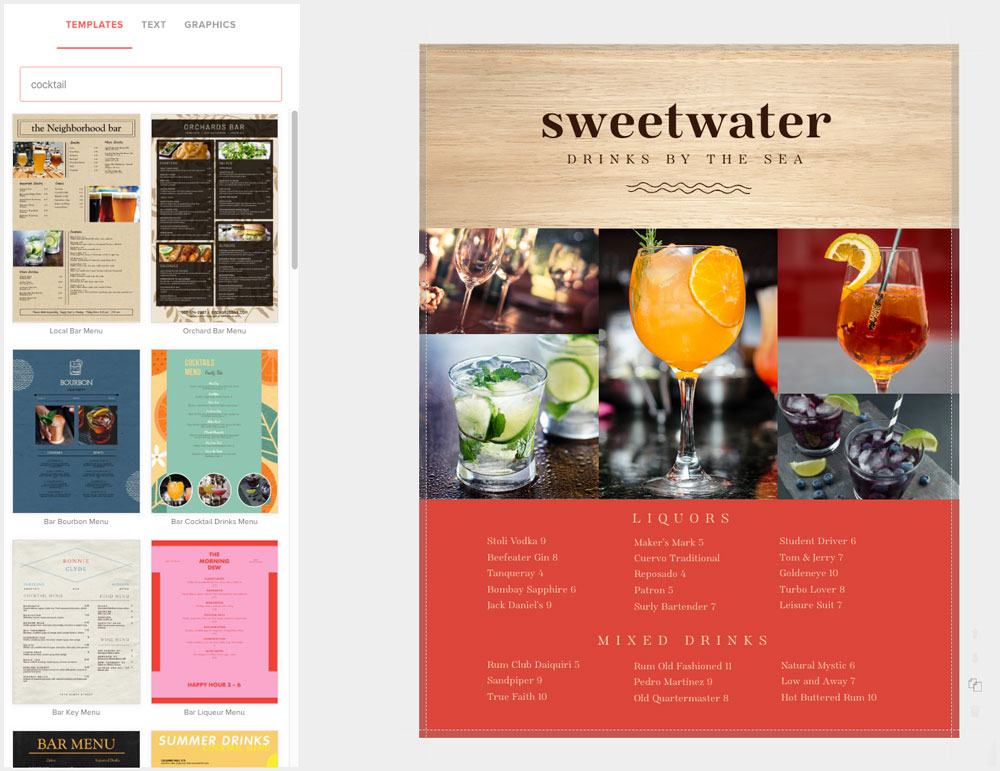 For many restaurants, cocktails set them apart. If your restaurant prides itself on delicious and unique cocktails, you need a cocktail menu that's worthy of your concoctions. Browse our comprehensive collection of templates to find a cocktail menu design that works for your restaurant.
How to Design the Perfect Cocktail Menu for your Restaurant:
1. Choose a cocktail menu template. Pick a design you think best fits your bar or restaurant. We have templates for all kinds of cocktail bars, whether you're the new trendy spot or a hole in the wall. We have you covered.
2. Add photos. With our Menu Maker, you can easily add or remove images of your cocktails. Choose a large image that shows the full spread of your bar, or include smaller images to accompany every drink. It's all your call.
3. Insert your logo. Drag and drop your cocktail bar's logo into the design.
4. Switch colors. Swap out colors to match your cocktail bar's aesthetic with just a few clicks. If you specialize in fruity cocktails, we have several bright and electric colors. For whiskeys bars, we have more somber grays and browns.
5. Order prints Once you're happy with your design, order your prints. If you want to protect your menus from spilled cocktails, you have the option to laminate them at checkout.
6. Update your cocktail menu anytime. Come back and edit your cocktail menu design whenever you want. It's always saved to your account so you can add new drinks, include food items, and much more.
Cocktail Menus for Restaurants
At MustHaveMenus, we're restaurant experts. We bring over ten years of restaurant experience to the table when we design our cocktail menu templates. You no longer have to search through hundreds of generic cocktail designs to find one that's worthy of your restaurant's fanciest drinks. Plus, if you create your cocktail menu with us, you'll have access to all of our other restaurant templates for menus, flyers and more.
Cocktail Menu Maker
Use our drag-and-drop Menu Maker to customize your restaurant's cocktail menu. It's simple: just choose a cocktail menu template and make it your own by adding photos, swapping colors, changing fonts and more. If you find yourself stuck, reach out to our Customer Service. They're always happy to guide you in the creation of your new cocktail menu.
Professional Cocktail Menu Printing
Once you're thrilled with your cocktail menu design, just place your order and we'll ship the menus directly from MustHaveMenus. It's that simple! Just click 'print,' choose what kind of paper you'd like, and soon your new cocktail menus will arrive. We have a 100% satisfaction guarantee on our printing. Or you can post your cocktail menu online to build out your online presence.
Get Started!
Create your new cocktail menu with any of these templates below.