Create St. Patrick's Day Flyers with MustHaveMenus
Design a St. Patrick's Day Flyer
Looking for an impressive holiday flyer to help your customers celebrate St. Patrick's Day at your bar or pub? Well you're in luck! Whether you're featuring live music or have some sweet deals on drinks, we've got just what you need at MustHaveMenus to announce your St. Paddy's Day event.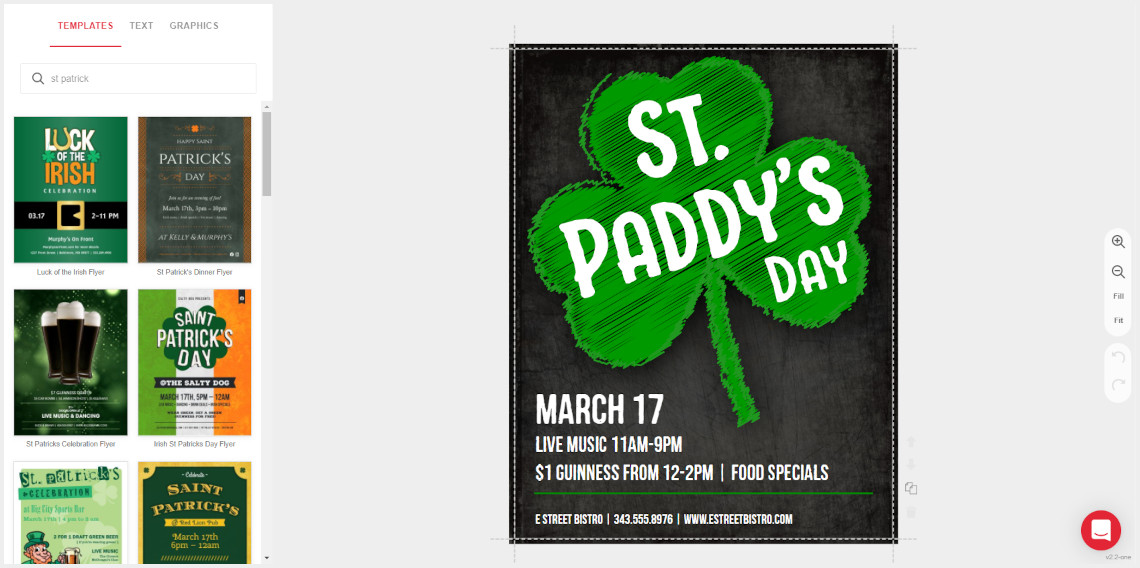 With our state-of-the-art Flyer Maker, creating the perfect marketing companion for your business is as easy as a few simple steps. First, select the ideal holiday template. Then make some quick edits to text, insert photos or logos, and print through our expert team. Your customers will be ready to cheers to the holiday in no time.
How to Design St. Patrick's Day Flyers:
1. Select a template. Choose from a number of professionally-designed St. Patrick's Day flyer templates built for any type of holiday announcement from events and bands to drinks and food specials.
2. Edit text. Replace the text with your own in a few clicks of your mouse. Indicate discounts, add menu items, alter holiday hours, include your contact information, and more.
3. Insert your logo or photos. Add your logo by dragging and dropping it on the template. If you want to highlight menu specials or drinks, add quality photos of your fare. You can also create a QR code to make it easy for customers to scan and access your holiday menu from their phone so they know what to look forward to.
4. Order your prints. Once your design looks great, order your new St. Patrick's Day flyers through our professional flyer printing service. They can be printed in bulk or in small orders, so you'll always get just what you need.
5. Come back whenever you need. Your holiday flyer is saved to your account so you can make changes at any time.
St. Patrick's Day Flyers Designed for Restaurants and Bars
We've been creating quality flyers for restaurants and bars for over 10 years, so we know how to make your holiday announcement stand out. Our unmatched graphic design team creates flyers specifically with you in mind, so you can count on finding a design that fits your holiday needs without having to search through a sea of unnecessary templates. Want more holiday options? Check out our holiday flyers for all your year-round holiday needs. Plus, you'll have access to our full restaurant flyer library here, along with St. Patrick's Day menus, social media templates, half page menus, and more.
St. Patrick's Day Flyer Maker
Making a flyer that's exclusive to you, your brand, and the holiday is easy with the intuitive St. Patrick's Day Flyer Maker. Just choose a professionally-designed template and alter it to incorporate your logo, fonts, colors, message, and more. If you run into any issues, our friendly Customer Experience team is ready to help design the perfect flyer for the holiday.
Flyer Printing and Delivery
Once you've designed a St. Patrick's Day flyer that looks brilliant, all you have to do is order the prints and we'll take care of the rest. Our printing services have the G7 Master Qualification, a certification for the highest accuracy, consistency, and quality of full-color printing so you'll always be amazed with how your flyers turn out. Not to mention our team's 100% satisfaction guarantee! Between our top-notch printing and fast delivery, you'll be ready to start celebrating St. Patrick's Day in no time.
Get Started!
Create your new St. Patrick's Day flyer with any of these templates below.