Restaurant Poster Maker from MustHaveMenus
Make a Restaurant Poster
Want to put the best elements of your restaurant business on full display? Restaurant posters are a great way to showcase menu items, special offers, your brand, and more! Posters are perfect for max visibility on the walls and windows of your restaurant. They not only convey important information -- they add to the personality of your establishment.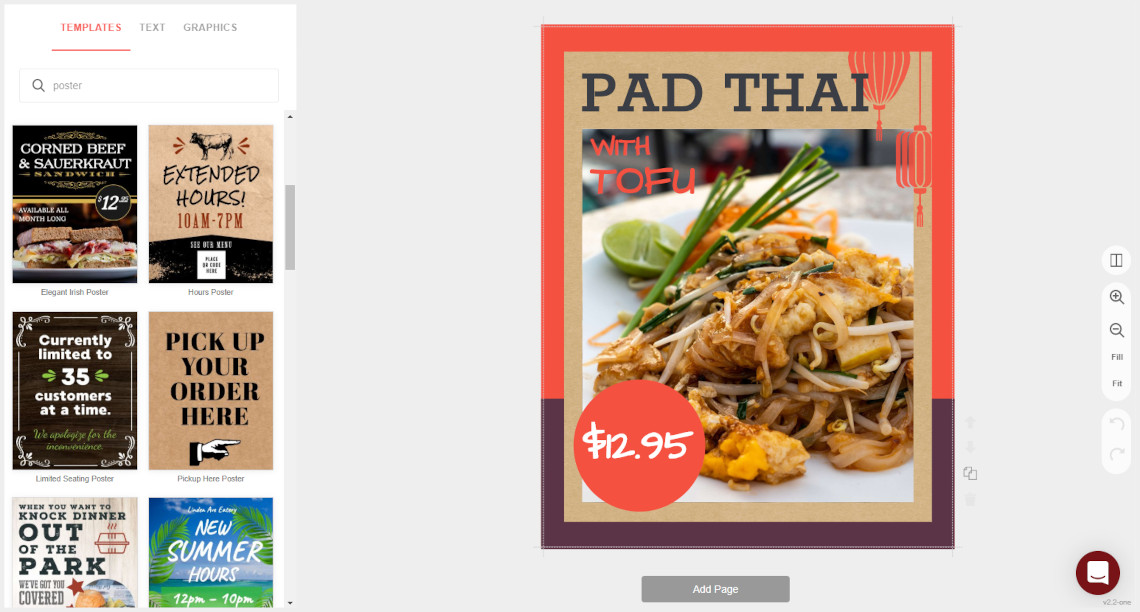 Using our state-of-the-art editing tool, it's easy to create the restaurant poster of your dreams. Choose a template, insert your own logo and images, alter colors, edit text, and change fonts to easily create professional-quality posters for your restaurant.
How to Create a Stunning Restaurant Poster:
1. Select a template. Pick from a multitude of beautiful and professionally-designed restaurant poster templates designed for any style of restaurant. Every template style will achieve a different goal depending on what you do with it. Plan out how you want to promote your restaurant, then choose the template that best suits your goals.
2. Edit text. Replace the text with your own in a few simple steps. Click on the text boxes and add the sections that you need. Want to focus on your delicious food? How about your current specials? Maybe the new patio seating that you've expanded? Make sure the text fulfills the purpose of the restaurant poster and matches your brand.
3. Insert your logo and photos. Include your logo by dragging and dropping it anywhere onto your restaurant poster design. A great option is to add professional photos of your delicious menu items to get your customers' stomachs rumbling. This is a perfect opportunity to establish your restaurant's brand in patrons' minds.
4. Swap colors. Feel free to change or add any colors as you see fit - however, make sure that the colors on your poster reflect your restaurant's aesthetic. A good idea would be to highlight your restaurant's unique color scheme.
5. Order prints. Once you love your design, order your new professional prints through our top-of-the-line print services. They'll arrive ready to use, right to your door. Place them anywhere you'd like that's easily accessible and where it fits the appearance of your restaurant.
6. Edit your design anytime. Your restaurant poster is saved to your account so you can make changes whenever you need.
Posters Designed for Restaurants
Our unparalleled design team creates our posters specifically with restaurants in mind, so you can count on finding a restaurant poster design that fits your needs without having to sift through hundreds of irrelevant templates. Plus, you'll have access to all our other designs for menus, flyers, social media templates, and more.
Restaurant Poster Design Tool
With our drag-and-drop design tool, it's easy to make a poster that's exclusive to your restaurant. Just choose a professionally-designed poster template, and alter it to incorporate your logo, fonts, colors, and content. If you have any issues, our friendly Customer Service team is ready to help design the perfect poster for your restaurant.
Restaurant Poster Printing and Delivery
When you've designed the poster that fits your needs, all you have to do is order your poster prints and we'll have you covered with all the rest. Our printing services have the G7 Master Qualification, a certification for the highest accuracy, consistency, and quality of full-color printing -- plus a 100% satisfaction guarantee from our team -- so you'll always be amazed with how your restaurant posters turn out. Our professional printing and fast delivery will have you promoting your restaurant in no time!
Get Started!
Start designing your new restaurant poster with any of these templates below.