Create Flyers to Celebrate Oktoberfest
Design an Oktoberfest Flyer
Making a new flyer to promote your Oktoberfest event but still need that wow factor? Well, we have just what you need at MustHaveMenus! Use our warm, autumnal flyer designs to ring in the Fall and promote your restaurant's Oktoberfest festivities.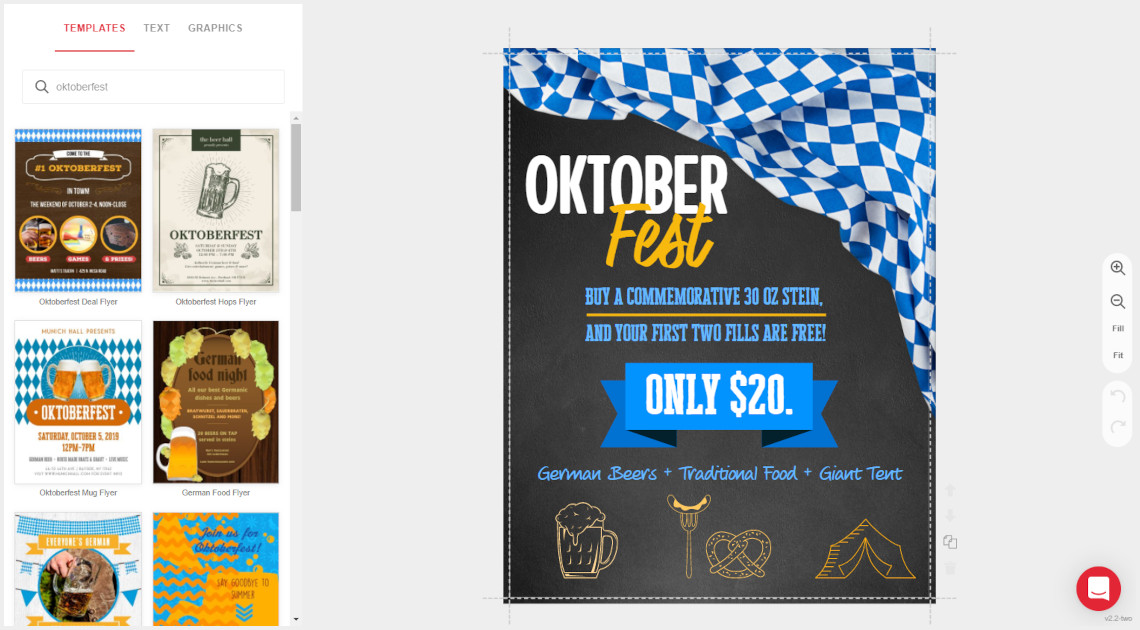 With our easy-to-use Flyer Maker, creating a holiday flyer for your Oktoberfest event is a breeze. Simply choose a template from our library, make some quick edits to text and colors, insert photos or logos, and print through our expert team. It's that easy!
How to Build Oktoberfest Flyers:
1. Choose a flyer template. Select one of our eye-catching Oktoberfest flyer templates built for any type of Oktoberfest holiday announcement, from events and live music, to beer and food specials.
2. Change text and colors. Replace the text, fonts, and colors with your own in a few clicks of your mouse. Highlight drink specials, list all your German beers, display hours, include your contact information, and more.
3. Add your logo or photos. Insert your logo or photos by dragging and dropping them onto the template. You can also create a QR code to make it easy for customers to scan and access your holiday menu from their phone so they know what to look forward to. This is a great way to build your brand and market your business.
4. Order your flyers. Once your design looks great, order your new Oktoberfest flyers through our top-of-the-line flyer printing service. They can be printed in bulk or in small orders, so you'll always get just what you need.
5. Make edits any time. Your Oktoberfest flyer is saved to your account so you can make changes at any time.
Oktoberfest Flyers Made for Restaurants and Bars
We've been creating quality marketing materials for restaurants and bars for over 10 years, so we know how to make your holiday announcement catch the eye of passersby. Our unparalleled design team creates flyers specifically for Oktoberfest so you don't need to sift through hundreds of unrelated templates searching for the right one. Plus, you'll have access to our full restaurant flyer library here, along with German menu templates, Facebook posts, tabletop inserts, and more. We've got everything you need to promote your Oktoberfest celebration.
Professional Flyer Maker
Making a flyer that's exclusive to your business and holiday event is easy with our state-of-the-art Flyer Maker. Just select an Oktoberfest flyer template and alter it to incorporate your photos, fonts, colors, message, and more. If you need any help creating your flyer, our friendly Customer Experience team is ready to assist you in creating the perfect flyer.
Flyer Printing and Delivery
Once you've designed a head-turning Oktoberfest flyer, all you have to do is order the prints and we'll take care of the rest. They come with a gloss finish for bright and vivid colors that last. Our printing services have the G7 Master Qualification, a certification for the highest accuracy, consistency, and quality of full-color printing so you'll always be impressed with how your flyers turn out. Not to mention our team's 100% satisfaction guarantee! Between our top-notch printing and next business day delivery, your customers will soon be ready to raise a glass in celebration!
Get Started!
Create your new Oktoberfest flyer with any of these templates below.