Folded Menu Maker by MustHaveMenus
Make a Folded Menu
Add a menu to your restaurant menu line-up that's convenient and compact with folded menus! These trifold designs feature six large panels that allow for a comprehensive menu in a manageable size. Use these to highlight your drinks, desserts, or your full menu -- they'll quickly become a hit with your loyal customers!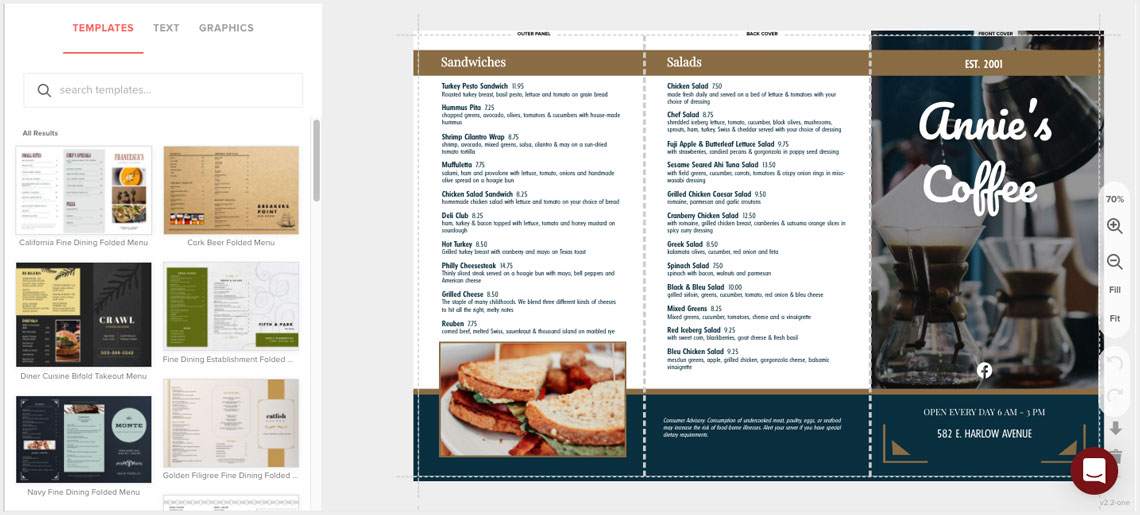 Creating a beautiful folded menu is a piece of cake with our state-of-the-art editing tool. To get started, choose a template that best aligns with your design goals. Then innovate with our intuitive drag-and-drop design tool by inserting the images of your choice, incorporating your logo, adding colors, changing fonts, and editing the text.
How to Design an Exceptional Folded Menu:
1. Select a template. A vast range of engaging folded menu templates are at your fingertips - there's something for every kind of restaurant business. The template you pick will be the springboard for the rest of your design process, so make sure it best reflects your brand and style.
2. Edit text and fonts. Make your menu truly your own by adding, removing, or changing text boxes as you see fit. Change fonts to highlight everything from a fun and funky vibe, to an elegant and professional vibe. Utilize this function to emphasize certain sections or inform your customers of this week's specials.
3. Add your logo and images. Drag and drop your logo wherever you'd like on your design, and insert your favorite images to add personality. Photos serve as the perfect tool to direct your customers' attention to certain menu sections, or to show off your favorite menu items.
4. Swap colors. Switch the colors to fit your restaurant's color scheme and complement the aesthetic, or express yourself and your brand in a unique way with unconventional color choices.
5. Order prints. Once your design is the menu of your dreams, order your prints through our unmatched print department. They will arrive folded and ready to stun your customers.
6. Access your menu whenever you need. Your folded menu design is stored on your personal account so you can edit it whenever you need - in just a few quick clicks.
Elegant Folded Menus
Our unmatched design team is always churning out new templates for our wide selection of beautiful folded menus, so you can be sure you'll find a template that fulfills all your needs without digging through piles of unrelated templates. Plus, you'll have access to all of our other design types for restaurant businesses, including menus, takeout menus, half page menus, and more!
Folded Menu Creator
With MustHaveMenus' easy-to-use design tool, it's simple to create a folded menu for your restaurant business. Get started by choosing a template, and in just a few minutes, edit it to feature your logo, colors, fonts, and text. If you run into any roadblocks, our personable Customer Service team will be with you in an instant to aid you in the design process.
Folded Menu Printing and Delivery
When your folded menu is completed, all you need to do is order your prints through our professional print services and we'll take care of everything else! Your new folded menu prints will be shipped wherever you need them in as little as one business day. They'll be the talk of the town before you know it!
Get Started!
Create your new folded menu with any of these templates below.