Business Flyer Creator by MustHaveMenus
Design a Business Flyer for your Restaurant
Quickly and easily create new business flyers to keep your customers informed about changing hours, takeout availability, new safety policies and more with MustHaveMenus. Choose from dozens of templates that cover every operational need your restaurant may run into.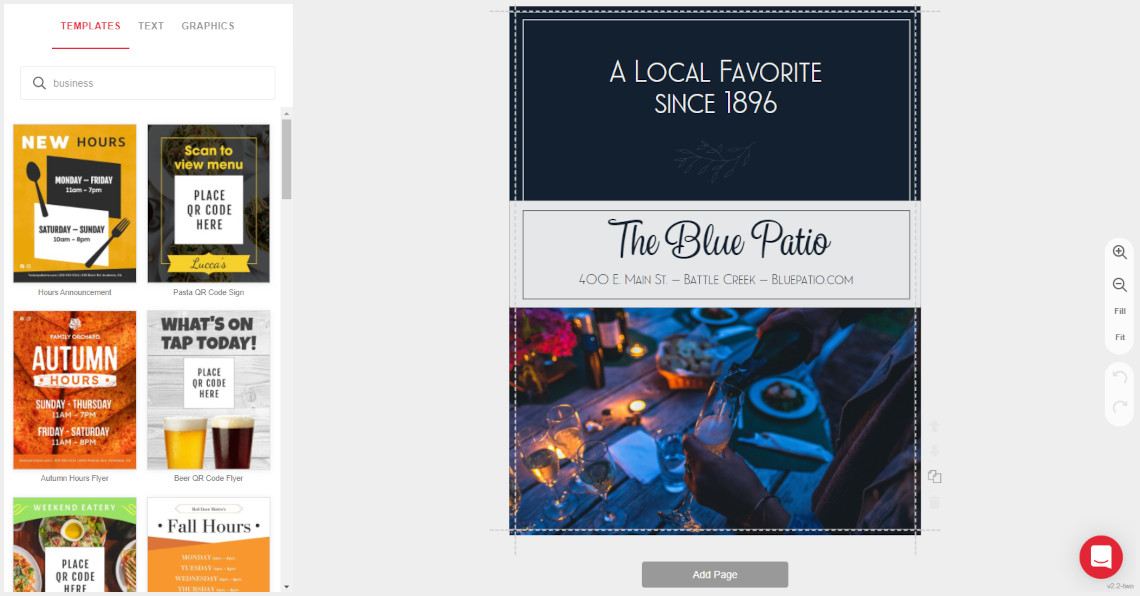 Our easy-use design tool makes it a breeze to create new business flyers. Simply choose a template for whatever your messaging needs, and then make as many or as few changes as you need for your perfect business flyer.
Design a Stunning Business Flyer:
1. Select a template. Our library of business flyer templates is full of options for every kind of business, so we can guarantee that you'll find the template of your dreams.
2. Edit text. Make the business flyer template truly your own by adding text that will achieve your marketing goal - maybe it's informing customers of your updated business hours, or describing your new product. It's also easy to remove text boxes if you're going for a streamlined, image-heavy look.
3. Insert your logo and images. Our intuitive drag-and-drop design tool allows you to insert your logo and images of your choosing wherever you'd like. When using a flyer, including your logo is of the utmost importance, so make sure to feature it in a prominent way.
4. Switch colors. Our comprehensive design features allow you to customize the flyer template with whatever colors you like, so get your creative juices flowing and let your imagination run wild.
5. Order the prints. When your business flyer is finished, order the prints straight from our website. Your new flyers will arrive as soon as the next business day, at your door or wherever you need them.
6. Edit your business flyer whenever. Your business flyer is saved to your online MustHaveMenus account, so you can access it whenever you see fit.
Fantastic Business Flyers
MustHaveMenus' incredible design team is always creating new business flyer templates to meet the ever-changing demands of the business world. There are dozens of flyer templates at your fingertips, so you're guaranteed to find something that will fulfill your marketing needs without getting caught up in unrelated templates and designs. When you sign up with MustHaveMenus, you won't just have access to flyers, but also designs for flyers, entertainment flyers, stickers, and many more!
Business Flyers Maker
Create awe-inspiring business flyers with minimal effort using our state-of-the-art design tool! We take care of the templates and the tedium, and you just add your finishing customizations to complete the design and match it to your brand. If you encounter any roadblocks, our amiable design team will be right with you to fix any issues!
Print Business Flyers
So you're finished with your business flyer - what to do now? Navigate to the printing feature on our website, choose from a wide selection of printing paper options, then order the prints! Before you know it, you'll have your flyers, ready to rock the marketing world!
Get Started!
Create your new business flyer with any of these templates below.