Design a Restaurant Menu with MustHaveMenus
Create a Restaurant Menu
Take your restaurant's presentation to the next level with a brand new menu. We offer traditional dine-in menus, bifold takeout menus, crayon-friendly kids menus, folded table tents and more.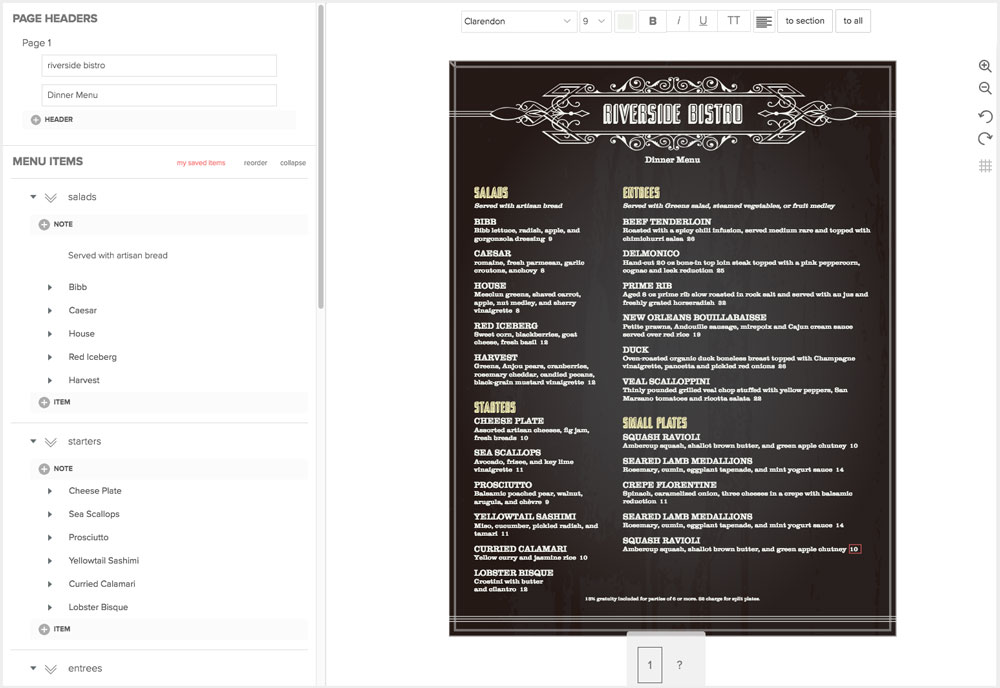 Making a restaurant menu is quicker and easier than ever. Choose a menu template you like, customize it with our easy-to-use Menu Maker, and download your design or order your prints. It's that easy!
How to Create the Perfect Restaurant Menu:
1. Choose a template. Choose a menu template that speaks to you. We offer templates for every restaurant imaginable, from cafes to pizzerias, pubs, bars, and much, much more.
2. Edit text. Make the menu reflect your selection with our Menu Maker and Lite Editor. Click on a text box to quickly edit or replace the text.
3. Upload your logo. Your menu is a crucial arm of your branding, so it should include your logo. Easily upload and insert yours.
4. Change colors. Our designs are professional and colorful, made to grab your customers' attention at first glance. Swap out colors and make the menu match your aesthetic with our Menu Maker.
5. Add image. They say an image is worth a thousand words. This holds for menus. Spice up your visuals by uploading your own images, or choose from extensive library.
6. Order prints. Once your design is ready, order prints. We have several high-quality papers and synthetic papers you can choose from. We work on restaurant time, so we print and ship next business day.
7. Update anytime. Your restaurant menu design is saved to your account so you can make edits and updates whenever!
Restaurant Menus
At MustHaveMenus, we specialize in food service and restaurants. All of our templates are created for restaurants, so you don't have to search through hundreds of generic templates to find one works for yours. We also offer a large selection of different templates from kids menus to table tents, dine ins, take outs and more. Edit it reflect your restaurant and order prints.
Restaurant Menu Maker
Design your own menu with our online Menu Maker. It's easy to customize your menu to fit any restaurant or occasion! Just pick a menu template, then edit it to include your logo, food photos, font and more. If you run into any problems, our Customer Service team is here to lend you a hand.
Print and Share Restaurant Menus
Once you're thrilled with your menu design, place your order and we'll ship the prints right to your door. In addition, you can download a PDF and share your menu online. We also provide next day shipping!
Want that professional touch?
If you're stumped, consider hiring one of our professional graphic designers to help create your next great menu.
Get custom templates!
Get Started!
Start creating your new restaurant menu with a template below.