Mother's Day Menu Designer by MustHaveMenus
Create a Mother's Day Menu
Celebrate the most important women in your life with a special Mother's Day Menu. Choose from dozens of elegant and flowery templates designed to make the next Mother's Day unforgettable.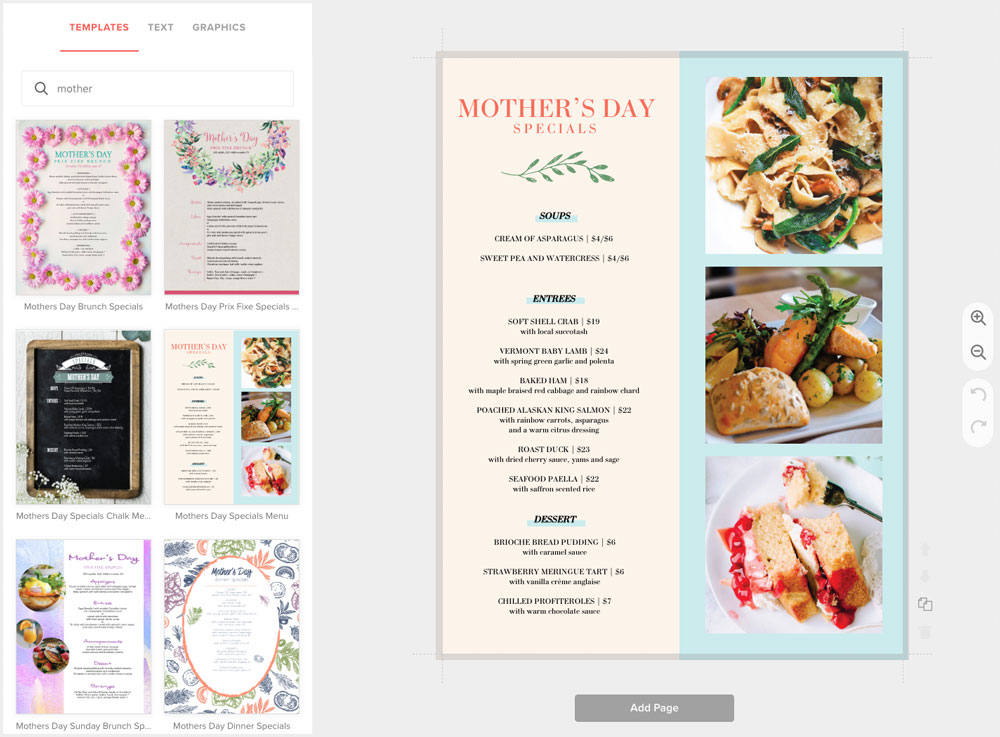 Whether it's a macaroni necklace or a beautiful new menu, the best Mother's Day presents are always DIY. That's why we give you the power to design your own menu with our fast and easy Menu Maker tool.
How to Design a Mother's Day Menu:
1. Pick a template from our large collection of Mother's Day designs, including prix fixe menus and one-off specialty menus.
2. Give your menu visual weight by adding and placing images on the template. Uploading and formatting images is fast and easy.
3. Upload your logo or create a new one for Mother's Day with our Menu Maker tool.
4. Swap out colors to match your aesthetic with just a few clicks. Add soft pinks and blues, or mix it up and go for your own Mother's Day look.
5. Choose your preferred paper type and order your prints. We ship next business day!
6. Your design saves to your account, so it's easy to update and customize. Add in your hours, update your Mother's Day specials, and much more.
Mother's Day Done Right
At MustHaveMenus, we want Mothers Day to be one of the most special days of the year. We design our templates to elevate your dining experience and give your customers a Mother's Day they won't forget. Plus, if you create your Mother's Day menu with us, you'll have access to all of our other templates for loyalty cards, business cards, flyers and more.
Mother's Day Menu Designer
With our easy-design Menu Designer, it's quick and easy to customize your Mother's Day menu to fit your restaurant. It's a simple process: browse and choose a a template, make it your own by adding photos, swapping colors, changing fonts and more. If you're struggling and need assistance, our wonderful Customer Service team is ready to help you create a beautiful new Mother's Day menu.
Professional Menu Printing
Once you're thrilled with your Mother's Day menu design, just place your order and we'll ship the menus directly from MustHaveMenus - next business day! We work on restaurant time so you can get your menus in-time for Mother's Day.
Get Started!
Create your Mothers Day Menu with any of the templates below.