Create a Grand Opening Flyer with MustHaveMenus
Design a Grand Opening Flyer
Grand openings are always a grand affair... so it only makes sense that you'd want the best marketing materials for the occasion - flyers! Hand out your new grand opening flyers, or hang them up all over town, and everyone will want to show up and celebrate! MustHaveMenus has a wide selection of grand opening flyer templates that you can customize to your heart's content.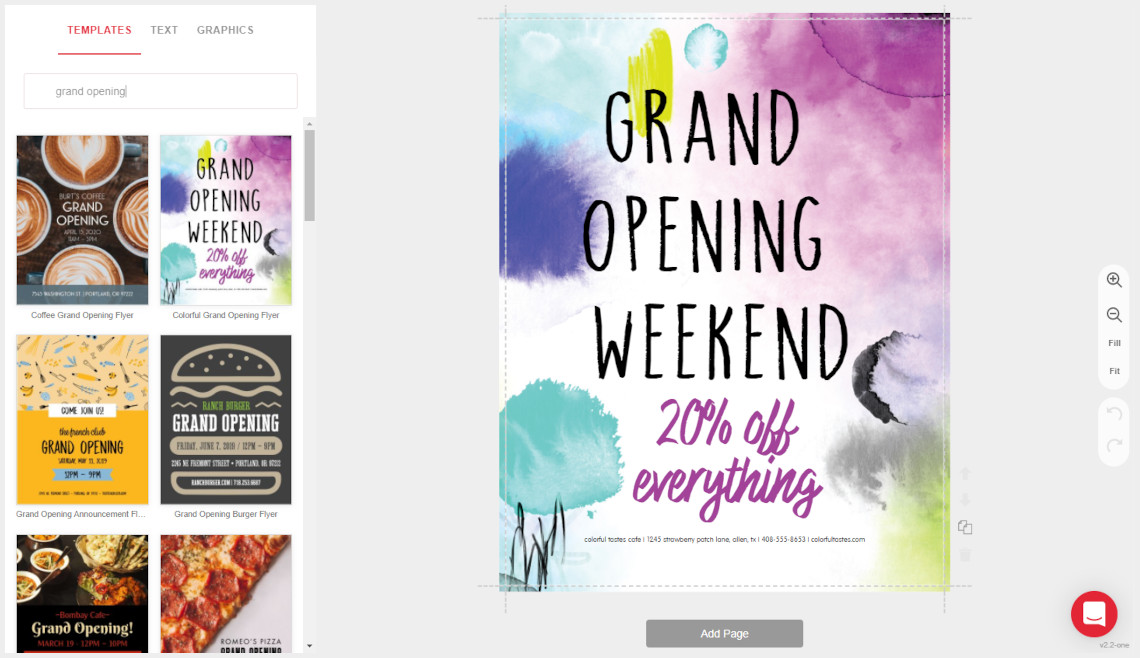 Design a grand opening flyer with no sweat using our exceptional design tool. Just follow the easy steps we've outlined below and you'll be on the road to marketing success in a flash. Get ready for the grand opening of a lifetime!
Make a Gorgeous Grand Opening Flyer:
1. Pick a template. It's easy to get lost in our wondrous selection of grand opening flyer templates - there's just so much to take in! Our designs combine beauty, efficiency, and style for a look that your customers will remember. There's something for everyone with MustHaveMenus.
2. Alter text. Take the next step in elevating your marketing game by implementing text of your choice into the design. For a grand opening, bold text is a great option to catch your customers' eyes, but our flexible design tool allows you to include text boxes of any size.
3. Add your logo and photos. Your grand opening flyer design is the perfect opportunity to debut a stylish logo! Drag and drop it anywhere on the template. You can also provide a sneak peek into your dining experience by including images of your delicious dishes.
4. Switch colors. Choosing colors is one of the most important parts of the design process. Feel free to play around with our comprehensive color palette to find the color combos that you like.
5. Order the prints. Once your grand opening flyer is complete, order the prints directly from our website. They will arrive wherever you need them, in as little as one business day.
6. Edit your grand opening flyer at any time. Your grand opening flyer is conveniently saved to your MustHaveMenus account, so if need be, you can come back and edit it whenever you want.
Glamorous Grand Opening Flyers
Our incredible design team is where the magic happens - they consistently produce beautiful designs for all manner of restaurant-related templates, so you won't have to worry about searching through dozens of unrelated templates while looking for the grand opening flyer of your dreams! In addition to flyer designs, you'll have access to designs for takeout menus, business cards, stickers, and much more!
Grand Opening Flyer Creator
Design outstanding grand opening flyers with a few quick clicks using our impressive design tool! We kick off the process by designing the templates from scratch, and all you do is add your finishing touches! If you run into any problems, give our amiable customer service team a holler and they'll be right with you!
Grand Opening Flyer Printing
Youâ??ve completed your design! Just one more thing - choose from our high quality selection of printing paper options and order your new flyer prints. You'll receive your flyers as soon as the next business day, ready to rock the marketing world!
Get Started!
Create your new Grand Opening flyer with any of these templates below.