Comment Card Maker by MustHaveMenus
Make a Comment Card
Looking for some feedback from your customers? Comment Cards can be an important tool in growing and evolving as a restaurant, and our Comment Card Maker makes creating these designs quick and easy. Pick one of our professional designs, make a few edits, place the order, and we'll ship your new comment cards right to your door.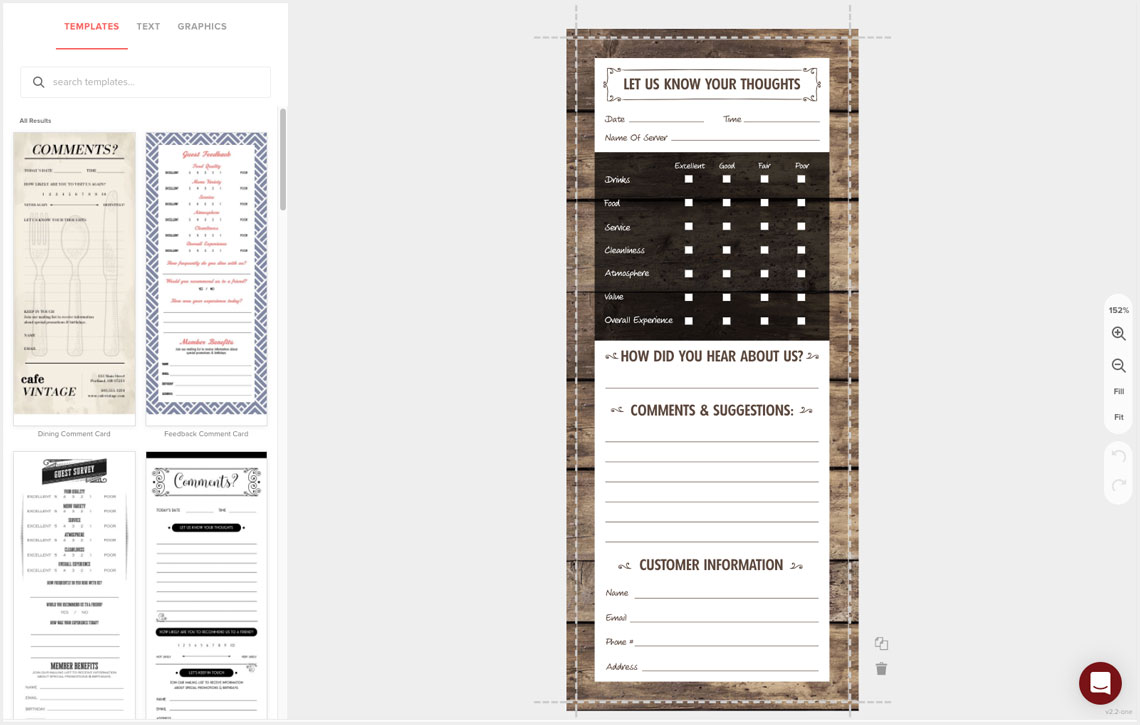 With our drag-and-drop Comment Card Maker, it's easy to customize your perfect feedback form. Our restaurant Comment Card templates give your customers a platform to provide their evaluations in a clear and simple format. Pick a template, add your own logo or photo, change colors, edit text and swap fonts - all with a few clicks. This tool makes it easy for you to solicit important information from customers, and ultimately, improve your business.
How to Make the Perfect Comment Card for Your Restaurant:
1. Select a template. Pick from multiple unique and professional comment card templates geared towards any style of restaurant or business. Each template format has a different goal depending on the type of feedback you seek. Decide what kind of information you want to learn, then choose the template with the perfect questions and style.
2. Edit text. Replace the text with your own in a few easy steps. Click on the text box and add the sections or questions you need. In some instances, text won't need to be changed. Score! Using a ratings scale, you can edit specific aspects of the business you want to evaluate to determine what is going well and what needs work.
3. Upload your logo. On the back side, make sure to include your logo by dragging and dropping it on the page. You want this section to reflect your business and brand.
4. Change colors. Make sure the colors of your comment card are reflective of your brand and the colors of your restaurant or business. Do this with ease using our Comment Card Maker.
5. Order prints. Once you love your design, order your new professional prints through our expert team. They'll arrive right to your door, ready to use. Place them on tables, in card holders, in the check presenter, or anywhere you'd like them to be easily accessible.
6. Update your design anytime. Your comment card is saved in your personal account so come back and make changes to your questions whenever needed.
Comment Cards Designed for Restaurants
Our team of professional designers create the comment cards specifically for restaurants, so you can always find a card design that fits your restaurant's brand without having to search through hundreds of unrelated templates. Plus, you'll have access to all our other designs for menus, social media, flyers, and more.
Comment Card Maker
With our drag-and-drop Comment Card Maker, it's easy to design a comment card that's unique to your needs and restaurant. Just select a professionally-designed comment card template, and edit it to include your logo, fonts, colors, custom questions, and more. If you run into any issues, our Customer Service team is ready to help you design the perfect comment card for your restaurant.
Comment Card Printing and Delivery
Once you have designed a comment card with the Comment Card Maker, order your comment card prints and we'll take care of the rest. We provide a 100% satisfaction guarantee on all of our printing, so you'll always be impressed with how your restaurant's comment cards turn out. Professional printing and fast delivery, so you can start promoting your restaurant as soon as possible.
Get Started!
Start designing your new comment card with any of these templates below.