Christmas Menu Maker by MustHaveMenus
Design a Christmas Menu
Get your customers into the spirit by putting out a holiday-specific menu this Christmas. Browse dozens of festive menu templates, choose one you like and customize it in a few easy steps.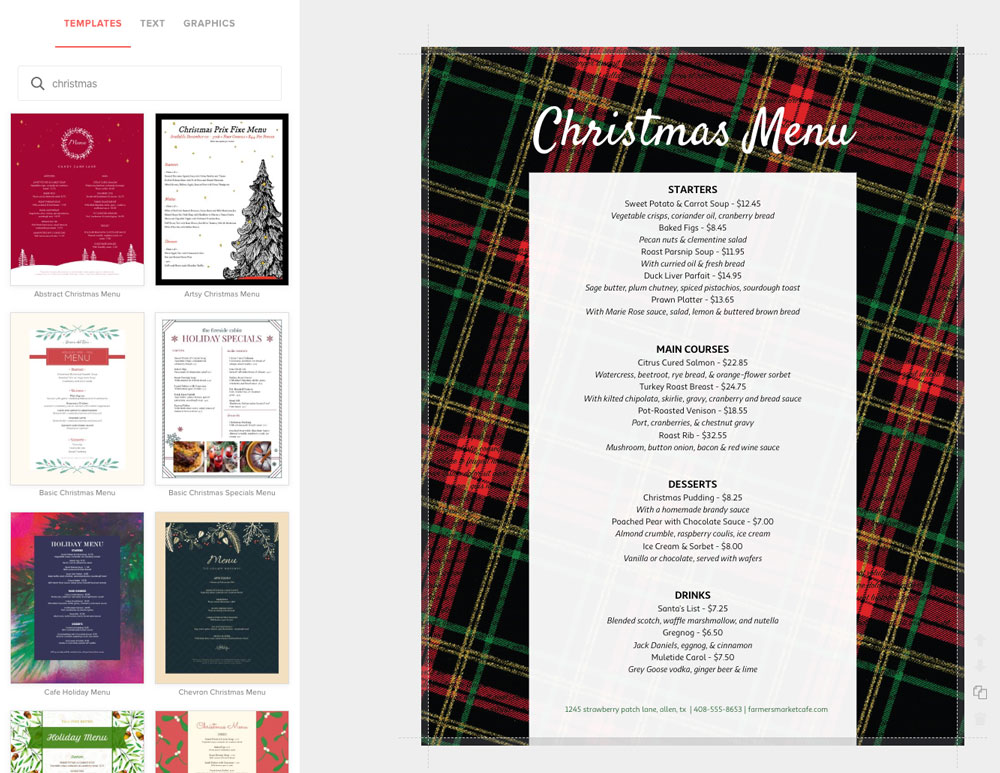 Christmas Menus are a great way to mix up your daily presentation and display your holiday specials. With our easy-design Menu Maker, customizing the template to fit your restaurant is quick and simple.
How To Design A Festive Christmas Menu:
1. Pick a template from our collection of Christmas menus for every kind of holiday celebration, from traditional Santa-centric designs to broader ones with holly and snow.
2. Add imagery of your Christmas specials, decorations and more by uploading your picture and dragging it into place on the template. Upload your own files or choose ones from our holiday image library.
3. If you want to extend the Christmas theme to your branding, update your logo with a little holiday cheer. Otherwise, upload your logo design to make your Christmas menu an extension of your brand.
4. Add more green-and-red for a traditional Christmas aesthetic, or switch the background to white for more of a Winter feel. Every design element can be selected and the color changed.
5. Download your design, or choose your preferred paper type and order your prints. We work on restaurant time and ship next business day to make sure you get your menus by Christmas!
6. Your design automatically saves to your account, so you can make last minute edits, or update it every Christmas.
Menu Experts
At MustHaveMenus, we've partnered with restaurants to help create beautiful, one-of-a-kind menus for over 10 years. We curate and tailor our menus specifically for the industry, so you can always find a template that reflects your business and Christmas celebration. As an added bonus, if you create your Christmas menu with us, you'll have access to all of our other templates for loyalty cards, business cards, flyers, comment cards and more. We also offer free social media, so you can complement your new Christmas menu with a festive Facebook or Instagram post.
Christmas Menu Maker
With our easy-design Menu Maker, customizing the Christmas template is quick and easy -- two important factors if you're rushing to put a menu out before the holidays. It's an intuitive process: browse our template collection and choose a template, make it your own by adding imagery, editing text, swapping colors, inserting Christmas graphics like Santa or holly, changing fonts and more. If you run into any problems, our wonderful Customer Service team is ready to step in and help.
Professional Menu Printing
Once you're thrilled with your Christmas menu, place your print order and we'll ship the menus out next business day. If you're on a time crunch and want to put out a holiday menu in the next hour or day, download your design and print your Christmas menus from home.
Get Started!
Create your new Christmas Menu with any of the templates below.