Wine Menu Maker by MustHaveMenus
Create a Wine Menu
Elevate your wine selection with a gorgeous, customizable menu. Browse dozens of original wine list templates designed for wineries, restaurants, bars and more.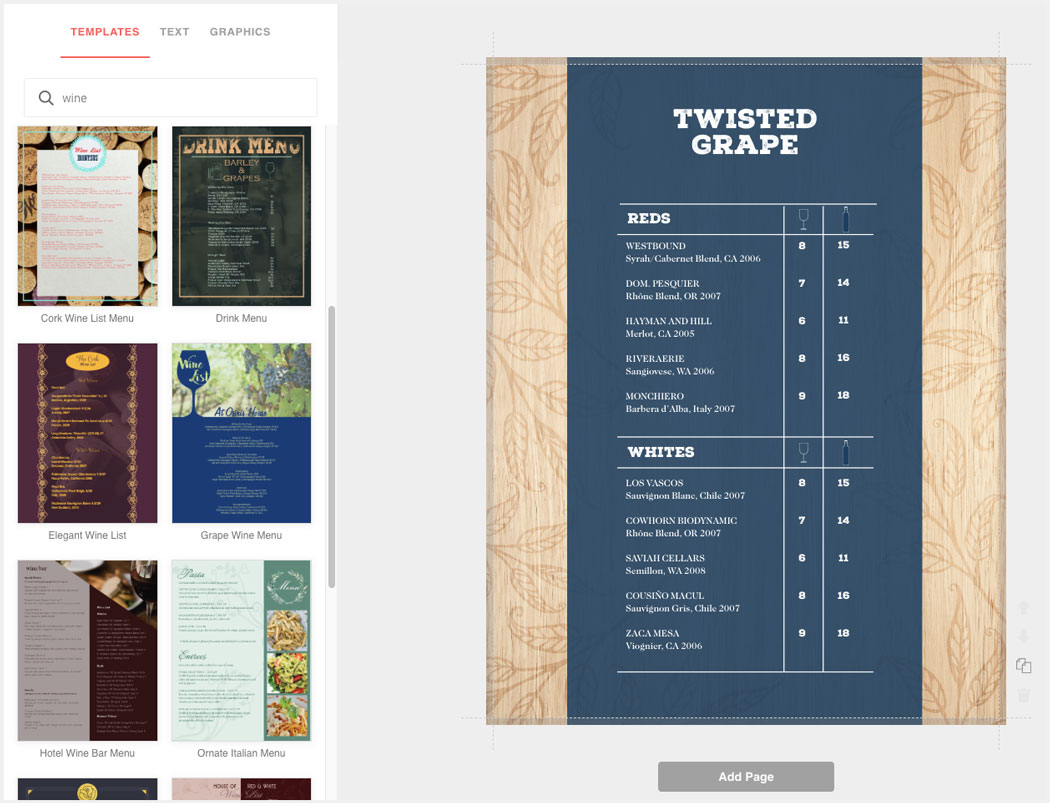 Wine menus come in many shapes and sizes, all of which you can create in a few simple steps with our online Wine Menu Maker. Choose a template, then customize it and make it your own with a couple clicks.
How to Create an Elegant Wine Menu:
1. Pick a wine menu design you like from a wide range of templates for high-end restaurants, casual cafes, trendy bars, stately wineries, and more.
2. Upload and position images of your wine, grapes, bottles and casks with our Wine Menu Maker tool.
3. Upload your logo or create a new one to brand your menu and accompanying marketing materials.
4. Swap out colors to match your wine collection. If your selection skews towards pinot noirs, merlots and Malbecs, then maybe infuse some more red into the design. Same goes for softer colors if you specialize in white wines.
5. Choose from our selection of premium menu papers, and order your prints or download your design and print it at home.
6. Your design saves to your account, so you can come back and update your wine menu with new bottles whenever you want.
Wine Menu Specialists
We're restaurant specialists with over ten years of experience designing templates that highlight and sell wine. We understand how to organize huge bottle lists on a menu, what design flourishes can elevate the entire wine presentation, and the best strategies for pricing your wine. You no longer have to search through hundreds of generic wine lists to find one that works for you. Plus, if you create your wine menu with us, you'll have access to all of our other templates for menus, flyers, business cards, comment cards and more.
Wine Menu Maker
Using our drag-and-drop Wine Menu Maker, it's quick and simple creating an original menu from our professional designs. The process is easy: choose a wine menu template you like, then make it your own by adding photos, swapping colors, changing fonts and more. If you find yourself stuck, you can always reach out to our Customer Service. They're always happy to guide you in the creation of your new wine menu.
World-Class Menu Printing
Once you're thrilled with your new wine menu, place your order and we'll ship the menus directly from MustHaveMenus - next business day! Just click 'print,' choose your preferred paper type, and we'll ship the new menus to your doorstep. You also have the option to download your design and print it yourself. Or you can publish your wine menu online to build out your web presence.
Get Started!
Create your new wine menu with any of the templates below.