Design a Takeout Menu with MustHaveMenus
Create a Takeout Menu
Need a seperate menu for takeout items? Check out our massive catalog of professional takeout menus templates. We specialize in restaurants, tailoring our designs and menu templates to best showcase your food.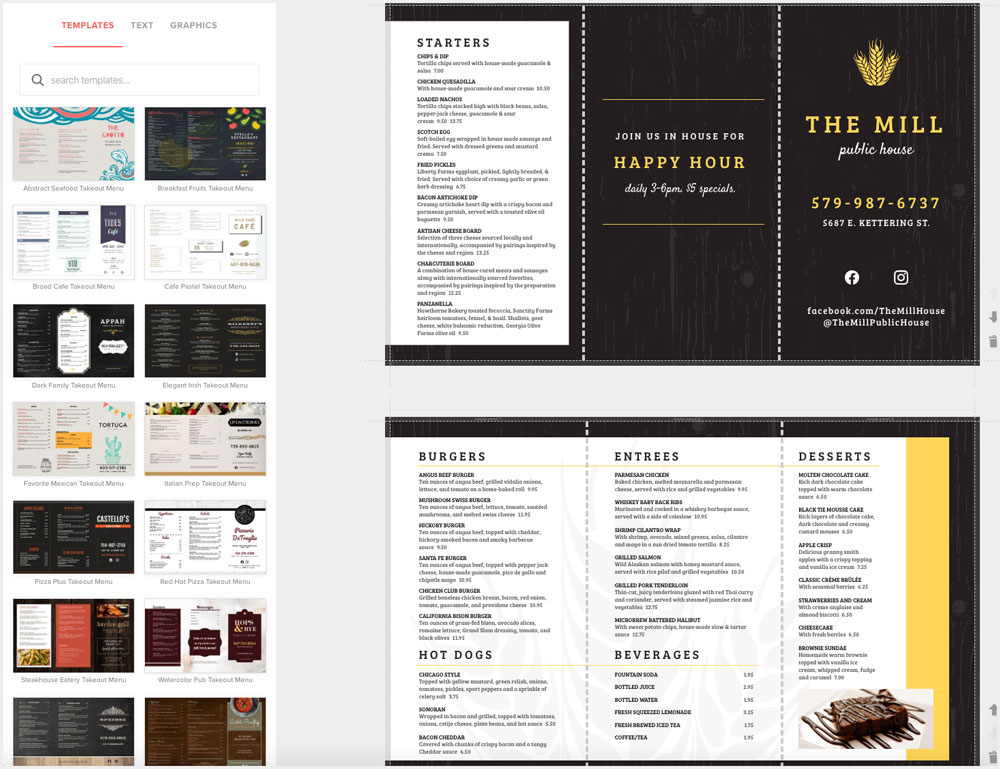 For some restaurants, the takeout menu is the main point of contact with customers. Is yours representing your restaurant and building your brand? With our drag-and-drop editor, it's easy to design the perfect takeout menu for your restaurant. Just pick a template, customize it, and order your prints.
How to Design the Perfect Takeout Menu:
1. Pick a template. Choose the takeout menu you feel best captures the your brand. We offer bi-fold, tri-fold and quad-fold takeout menus.
2. Change the text. Simply click on the text box and insert your own menu items and takeout policies. It's that easy.
3. Upload your logo. With our Takeout Menu Maker, uploading and positioning your logo is a simple process. Takeout menus are great branding opportunities since you can hand them out by the dozen, so make sure yours include your logo.
4. Add photos. An image can say a thousand words. Give your customers a glimpse of what they could be ordering to-go by uploading and positioning gorgeous, high-def pictures of your food.
5. Update your takeout menu anytime. Your design is saved to your personal account, so you can come back to edit and update your takeout menu whenever you want! Add more options, switch to a different fold, and much more. 6. Order prints Once you've created the perfect takeout menu, just order your prints and we'll send them right to your door. Choose from high-quality and cost-effective print materials that come folded, so you can use them right out the box.
Takeout Menus Designed for Restaurants and Bars
At MustHaveMenus, we specialize in food and restaurants. All of our designs are created for restaurants, so you don't have to search through hundreds of generic templates to find one that works for you. And when you create a takeout menu with us, you have access to all of our professional menu designs, event flyers, social media posts and more!
Easy Editing with our Menu Maker
Build your own takeout menus, restaurant flyers, business cards, and social media posts with our drag-and-drop online editor. It's an easy and intuitive way to showcase your takeout items and advertise your restaurant. Just select a template from our massive catalog of professional designs, and then edit it to include your logo, food photos, fonts and more. Plus, if you get stuck, our Customer Service team is happy to help.
Takeout Menus Printed and Delivered Directly to your Door
Once you're thrilled with your takeout menu design, just place your order and we'll ship the takeout menus directly from MustHaveMenus. It's that simple! Just click 'print,' check out your delivery time, and we'll do the rest. We have a 100% satisfaction guarantee on our printing, so you can rest easy knowing that your takeout menu will come out just the way you want it. We also offer free posts for Facebook and Instagram. Build your online presence to make sure that your customers can find your takeout menu on the web.
Get Started!
Start creating your new takeout menu with any of these templates below.