Steakhouse Menu Designer by MustHaveMenus
Design a Steakhouse Menu
Beef up your presentation with the Steakhouse Menu Designer tool, the easiest way to design one-of-a-kind menus for restaurants that specialize in delicious cuts of meat. Choose from dozens of gorgeous templates created specifically for steakhouses.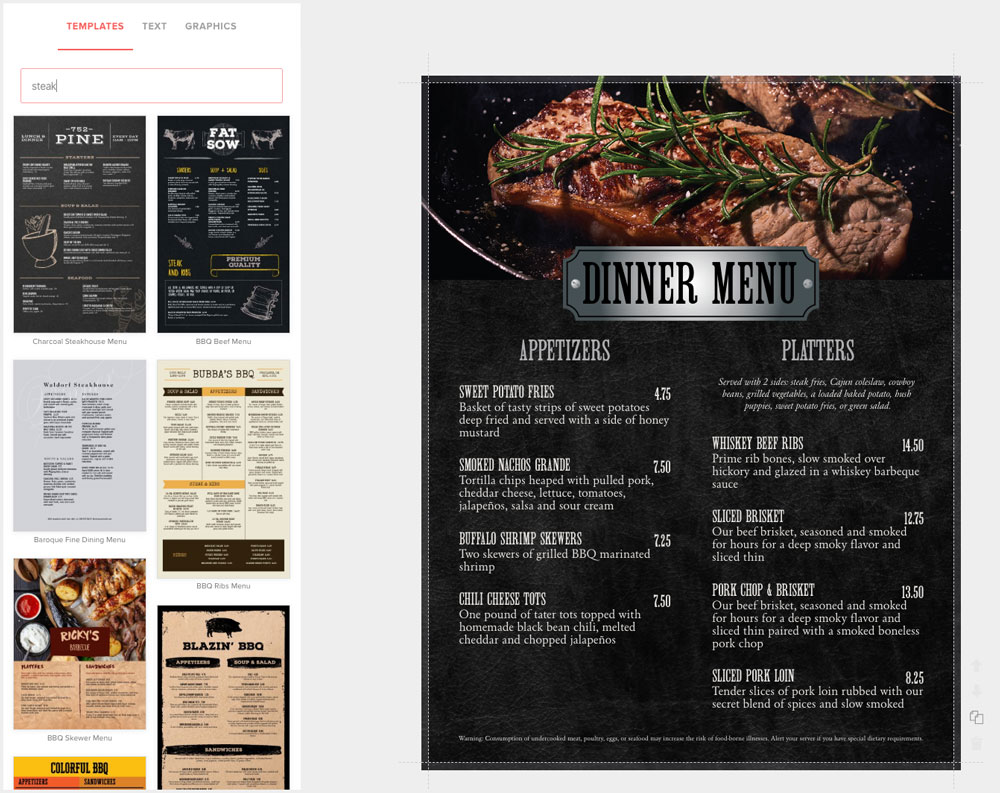 With our Steakhouse Menu Designer, it's easy to customize your menu so that it matches your specific brand and aesthetic. Add photos, edit text, switch colors, and much more with a few clicks!
How to Make a Menu for your Steakhouse:
1. Choose a design that fits your steakhouse from dozens of unique, attention-grabbing templates specifically created for all manner of steakhouses, from high-end restaurants to neighborhood dive bars.
2. Using our Steakhouse Menu Designer, it's easy to customize the template to reflect your steak and overall brand.
3. Upload and insert your logo by dragging it into position on the design.
4. Select a text box, then edit the text to match your New York steaks, filet mignons, and ribeyes.
5. Switch Colors. Every design aspect of your steakhouse menu can be selected and assigned a new color. Just click and swap.
6. Once you have the perfect design, choose your high-quality paper, and order your prints. Or you can download your design and print it at home.
7. Your steakhouse menu design is saved to your personal account for easy updating. Change your pricing, update your meat selection, and more - all with just a few clicks.
Steakhouse Menu Experts
With over ten years of experience working with steakhouses, we curate and tailor our menu templates to address their unique restaurant marketing needs. With our comprehensive collection of templates, you don't have to waste time searching through hundreds of generic or unrelated menus to find a steakhouse one that fits your business. If you choose to create your new steak menu with MustHaveMenus, you also have access to our entire collection of templates for menus, flyers, social media posts and more.
Steakhouse Menu Designer
Customize your template with our click-and-drag Steakhouse Menu Maker tool. If you need a new menu fast, edit the text and keep the rest of the menu as is. Or you can blow it up and create a whole new menu from scratch. It's all up to you. There's no design skill required with our drag-and-drop editor. Plus, if you get stuck, our Customer Service team is always ready to help.
Professional Printing
Once you're happy with your design, order your prints. We work on restaurant time, so we ship next day. All you have to do is select the quantity and preferred paper choice, track your delivery, and wait for your new steakhouse menus to arrive! Or if you don't want to wait, download your design and print it at home.
Get Started!
Start your new steakhouse menu today with any of these templates below.