Design QR Codes with MustHaveMenus
Create a QR Code Template
Upgrade your restaurant's marketing potential using QR codes! These scannable codes give your customers easy access to your online menu from the safety and convenience of their smartphone. Or you can prompt customers to fill out a comment card, redirect them to your Facebook page, announce upcoming events in a digital flyer, and more. Get creative!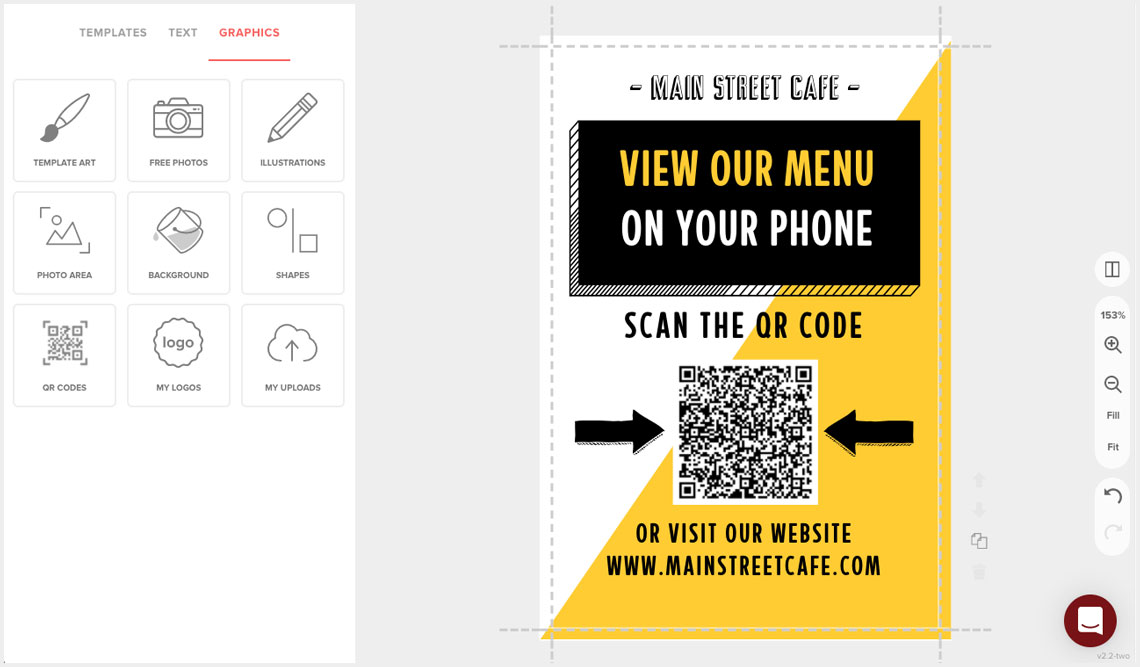 Feeling daunted by the task of creating a QR code? No worries! We make it a piece of cake in 4 simple steps. Once you've created your own unique QR code, add it to any menu or marketing template you'd like.
4 Simple Steps to Creating a QR Code:
1. Locate your menu. Find your menu (or any marketing template you'd like to turn into a QR code) on Home or All My Designs. Within the design options, click on Share, then select QR code.
2. Create your QR code. Click Get QR Code. This will publish your design to its own unique web page and download a QR code leading to it.
3. Add it to your uploads. Now your QR code can be added to My Uploads inside the editor. From there you can drag and drop it into any of your template designs.
4. Make edits anytime. If at any point you want to make an edit to the original design, you can refresh the online version by selecting Sync Changes in the QR code modal.
QR Codes for Restaurants
Our unparalleled designers create menus and marketing templates specifically with restaurants in mind, so you can count on finding designs that fit your needs without having to sift through hundreds of irrelevant templates. Check out some of our favorite spots to add QR codes here. If you need help finding the right template, creating a QR code or adding it, our Customer Service team is ready to help you design the perfect template for your restaurant.
Printing and Delivery
Once you've designed stellar templates that include your QR code, all you have to do is order your products and prints through our expert team and we'll take care of the rest. Our printing services have the G7 Master Qualification, a certification for the highest accuracy, consistency, and quality of full-color printing -- plus a 100% satisfaction guarantee from our team -- so you'll always be amazed with how your designs turn out. Our professional printing and quick delivery make it easy for you to start putting out easy-access menus in no time!
Get Started!
Start creating your new designs with QR Codes using any of the templates below.