Make a New Year's Eve Flyer with MustHaveMenus
Design a New Year's Eve Flyer
Hype up your restaurant's New Year's Eve event, promote your best end-of-the-year deals, or simply wish your customers a Happy New Years with customizable New Year's Eve flyers from MustHaveMenus. Choose from dozens to professional flyers to usher your restaurant into the new year!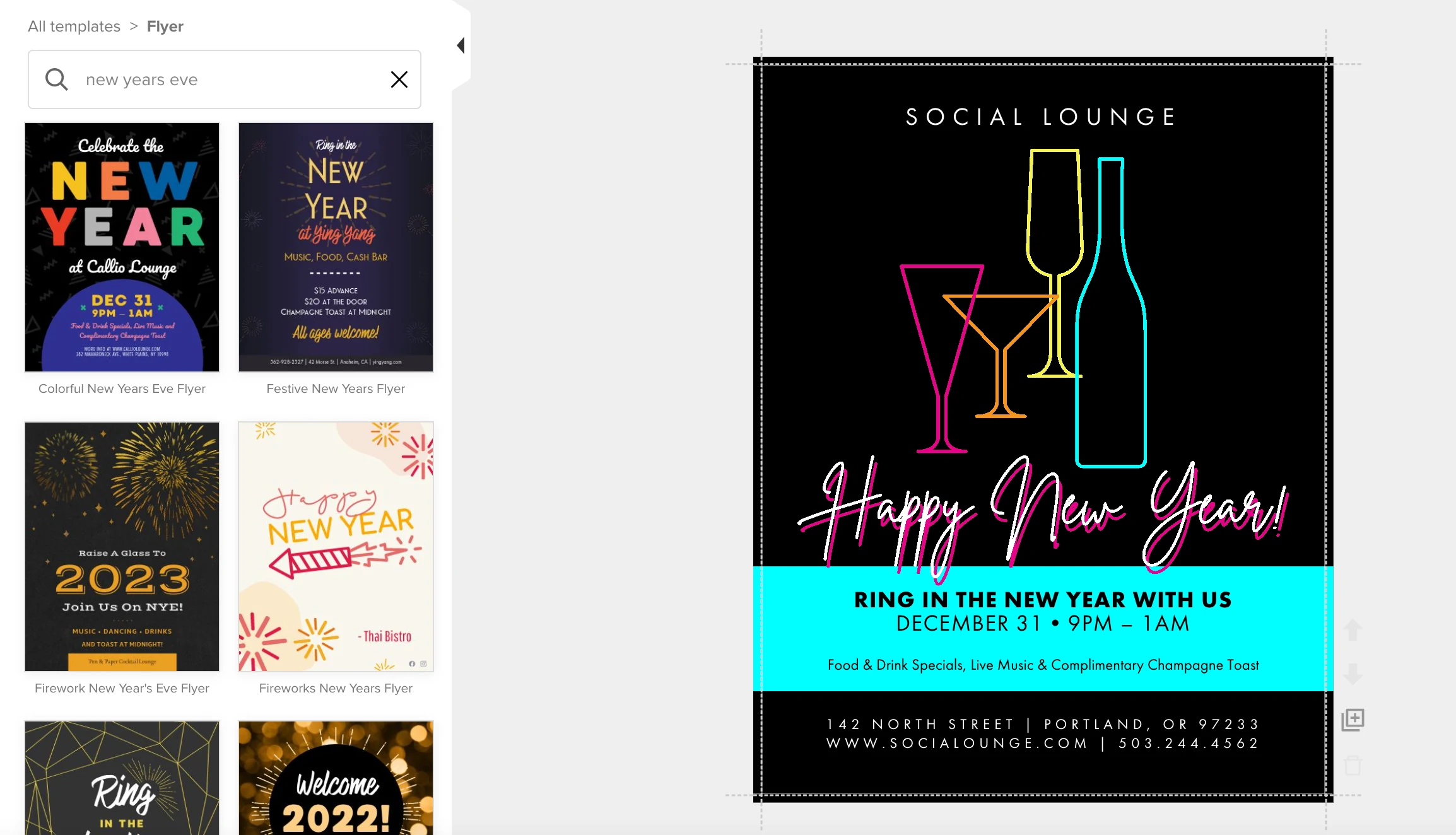 Design a New Year's Eve flyer quicker than thought possible, and with minimal effort, using our state-of-the-art design tool! Just follow the design process below, add your finishing touches, and your flyers will be the hottest new thing of the marketing world in a flash!
Create a Noteworthy New Year's Eve Flyer:
1. Pick a template. With MustHaveMenus, you've got options upon options. We have a huge selection of New Year's Eve flyer templates, each of which is sure to satisfy some restaurant's design needs.
2. Change text. Once you've got your desired base design, sort out the text that you would like to include on the design. You can choose to highlight a New Year's Eve special, or just write a simple New Year's message so your customers can focus on the delicious imagery that will be present on the template.
3. Insert your logo and images. Your logo is the centerpiece of your brand, so it only makes sense that it should be included prominently on the design. Our convenient drag-and-drop tool will allow you to place it wherever you like. After that, photos are the most important component of a flyer's design. You could either add an image of an enticing dinner deal to engage your customers' senses, or pick a photo that showcases the revelries of the holiday night.
4. Switch colors. Colors, colors, colors. At MustHaveMenus we're all about colors, and you'll see that in our color palette. You can go anywhere with your color choices - maybe emulate the neon reds and fiery oranges of fireworks, or choose jet-black to mimic the long night of celebrations.
5. Order the prints. When your New Year's Eve flyer is ready to fire up your marketing efforts and work its magic, order the prints straight from our website. The flyers will show up as soon as the next business day, wherever you need them.
6. Edit your New Year's Eve flyer at any time. Since New Year's Eve is a once-a-year gig, we don't know when you'll have to return to your design, but just in case, we save all your designs permanently to your MustHaveMenus account. Edit it at your convenience.
Stunning New Year's Eve Flyers
Our design team is truly one of a kind, and you'll experience that once you are awestruck by the sheer amount of tantalizing template designs on our website. Our focus on restaurant businesses allows us to create the best possible designs for every restaurant business's design needs, and have an easily navigable website that won't force customers to scroll through dozens of unrelated templates before finding their desired design. When you sign up with MustHaveMenus, you'll also have access to designs for New Year's Eve menus, other flyers, stickers, and much more!
Create New Year's Eve Flyers
Design beautiful New Year's Eve flyers with no effort using our unmatchable design tool! Pick a template, personalize it, order your professional flyers, and you're all set! If you encounter any problems, our customer service team is always a nudge away and will be ready to help.
New Year's Eve Flyers Printing and Delivery
It's getting real close to New Year's Eve, and you need your beautiful new flyers to capitalize on the festive frenzy of customers... but don't stress! After you choose your printing paper, and order your prints, you can rest easy knowing that we deliver as soon as the next business day. Get ready to be on top of the marketing world!
Get Started!
Create your New Year's Eve flyer with any of these templates below.