Mexican Menu Maker by MustHaveMenus
Create a Mexican Menu
Spice up your presentation with a brand-new Mexican menu. Browse our collection of carefully-curated menu templates for cocinas, taquerias, Mexican family restaurants and more. All your Mexican menu needs -- full menus, takeouts, half page and more -- in one spot.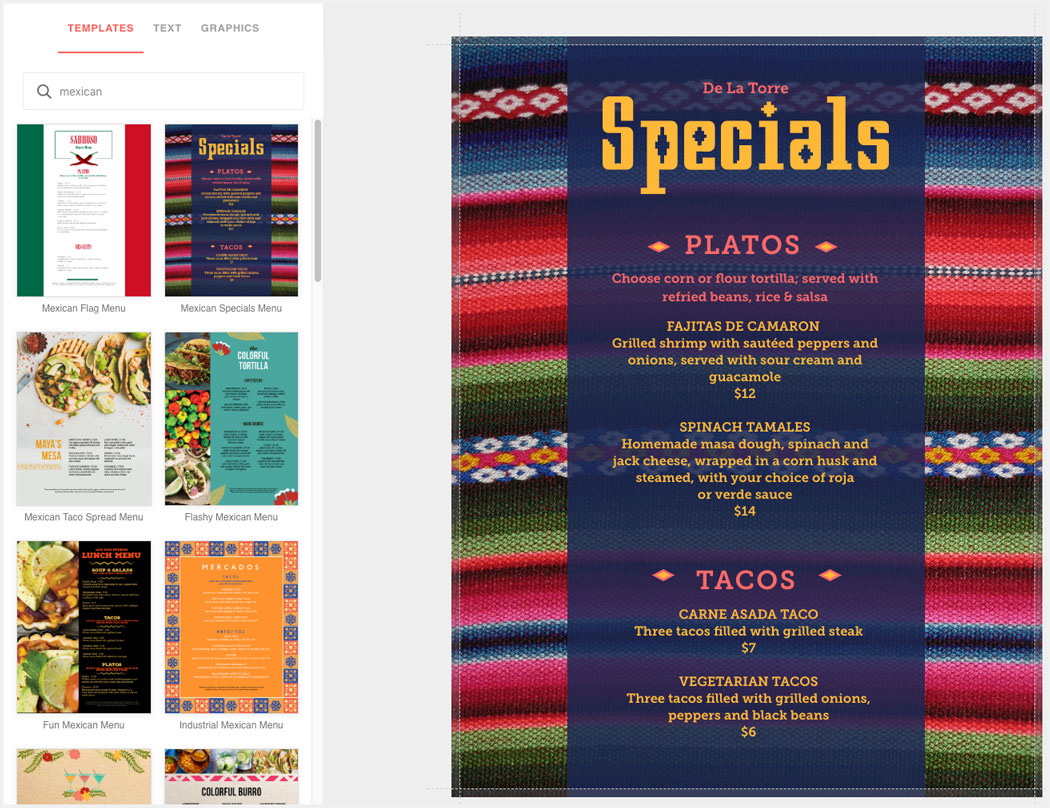 With our intuitive Menu Maker, it's easy to delight your customers with an authentic Mexican menu that looks professional and is unique. Add mouth-watering photos, edit text, switch colors, and much more with a few clicks! Mexican menu making made easy.
How to Make a Mexican Menu:
1. Choose a template that fits your Mexican restaurant from our curated collection of menus for Mexican family restaurants, burrito bars, food carts, taquerias and more.
2. Our Menu Maker tool makes it easy to customize the template to create your perfect Mexican menu. Add photos, change colors, and much more. There's no design experience required to create beautiful, one-of-a-kind menus.
3. Insert your logo by uploading it and then dragging it into position on the template. Print your logo on all your menus to create a strong a comprehensive brand for your Mexican restaurant.
4. Select a text box, then edit the text so it describes Mexican dishes. You can also change the font and text size, as well as add more text boxes, which can be necessary if you offer a wide spread of Mexican food.
5. Every design aspect of your Mexican menu can be selected and assigned a new color. Add more greens and reds for a traditional Mexican look, or change it up and make the menu your own with an original color scheme.
6. Once you're happy with your Mexican Menu design, choose whether you'd like to download it and print it from home, or you can order professional prints shipped to you.
7. Your Mexican menu automatically saves to your personal account, so you can come back and make updates whenever you like.
Mexican Menu Experts
At MustHaveMenus, we've worked with restaurants to create new Mexican menus that attract new customers and drive sales for over a decade. We curate and tailor our menu templates to best showcase your delicious Mexican dishes. Image-rich designs entice customers, and half-page menus are great for separating your Mexican offerings from the rest of your menu. Add on a takeout menu at the end to give your customers a menu they can take home with them. If you choose to create your new Mexican menu with MustHaveMenus, you'll also have access to our entire collection of templates for menus, flyers, social media posts, comment cards, business cards, loyalty cards and more.
Mexican Menu Maker
With our intuitive Menu Maker design software, it's easy to create a mouth-watering new menu for fajitas, burritos, tacos and any other Mexican dishes you'd like to include. Choose a menu template, then add photos of your food and drink, change fonts, switch colors and more to make the menu unique to you. If you run into any issues, our professional Customer Service reps are ready and waiting to help guide you through the process so you can create the perfect menu for your Mexican restaurant.
Professional Printing
Once you're happy with your design, you have the option to order your prints or download your design and print your Mexican menus from home. We work on restaurant time, which means next-day shipping. All you have to do is select the quantity and preferred paper choice, track your delivery, and wait for your new Mexican menus to arrive at your door!
Get Started!
Kickstart your new Mexican menu today with any of these templates below.