Make Holiday Flyers with MustHaveMenus
Design a Holiday Flyer
Promote your holiday deals, festive events and special foods with holiday flyer templates for every big occasion, from Christmas to St Patrick's Day, Valentine's Day, Cinco De Mayo and many more! Capitalize on the next holiday to bring in new customers and build excitement among old ones!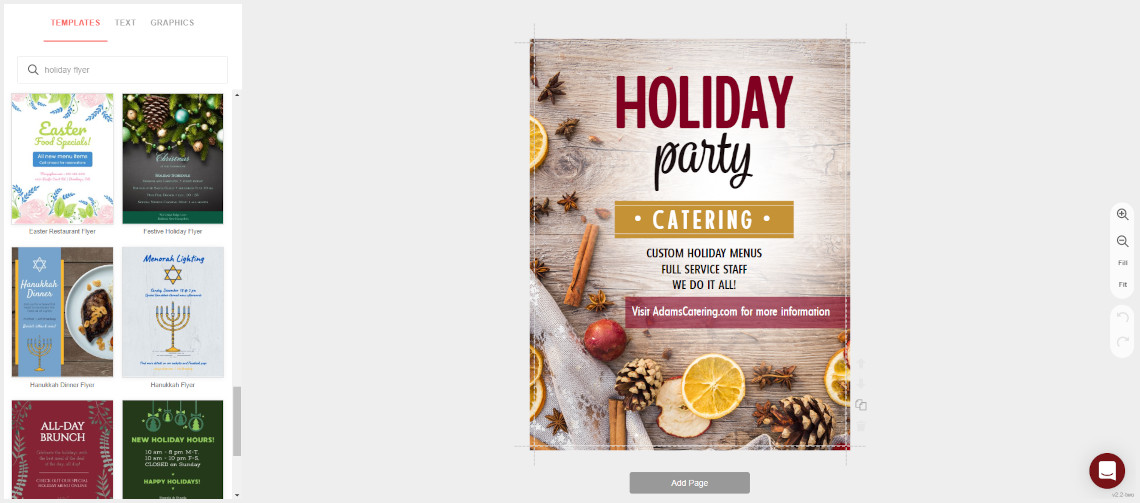 Creating an attention-grabbing holiday flyer is simple with MustHaveMenus' one-of-a-kind editing tool! Our comprehensive drag-and-drop utility will allow you to quickly flesh out a design with any stylistic element that you desire, including images, text, graphics, and more!
How to Design an Eye-Catching Holiday Flyer:
1. Choose a template. Pick from a diverse selection of flyer templates that will fit any holiday theme! Our unique flyer templates will serve as a great design launchpad for you to mold to the needs of your restaurant business.
2. Edit text. Add text of your choice in just a few clicks with our unparalleled design tool. You can use the text to highlight specific holiday promotions, specials, or a food item that will catch your customers eyes and get their stomachs' rumbling!
3. Add your logo and images. We know that these holiday flyers will become your go-to marketing tool, and that means that they need to be able to incorporate your logo and images of your choice. The drag-and-drop function of our editing tool will allow you to place images and logos wherever you see fit.
4. Swap colors. Change the colors on your design to fit the current holiday aesthetic, or put your own spin on a traditional color scheme.
5. Order prints. When your flyer is ready to go, order your desired prints through our unparalleled printing services. The prints will arrive on your doorstep, ready to use, in as little as one business day.
6. Change your flyer whenever you need. Your flyer design is saved onto your personal MustHaveMenus account so you can alter it at your convenience.
Outstanding Holiday Flyers
Our superb team of designers is consistently producing exceptional holiday flyer templates that will suit any restaurant business's needs. Because of our focus on restaurant flyers, you won't have to waste any of your time searching through tons of unrelated templates. Along with our holiday flyer design services, you'll also have access to designs for flyers, event flyers, restaurant posters and more!
Holiday Flyer Creator
Using our intuitive design tool, you can create your dream holiday flyer with little effort. Select your ideal template, insert your logo, add text, change font and integrate images to mold the design to your brand. If you're having troubles with the process at any point, our exceptional Customer Service team will be ready to aid you.
Holiday Flyer Printing and Delivery
Once you've completed your holiday flyer, order the prints, and we'll take care of the rest! Your new prints will be at your door in no time, ready to fine tune your marketing game and wow all your customers!
Get Started!
Start designing your new holday flyer with any of these templates below.