Diner Menu Maker by MustHaveMenus
Create a Diner Menu
Refresh your diner experience with a brand-new, professionally-designed menu. Browse dozens of unique templates designed to grab your customer's attention the second they sit down at your diner.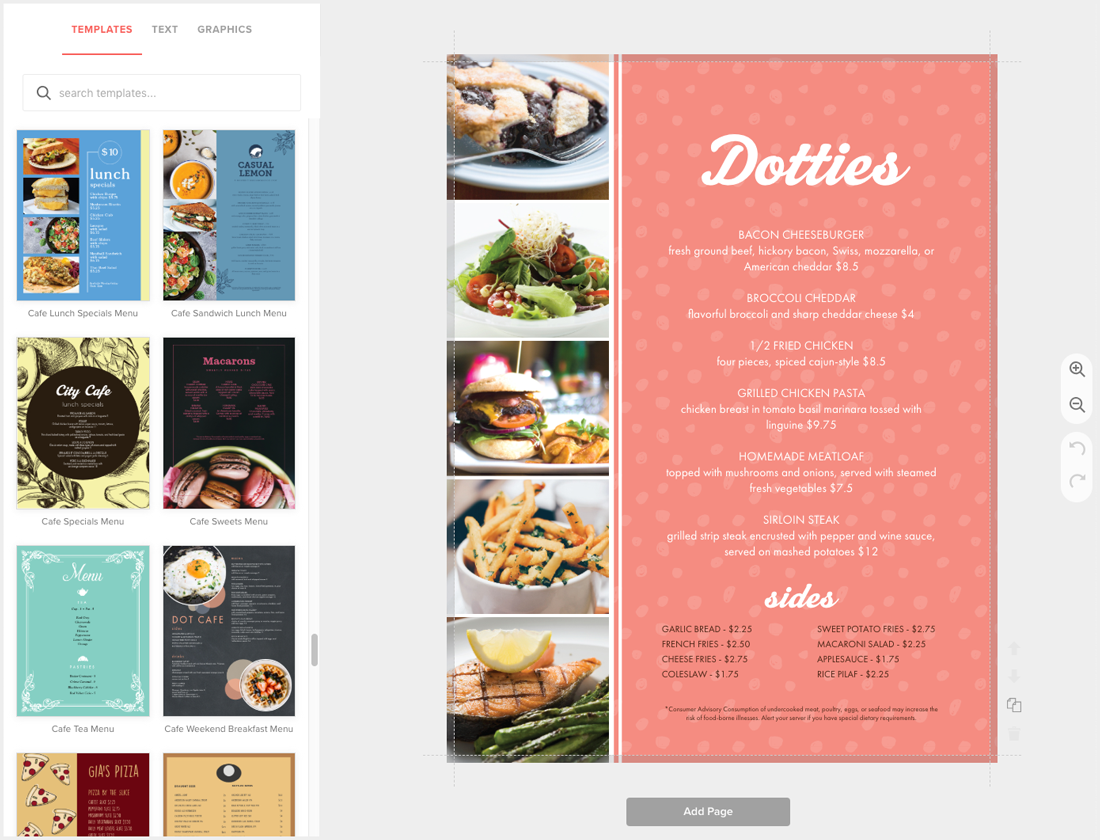 For most diners, it's important to have a specific aesthetic and feel that's equal parts nostalgic and homey. Bring that feeling to your diner with a professional menu. Choose from dozens of professional templates and easily customize it in a few steps.
How to Create a Diner Menu:
1. Pick a design you like from a wide range of diner templates for highway diners, mom-and-pop shops, retro diners, and more.
2. Add and place images of your diner's food, drinks and decor with our editing tool.
3. Upload your diner's logo or create a new one and use it to brand your menu and accompanying marketing materials.
4. Swap out colors to match your diners's aesthetic with just a few clicks.
5. Choose from our selection of premium menu papers and order your prints.
6. Your design saves to your account, so you can come back and edit your diner menu whenever you want. Add breakfast items, change up sides, and much more.
Diner Menu Experts
We're restaurant specialists. We have over tens years of experience working with diners and other restaurants, we understand the unique challenges facing your business and how to design your menu to fit your diner. You no longer have to search through hundreds of generic menus that you see at every other diner to find one that works for you. Plus, if you create your diner menu with us, you'll have access to all of our other templates for menus, flyers and more.
Diner Menu Maker
Using our drag-and-drop Menu Maker, customizing your diner menu is quick and easy. It's simple: just choose a diner menu template and make it your own by adding photos, swapping colors, changing fonts and more. If you find yourself stuck, you can always reach out to our Customer Service. They're always happy to guide you in the creation of your new diner menu.
Professional Menu Printing
Once you're thrilled with your diner menu design, just place your order and we'll ship the menus directly from MustHaveMenus - next business day! Just click 'print,' choose what kind of paper you'd like, and soon your new diner menus will arrive at your doorstep. We have a 100% satisfaction guarantee on our printing. Or you can post your diner menu online to build out your online presence.
Get Started!
Create your new diner menu with any of these templates below.