Diner Flyer Maker by MustHaveMenus
Design a Diner Flyer
Boost your diner sales with new flyers to promote food and drink specials, advertise new menu items, build excitement for events, and much more! Browse hundreds of operational and promotional flyer templates for diners.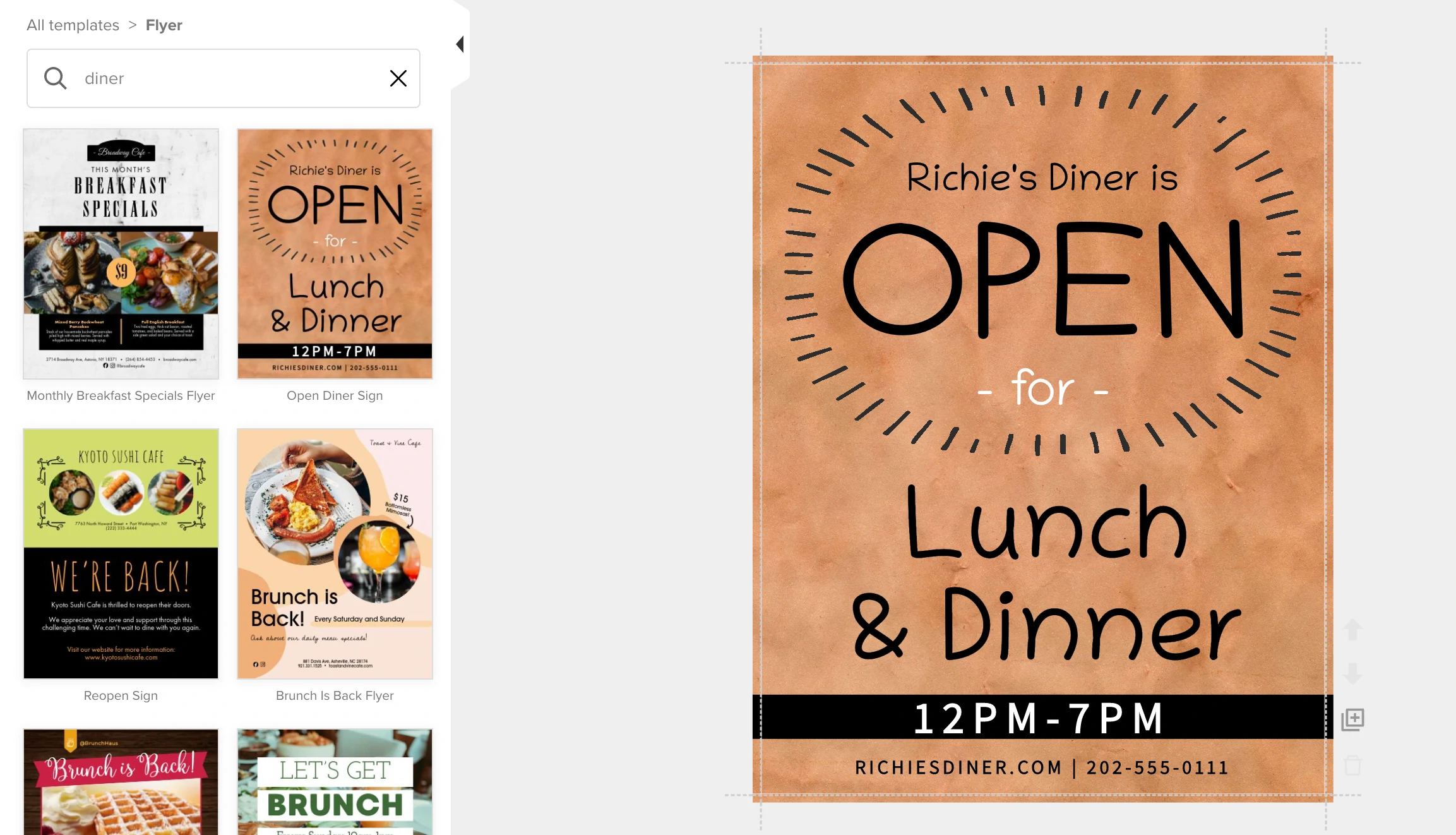 Designing a diner flyer is easy as can be with our state-of-the-art editing tool! Just follow the steps below, and before you know it, you'll have created a piece of marketing that will have customers flocking to your diner to get a taste of your delicious dishes!
How to Create an Impressive Diner Flyer:
1. Choose a template. With our comprehensive selection of flyer templates, there is guaranteed to be something for every kind of diner. You can choose to emulate your brand's aesthetic, or break the mold and go with a unique design that you think will grab your customers' attention.
2. Edit the text. Customize your flyer by adding, removing, or changing text boxes where needed. Use this feature to highlight your business's hours, or give your customer's stomachs a reason to rumble by detailing a snippet of your updated menu.
3. Add your logo and images. Using our intuitive design tool, you can incorporate your logo or images of your choice. Use a photo to show off a fan favorite dish from your delicious breakfast menu, or insert your logo to further advertise your brand.
4. Switch colors. Change the colors of the template to fit the color pattern that your diner follows, or innovate with a selection of new colors.
5. Order prints. When your diner flyer is cool and complete, order your prints through our easily accessible print department. Your new flyers will arrive wherever you need them in short order. 6. Change your flyer design at any time. Your diner flyer design is saved to your MustHaveMenus personal account, allowing you to alter it whenever you'd like.
Menu Experts
We are always cranking out all manner of flyer designs to fit the ever-changing needs of restaurant businesses, so you can be sure that there will be something that works for you without having to peruse hundreds of unrelated templates before finding your dream design. In addition to our flyers templates, you'll have access to the designs for restaurant menus, diner menus, table tents, and more!
Diner Flyers Designer
With our unmatched design tool, you'll be making diner flyers that will soar above the rest! We come up with the beautiful design template, and all you do is add your finishing touches to make the design truly your own. Your loyal customers will instantly recognize your brand when they see your stunning diner flyers! If you encounter any problems along the way, our amiable Customer Service team will be right with you to help!
Diner Flyers Printing and Delivery
Once your flyer design is complete, select your paper option from our high-quality selection, then order the prints through our exceptional print department! We can print and ship in as little as one business day. Before you can say "flyer", your new marketing companions will be taking your community by storm and bringing in customers from all over!
Get Started!
Create your new Diner Flyer with any of the templates below.