Deli Menu Maker by MustHaveMenus
Create a Deli Menu
Give your deli offerings the menu they deserve with one of our professionally-designed deli menu templates. Browse dozens of menu templates to drive sales for your soups, salads, sandwiches, and meats. All your deli marketing needs -- primary menus, takeout, half-page and more -- in one place.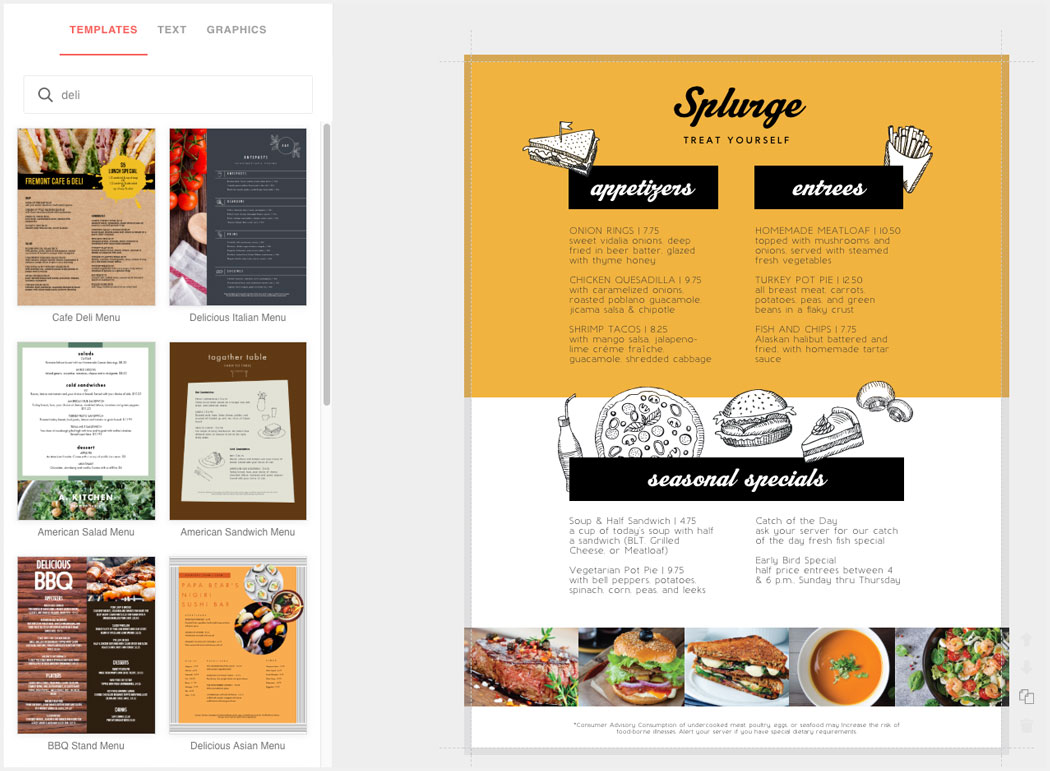 Set your deli apart by refreshing your design and aesthetic. Our intuitive Menu Maker design software makes it easy to customize and create a professional, one-of-a-kind deli menu.
How To Make A Great Deli Menu:
2. Add imagery to showcase your food and presentation. Uploading and formatting images is fast and easy. No design experience required to create an original deli menu.
3. Upload your logo or create a new one to brand your menu.
4. Change colors for any design element. Tweak the current color scheme to fit your deli, or change all the colors to create a completely unique look.
5. Choose your preferred paper type and order your prints. We work on restaurant time and ship next business day! Or, if you don't want to wait, you can download your design and print your deli menus from home.
6. Your design saves to your account, so it's easy to update and customize. Add in seasonal deli food, refresh your salad offerings, include more sandwiches, and more.
Deli Menu Specialists
At MustHaveMenus, we take delis and their menus seriously. For over ten years, we've partnered with delis to elevate their presentation, refresh their customer experience, and drive sales for their sandwiches, soups, salads, meat and more. If you create your deli menu with us, you'll also have access to our complete library of templates for loyalty cards, business cards, flyers and more.
Deli Menu Maker
With our intuitive Menu Maker, it's a breeze to customize your deli menu so that it reflects your brand and aesthetic. It's a simple process: browse and choose a template, make it your own by adding photos of your deli offerings or the deli itself, swapping colors, inserting graphics of soups, sandwiches and other classic deli foods, changing fonts and more. If you're struggling with inspiration, our wonderful Customer Service team is ready to step in and help.
Professional Menu Printing
Once you're happy with your Deli Menu design, place your print order and we'll ship the menus out next day. For immediate use, you can also download your deli menu and print it from home. Your design is saved to your account, so you can go back and make updates whenever you want.
Get Started!
Create your new Deli Menu with any of the templates below.