BBQ Menu Maker by MustHaveMenus
Create a BBQ Menu
Give your homestyle cooking the finger-licking menu it deserves with a new BBQ templates. Browse dozes of unique BBQ menus designed to grab your customer's attention the second they sit down.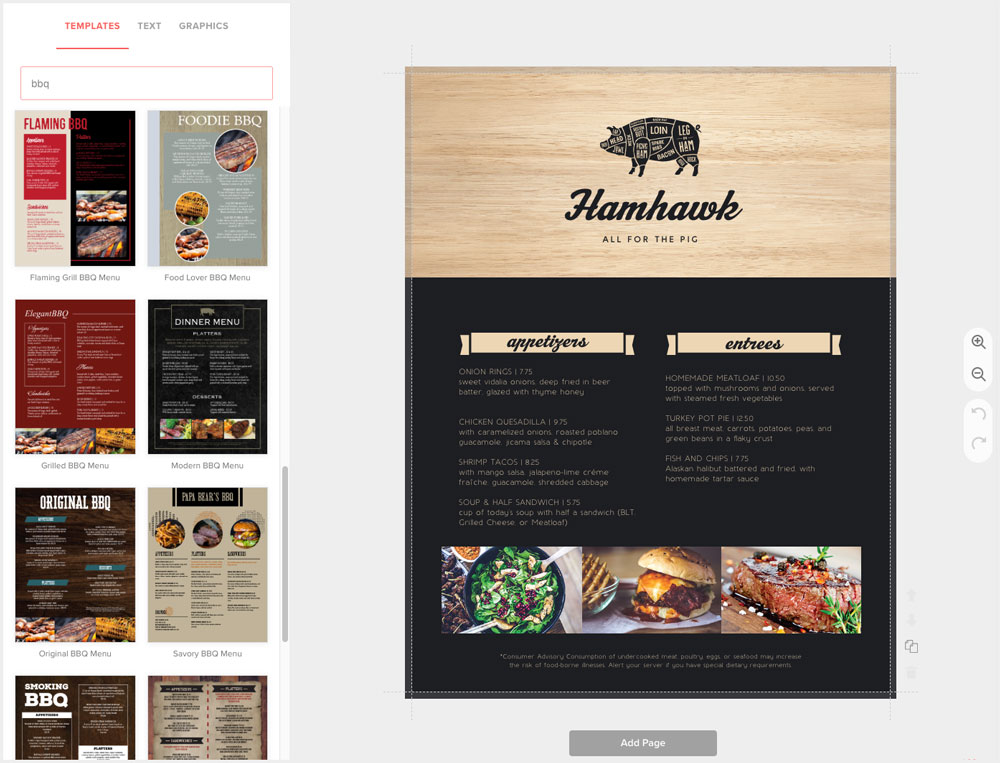 BBQ is about more than just food. It's an experience and a feeling. Choose from dozens of professional templates and easily customize them to create your own BBQ experience.
How to Create a BBQ Menu:
1. Pick a design you like from a large collection of BBQ templates for upscale BBQ restaurants, BBQ shacks, homestyle eateries, and more.
2. Add and place images of your brisket, sweet tea, decor and more with our Menu Maker tool.
3. Upload your logo or create a new one and use it to brand your menu and the rest of your marketing.
4. Swap out colors to match your aesthetic with just a few clicks. Add rich browns, bright oranges and more for an authentic BBQ look.
5. Choose your preferred paper type and order your prints.
6. Your design saves to your account, so you can come back and edit your BBQ menu whenever you want. Add more meat, change up sides, and much more.
BBQ Experts
As a company, we've been BBQing up meat and partnering with BBQ restaurants for over a decade. We understand the unique challenges facing your business and the marketing materials you need to overcome them. Plus, if you create your BBQ menu with us, you'll have access to all of our other templates for loyalty cards, business cards, flyers and more.
Make a BBQ Menu
With our easy-design Menu Maker, customizing your BBQ menu is fast and painless. It's a simple process: browse and choose a BBQ template, make it your own by adding photos, swapping colors, changing fonts and more. If you're struggling, our wonderful Customer Service team is ready to help you create a beautiful new BBQ menu.
Professional Menu Printing
Once you're happy with your BBQ menu design, just place your order and we'll ship the menus directly from MustHaveMenus - next business day! We have a 100% satisfaction guarantee on our printing.
Get Started!
Create your new BBQ menu with any of these templates below.