Pizza Menu Maker by MustHaveMenus
Make a Pizza Menu
Tired of your cheesy old menu? Design a new pizza menu quickly and easily with MustHaveMenus. Choose from dozens of professionally-designed pizza templates to get started.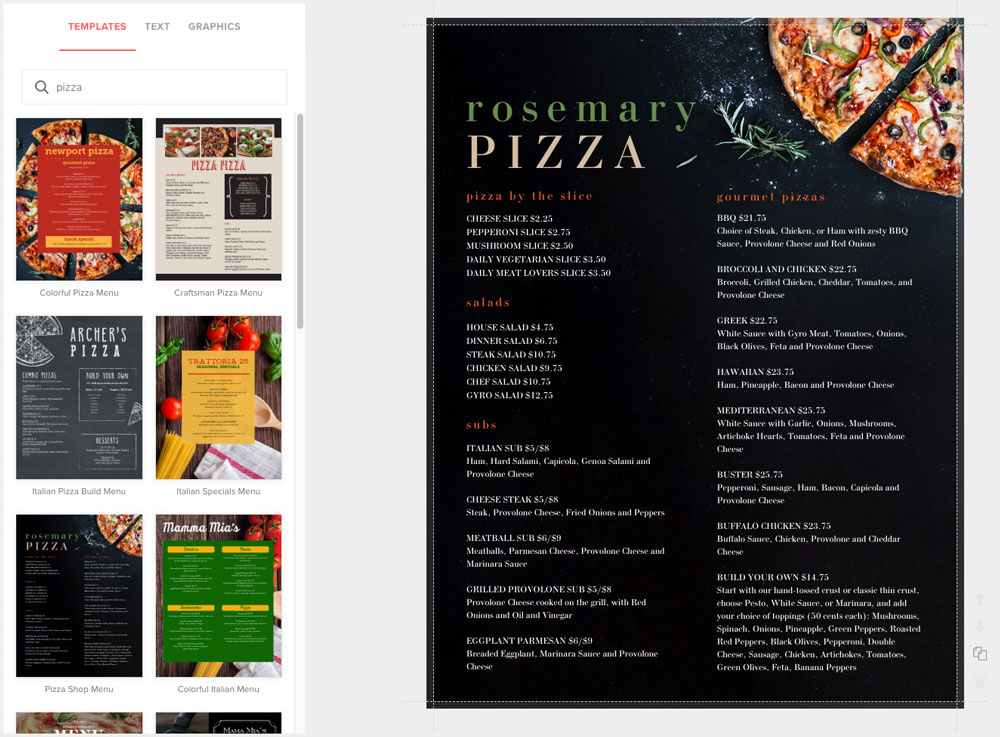 With our drag-and-drop Menu Maker, it's simple to create and design a fun new pizza menu. Choose a template, customize it by adding photos, logos, colors and more, and then order your prints. It's that easy! Then we'll ship your pizza menus the next day.
How to Design the Perfect Pizza Menu:
1. Choose a template. Choose the pizza menu that best matches your menu needs.
2. Add photos. With our Menu Maker, you can easily upload photos of your pizza, toppings and restaurant. Or you can choose vivid images of pizza from our extensive photo library.
3. Insert your logo. Upload and add your logo to the design.
4. Switch colors. Change the menu colors to fit your restaurant. Choose a red that matches your pizza sauce, or a brown that resembles your toasted crust.
5. Order prints. Once you've created the perfect pizza menu, just order your prints. We ship next day so you no longer have to put out a half-baked menu.
6. Update whenever. Your design is saved to your account, so you can update you menu at anytime. Add toppings, new pizza sizes, by-the-slice deals and more!
Professional Pizza Menu Templates
At MustHaveMenus, we're restaurant experts. We're partnered with restaurants and pizza joints both locally and globally for over a decade to provide comprehensive marketing materials. Since we specialize in menu templates built for restaurants, you won't need to search through hundreds of generic menu designs to find one that fits your pizza needs. Plus, if you create your pizza menu with us, you'll have access to all of our other templates for menus, flyers, social media posts and more. All your pizza marketing essentials in one spot.
Pizza Menu Maker
With our simple-to-use Pizza Menu Maker, creating a scintillating new menu for your various slices, pies and deep dish pizzas is easy. Customize it to make it your own with photos, fonts, borders and more. Just pick a menu template that works for you, tweak and edit until it's perfect, and then place your order. If you run into any issues, our professional Customer Service reps are ready and waiting to help guide you through the process.
Professional Printing
Once you're thrilled with your Pizza Menu design, place your order and we'll ship the menus next day. It's that easy! Our publishing tools make it easy to post your new Pizza menu online for increased exposure.
Get Started!
Start designing your new pizza menu with any of these templates below.