Design Thanksgiving Flyers with MustHaveMenus
Create a Thanksgiving Flyer
Thanksgiving is a time to acknowledge all that you're grateful for, whether it's family and friends or your restaurant business. When you use MustHaveMenus' Thanksgiving flyers, you'll have another reason to give thanks, because these flyers will be bringing in new customers! Our flyers combine style and convenience for a marketing companion that will maximize success.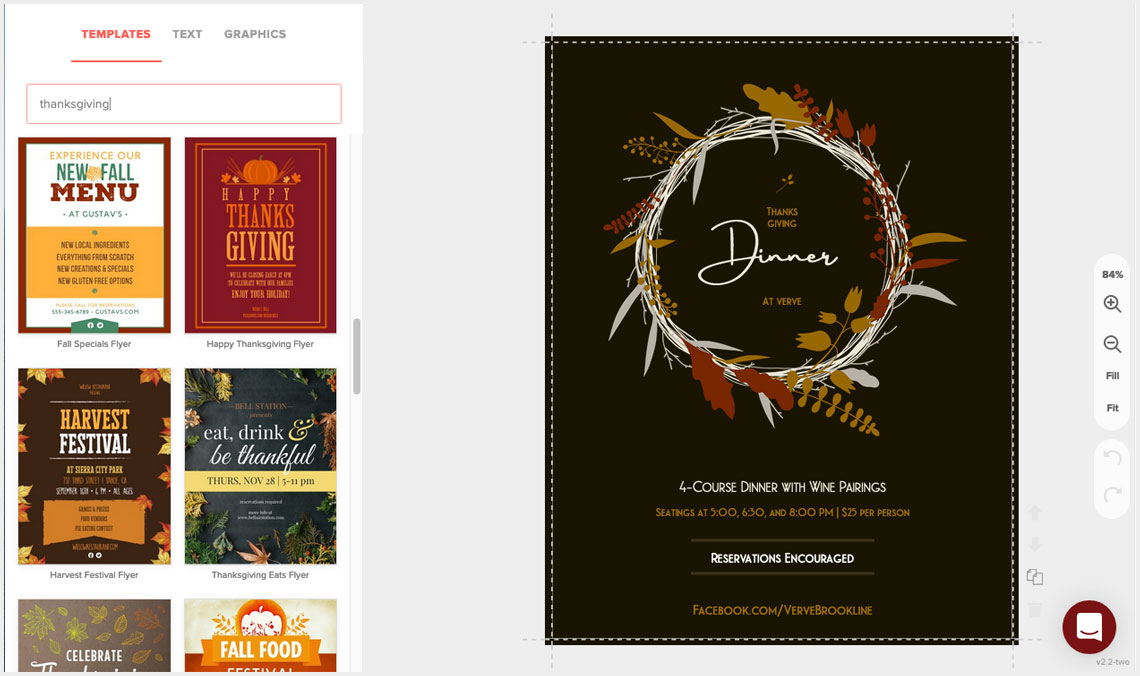 Our exceptional design tool allows you to create your ideal Thanksgiving flyer. Just follow the intuitive steps below, and you'll have the perfect marketing tool for your restaurant business.
Make a Stunning Thanksgiving Flyer:
1. Pick a template. Thanksgiving flyers can achieve a multitude of different goals, whether it's informing customers of your holiday closure, or advertising your Thanksgiving specials. We have Thanksgiving flyer templates for every purpose, so you can be assured that you'll find one that you like.
2. Edit text. Customize your flyer with the text of your choosing. You can choose to add a caption to a photo of your Thanksgiving specials, or remove text boxes to streamline the design.
3. Insert your logo. Flyers are highly accessible marketing tools, so you want to include your brand's unique logo to tell potential customers where to go to get that delicious Thanksgiving meal you're serving.
4. Include photos of your choice. A fragrant image of steaming hot cider, or a mouth-watering photo of roast turkey are great options to include on your flyer to add a sensory element to the design. With our intuitive design tool, you can include as many or as little images as you want.
5. Swap colors. Take advantage of our design tool's comprehensive color palette to include whatever colors you like on your flyer's design. Since the theme is Thanksgiving, warm oranges, earthy browns, and deep reds are a great start.
6. Order the prints. Once your Thanksgiving flyer is complete, order the prints from our website. The flyers will arrive as soon as the next business day, right at your door. You'll be advertising your business and spreading goodwill in no time!
7. Access your flyer at any time. Your Thanksgiving flyer, and all your other designs, are permanently saved to your MustHaveMenus account - edit them whenever you need.
Excellent Thanksgiving Flyers
Our unparalleled design team creates stylish Thanksgiving flyer templates that are guaranteed to fulfill any holiday announcement need! Plus, because of our intuitive website navigation and focus on restaurant templates, you won't have to search through hundreds of unrelated templates before finding your desired design. In addition to flyers, you'll have access to designs for Thanksgiving menus, table tents, posters, and much, much more!
Thanksgiving Flyer Creator
Make outstanding Thanksgiving flyers with our state-of-the-art design tool! All you have to do is add your desired finishing touches to the templates, and we handle the rest of the design process so you don't have to worry about starting from scratch. If you encounter any problems along the way, our friendly Customer Service team is standing by to help.
Print Thanksgiving Flyers
Once your Thanksgiving flyer is complete, access our print department through our easy-to-navigate website, and then order the prints! Our flyers come in bulk and small quantities so you'll always get what you need. With professional printing and fast delivery, you'll have your stylish new flyers in no time!
Get Started!
Start designing your new Thanksgiving flyer with any of these templates below.