Create Beautiful Coffee Shop Business Cards with MustHaveMenus
Create a Coffee Shop Business Card
You help people get the coffee they need to wake up and start the day -- now make sure you have a marketing tool that's equally as energizing! Business cards can easily do the hard work of leaving a great first impression, and our coffee shop business cards are sure to be the ticket. Put these cards by the payment counter or hand them out to vendors and get promoting your business today!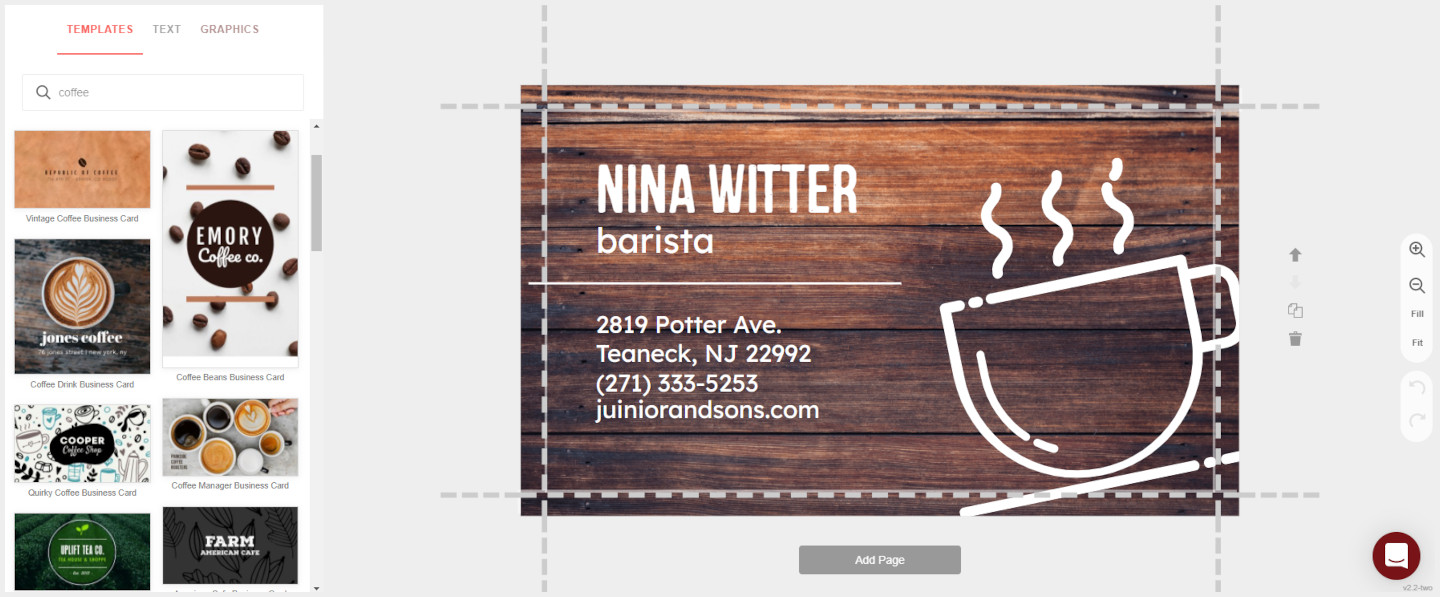 "Bean" daydreaming of the perfect business card for your coffee shop? Time to make it happen! Our easy-to-use editing tool allows you to create an impressive design in no time. Simply choose a template, edit text, insert your own logo and images, alter colors, and order your prints through our expert team. You'll have professional business cards you're proud to hand out in no time!
How to Design Coffee Shop Business Cards:
1. Select a template. Pick from a selection of beautiful and professionally-designed coffee business card templates designed specifically for coffee shops and roasters.
2. Edit text. Quickly replace the text with your own by clicking on the text boxes. Add all the key information including your business name, your name and title, website, phone number, address, and social media accounts.
3. Insert your logo and photos. Include your logo by dragging and dropping it anywhere onto your business card. A great option is to add professional photos that highlight your coffee, beans, or restaurant aesthetic. You can even include a unique QR code that will direct people to your website or online menu with a quick scan of their smartphone.
4. Swap colors. Feel free to change or add any colors to best represent your restaurant's unique color scheme and build your brand.
5. Order your cards. Once your design is just how you like it, order your new professional prints through our top-of-the-line business card print services. They come in varying quantities of standard, square, and tall sizing.
6. Edit your design any time. Your coffee shop business card is saved to your account so you can make changes whenever you need.
Business Cards Designed for Coffee Shops
Our expert design team creates our business cards specifically with coffee shops and roasters in mind, so you can count on finding a design that fits your needs without having to sift through hundreds of irrelevant templates. And you can always check out our complete collection of restaurant business cards for even more options and inspiration. Plus, you'll have access to all our other designs for punch cards, gift certificates, social media templates, and more.
Business Card Design Tool
With our drag-and-drop design tool, it's easy to make a business card that's exclusive to your coffee shop. Just choose a professionally-designed template and alter it to incorporate your logo, fonts, colors, and content. If you encounter any issues, our friendly Customer Experience team is ready to help design the perfect business card for you.
Business Card Printing and Delivery
Once you're happy with your coffee shop business card, all you have to do is order the prints and we'll have you covered with the rest. Our printing services have the G7 Master Qualification, a certification for the highest accuracy, consistency, and quality of full-color printing -- plus a 100% satisfaction guarantee from our team -- so you'll always be amazed with how your business cards turn out. Our professional printing and fast delivery will have you handing out stunning business cards in a flash.
Get Started!
Create your new coffee shop business card with any of these templates below.