Sticker Maker from MustHaveMenus
Make a Sticker or Label
Do you want a marketing companion that will stick in your customers' minds and showcase the best bits of your business wherever it goes? Our labels and stickers will be perfect for you! These portable promotions will be a hit with all your patrons because of their size and convenience.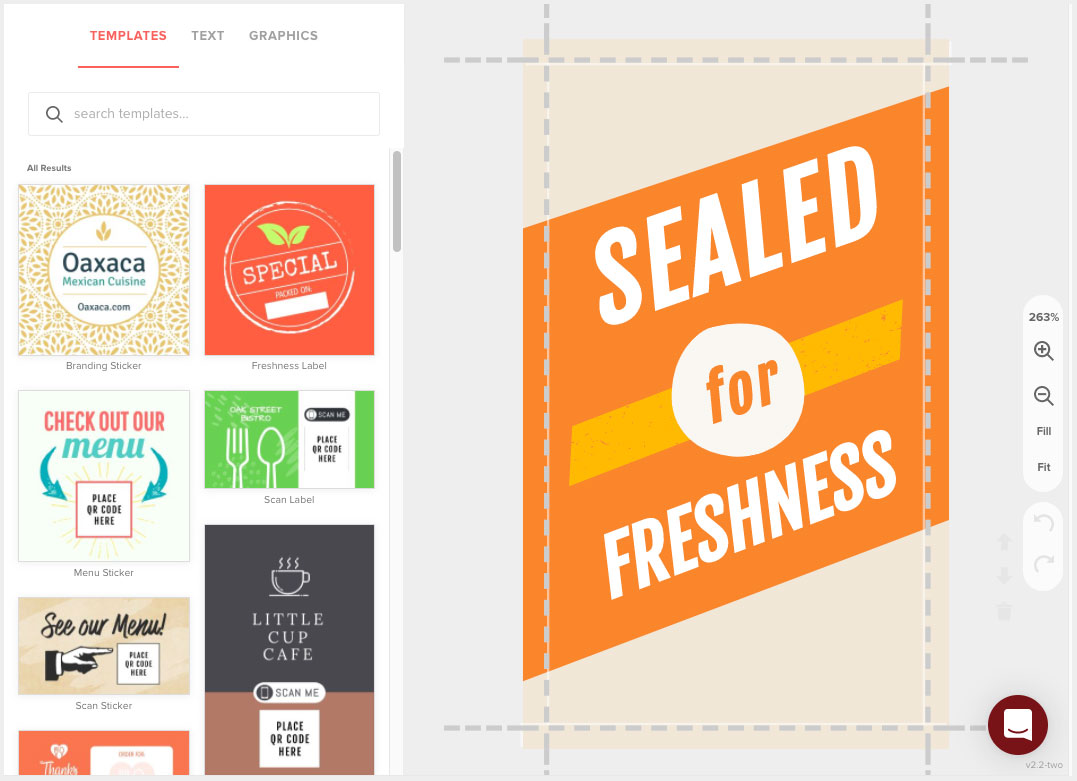 Making an eye-catching sticker or label is a piece of cake with MustHaveMenus' unparalleled editing tool! All you have to do is select the template that you think suits your brand. After that is done, the real fun begins with our easy-to-use editing tool! Add your logo, add images, switch colors, replace text, and pick from a myriad of stylish fonts. Before you can say marketing companion, you'll have a professionally-designed sticker for your business!
How to Create a Beautiful Sticker or Label:
1. Pick a template.Choose from a gallery of beautiful sticker and label templates that will fit the needs of any restaurant or business. Make sure to align your template's design with your business's brand, because this marketing tool will be all over your customers' water bottles and computers in no time, doing what it does best.
2. Alter text. Change, add, or remove text boxes in just a few minutes with our expert design tool. This is a great way to focus your customers' attention on your new outdoor seating expansion, or your updated happy hour specials.
3. Insert your logo and photos. As an important piece of marketing for your brand, we know that your sticker needs to integrate your logo - you can drop it anywhere on the template! Photos are another great option to add to your sticker design, whether they showcase your prized dishes or an image of your venue.
4. Change colors. Swap the colors of your template so it fits your business's aesthetic or use them as an opportunity to expand on your color palette.
5. Order prints. When your creation is as good as it can get, order your professional prints through our unmatched print department. They'll arrive on your doorstep or wherever you'd like, ready to use.
6. Edit your design whenever you need. Your label design is stored on your personal account so you can make edits at any time.
Exceptional Stickers and Labels
Our outstanding design team is always producing sticker and label templates that will fit whatever needs your business has, so you don't have to worry about hunting through a sea of unrelated templates. Also, you'll have access to all our other designs for takeout menus, half page menus, business cards and more!
Stickers and Labels Designer
With our intuitive design tool, it's super easy to create a unique sticker or label for your business. Choose your favorite template, add your logo, text, font and photos to make the design truly your own. If you find yourself running into any obstacles, our amiable Customer Service team is at the ready to fix whatever problems you have.
Professional Sticker and Label Printing
Once your sticker design is finished, order the prints and we'll take care of the entire process! Your new prints will be at your door in as little as one business day. Your customers will be sticking your new labels everywhere before you know it!
Get Started!
Start designing your new stickers with any of these templates below.