Make a Rack Card for Your Restaurant with MustHaveMenus
Make a Rack Card
Want to showcase specials? Create a buzz around your event? Feature new products? Whatever you need, rack cards are a great way to market both permanent and seasonal promotions. These cards slide neatly into check presenters alongside the bill, or can be placed at your front desk for customers to grab on their way out the door.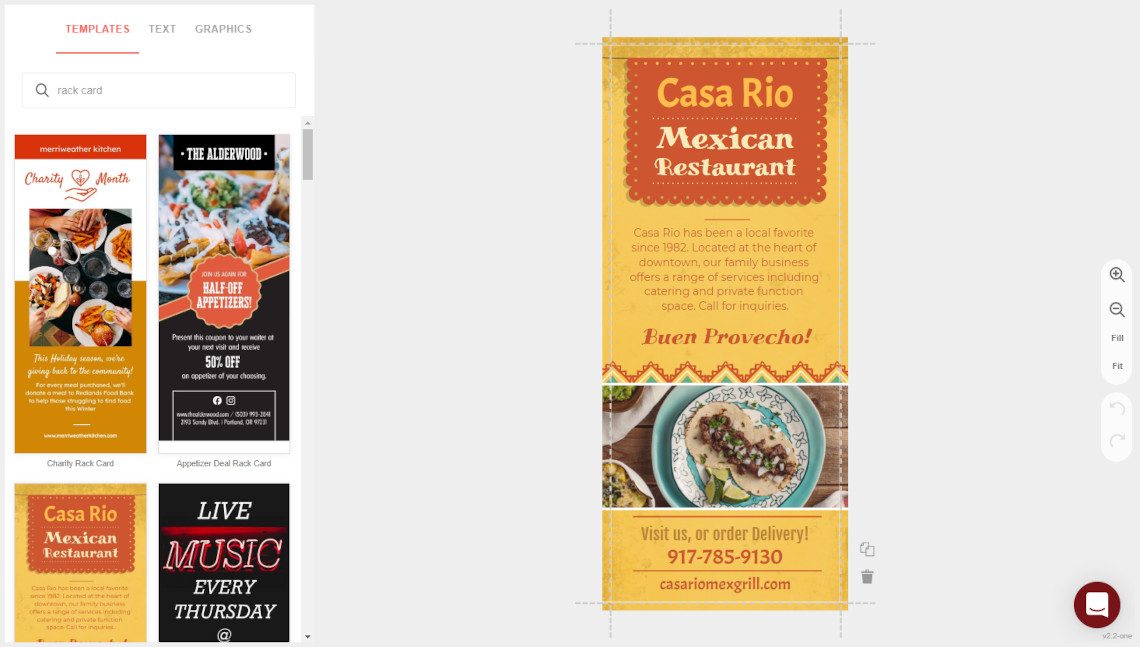 With our drag-and-drop editing tool, it's easy to customize your perfect rack card. With tons of design options to choose from, all you need to do is pick a template, make edits, and order your prints. Our design tool makes it easy for you to pump up your marketing efforts and impress your customers in no time.
How to Create a Rack Card for Your Restaurant:
1. Select a template. Pick from dozens of unique and professionally-designed rack card templates geared towards any style of restaurant or business. Each template format and style achieves a different goal depending on what you want to promote. Determine what you want to communicate to customers, then choose the template with the perfect design.
2. Edit text. Replace the text with your own in a few easy steps. Click on the text box and add the sections or announcements you need. Want to highlight your happy hour? How about next month's specials? Maybe an upcoming event you're hosting? Make sure the text reflects the goal of the rack card, as well as your brand and messaging.
3. Insert your logo and photos. Include your logo by dragging and dropping it onto one (or both!) sides of the card. Using professional photos of your food, you can further make your rack card stand out to customers. This is an excellent opportunity to cement your restaurant's brand in customers' minds.
4. Swap colors. Edit the colors of your rack card to reflect your restaurant's aesthetic and individual color scheme.
5. Order prints. Once you love your design, order your prints through our expert print services. They'll arrive right to your door, ready to use. Place them in check presenters, holders, or even add them to takeout orders so customers have a reminder of your restaurant at home.
6. Come back to your design anytime. Your rack card is saved in your personal account so can come back and make updates whenever needed.
Rack Cards Designed for Restaurants
Our team of professional designers create our rack cards specifically with restaurants in mind, so you can always find a rack card design that fits your brand, style, and needs without having to search through hundreds of unrelated templates. Plus, you'll have access to all our other designs for tabletop inserts, posters, table tents, and more.
Rack Card Design Tool
With our drag-and-drop design tool, it's easy to create a rack card that's unique to your restaurant. Just select a professionally-designed rack card template, and edit it to include your logo, fonts, colors, and content. If you run into any issues, our Customer Service team is ready to help design the perfect card for your business.
Rack Card Printing and Delivery
Once you've designed a rack card with our easy-to-use design tool, order your rack card prints and we'll take care of the rest. Our printing services hold the G7 Master Qualification, a certification for the highest accuracy, consistency, and quality of full-color printing -- not to mention a 100% satisfaction guarantee by our team -- so you'll always be impressed with how your restaurant's rack cards turn out. Our professional printing and fast delivery make it so you can start promoting your specials and events as soon as possible.
Get Started!
Start designing your new rack card with any of these templates below.