Make Fourth of July Flyers with MustHaveMenus
Design a Fourth of July Flyer
When 4th of July is around the corner, it's the perfect time to capitalize on some good ol' marketing tools to get customers excited about your holiday deals... and what better tool than MustHaveMenus' versatile flyers? Stockpile an arsenal of flyers at your restaurant business to hand out to eager customers so they can spread the word, and leave them all around town so you can catch the holiday shoppers and secure some potential patrons! There's no way you could go wrong when you use MustHaveMenus' 4th of July flyers.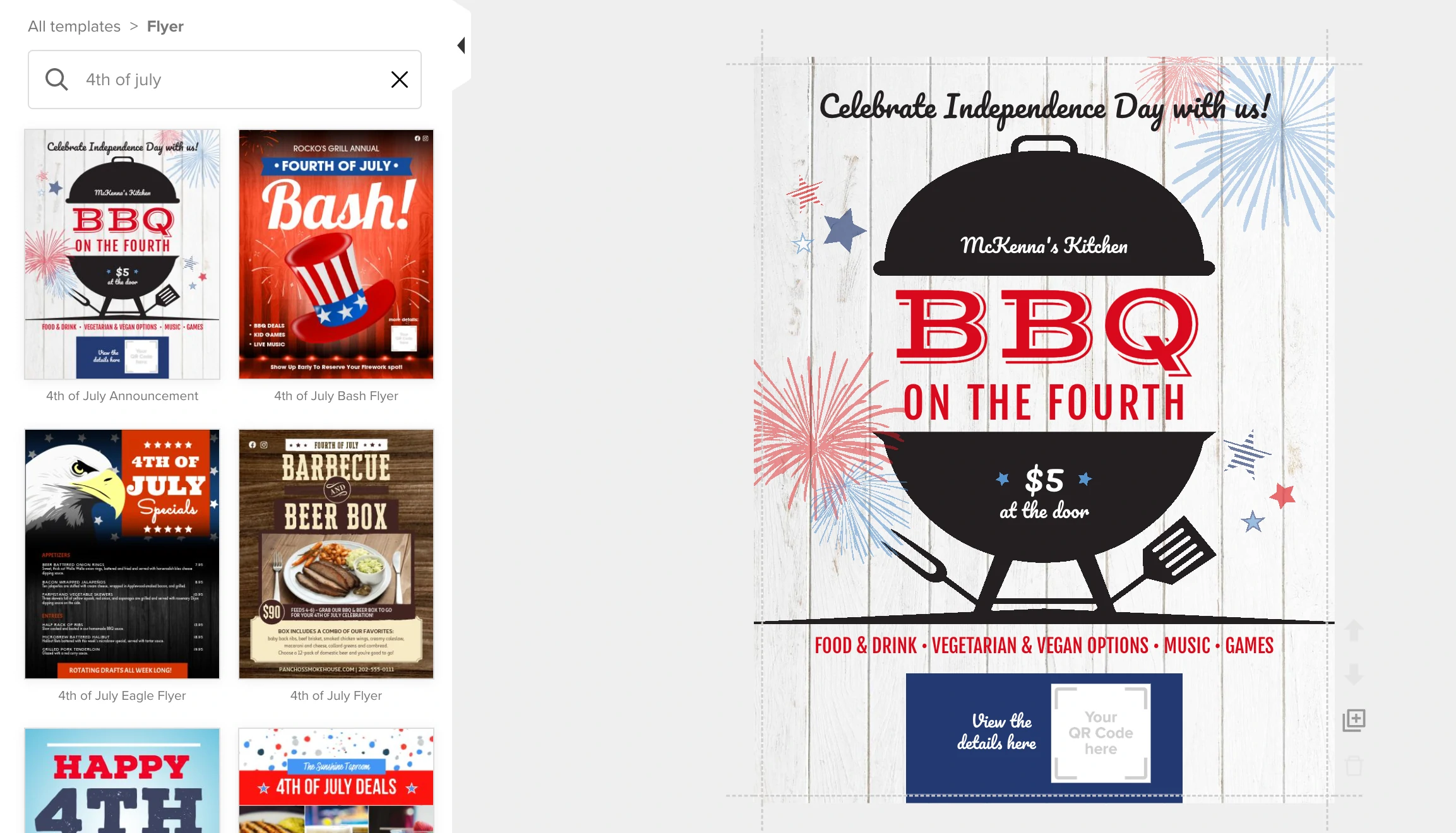 Get ready to realize all your design dreams, because our easy-to-use design tool gives you the opportunity to add whatever customizations you like to a vast selection of template choices. Just follow the steps below, and you'll be well on your way to becoming the best in the marketing world.
Make a Stunning 4th of July Flyer:
1. Choose a template. Fourth of July flyer templates should reflect the festivity and bravado of the holiday, and with MustHaveMenus' wide selection of templates, you can be sure that there will be one that fits your needs!
2. Change text. Add some more personality to your flyer with the text and font of your choosing. Describe a delicious grilled holiday special, or maybe use this opportunity to inform your customers of your temporary holiday hours.
3. Insert your logo. Since your flyers will be all over town, doing what they do best, you should include your unique logo to cement your brand in peoples' minds.
4. Add your own images. Engage the senses by including aromatic images of your holiday specials, and get your potential customers' appetites going. The possibilities with our comprehensive design tool are endless - you can add as many photos as you like.
5. Switch colors. Reds, whites, and blues seem like the obvious color picks for the Fourth, but our wide color palette selection will inspire you to innovate with whatever colors you like.
6. Order the prints. After you finish your Fourth of July Flyer, it's time to order the prints from our website. Your new flyers will arrive wherever you need them, as quick as the next business day!
7. Access your flyer at any time. Your design is saved to your MustHaveMenus account. You can edit it whenever you like.
Fabulous Fourth of July Flyers
Even though Fourth of July is just one day a year, our design team is always updating our template library with new designs, so you can be sure that you'll find something that you like! Our unique focus on restaurant businesses will prevent you from searching through hundreds of unrelated templates before finding your dream design. In addition to Fourth of July flyers, you'll have access to designs for summer flyers, 4th of July menus, BBQ flyers, and much more!
Create Fourth of July Flyers
Our innovative design tool will have you making Fourth of July flyers that will put you miles ahead of the competition! We build the templates from the ground up, and you decorate them with your finishing touches that truly make them your own. If you run into any problems, our amiable customer service team will be with you in an instant!
Print Fourth of July Flyers
Once your flyer is complete, head over to the print department, select a printing paper from our high-quality selection, and then order prints to your heart's content! Your exceptional new flyers will be ruling the marketing world in no time!
Get Started!
Start designing your new Fourth of July flyer with any of these templates below.