Make a Father's Day Flyer with MustHaveMenus
Design a Father's Day Flyer
Father's Day is when we honor our fathers for all they do, and what better way to honor them by taking them out to a nice lunch or dinner? That's what everyone's thinking - and that's why MustHaveMenus' unparalleled Father's Day flyers are the perfect way to capitalize on this opportunity! Our convenient flyer designs are based on hundreds of templates, each of which you can customize as much as you desire. Hand them out or hang them up anywhere you want, and these magnificent marketing materials will be advertising your Father's Day specials to all the fantastic fathers and their families out there!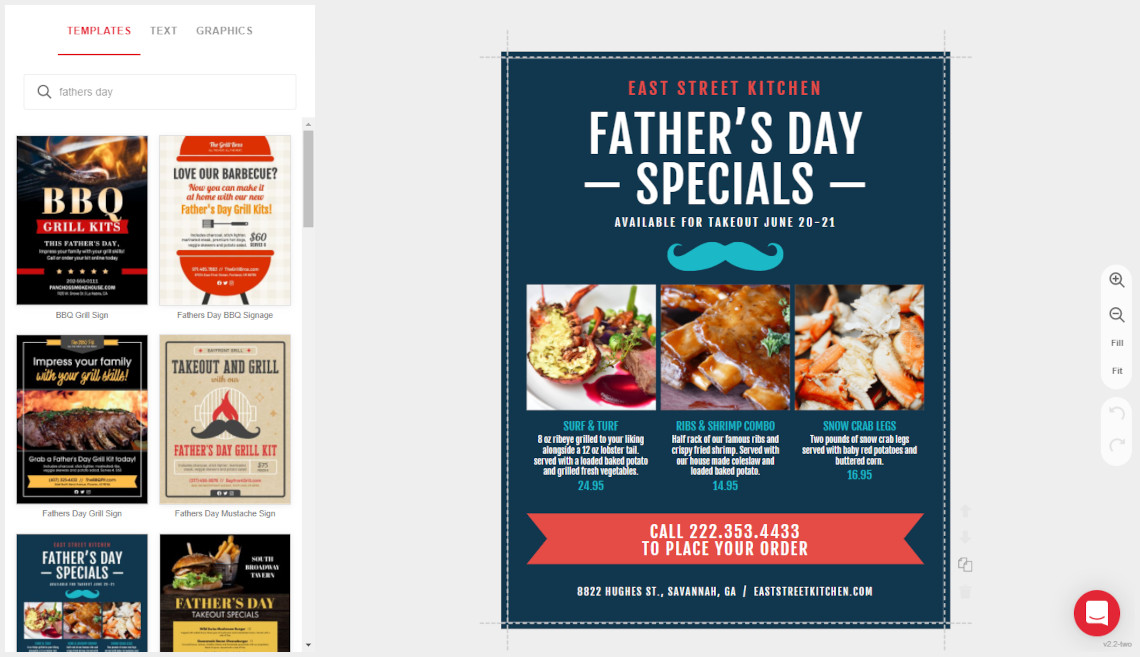 Make a Father's Day flyer on your own terms with our flexible and comprehensive design tool. Follow our design outline below as you wish, incorporate your finishing touches, and before you know it, you'll have the world's best marketing companion!
How to Design a Fantastic Father's Day Flyer:
1. Select a template. Our website is a hub for all kinds of restaurant templates, so you'll be sure to find a Father's Day flyer template that satisfies your needs.
2. Edit text. You've chosen your dream template... it's time to get down to business. The text feature of our design tool will be your best friend - add, remove, and change text boxes at your liberty to create your ideal design. You could maybe highlight your Father's Day deals, or include a sweet message to all the fathers out there!
3. Implement your logo and photos. The logo is the standard bearer of a restaurant business, so implementing it into your design is of the highest importance. Once you've dragged and dropped it anywhere you want, now's the time to move on to images. These are the eye candies of the design, so choose your favorite food items or a picture of a family enjoying their holiday dinner to entice customers.
4. Change colors. Unleash your inner artist with our wide selection of colors. The flyer design is your canvas, and nobody's judging, so feel free to get creative.
5. Order the prints. Once your Father's Day Flyer is a work of art, get ready to order the prints from our website. We boast a wide selection of high-quality printing papers, so knock yourself out.
6. Alter your Father's Day flyer whenever. The next Father's Day will come sooner than you think, so you gotta be ready to use your stunning design again - that's why we save all your designs permanently to your MustHaveMenus online account. Access them at your leisure.
Fabulous Father's Day Flyers
Our design team knows how important Father's Day is, so they treat their design creation with the same reverence! They're constantly producing designs for all kinds of restaurant businesses, and that focus will prevent you from getting stuck in hundreds of unrelated templates before finding your desired design. In addition to Father's Day flyers, you'll also have access to designs for restaurant posters, sandwich boards, table tents, and much more!
Create Father's Day Flyers
Make marketing marvels in the form of Father's Day flyers in just a few quick clicks with our intuitive design tool! If you have any problems on the way, then contact our amiable design team and they'll be right with you!
Father's Day Flyers Printing and Delivery
Need your new Father's Day flyers in a flash? Don't worry, because after you order the prints, our expeditious delivery services will get your beautiful new prints to you in as little as one business day. You'll be experiencing marketing successes like nobody's business before you know it!
Get Started!
Create your new Father's Day flyer with any of these templates below.