Cafe Business Card Maker by MustHaveMenus
Create a Cafe Business Card
It can be difficult to consolidate all of your cafe's best branding elements into one small, portable marketing companion, but the exceptional business card templates from MustHaveMenus make it easy! Our unparalleled business card templates will be your creative canvas - add your own customizations, and you'll impressing customers and vendors before you know it!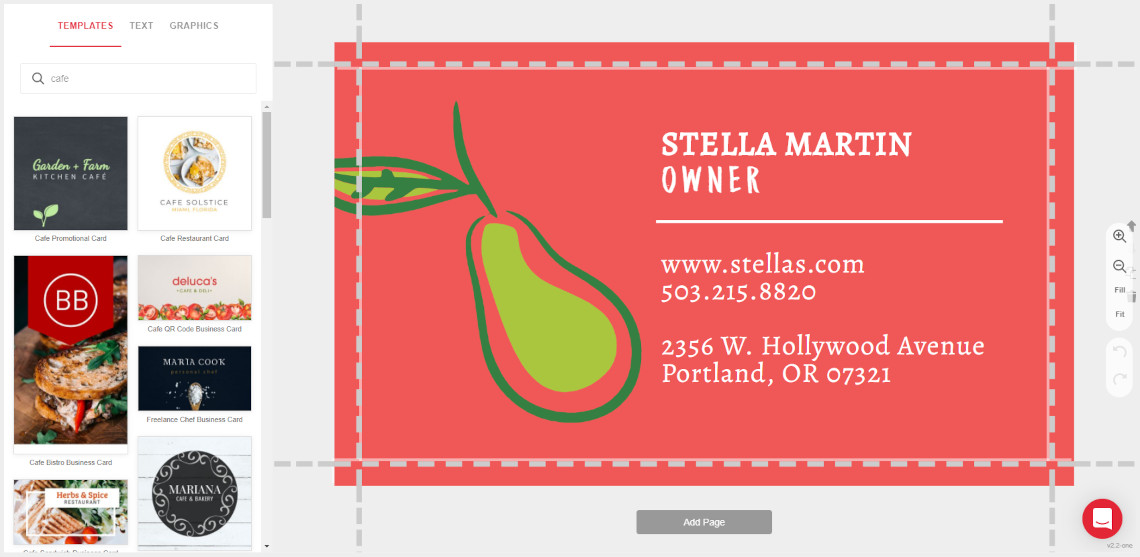 Create a cafe business card using our incredible drag-and-drop editing tool. Complete the easy steps below, and in just a few clicks, you'll have a beautiful new marketing tool that will have people contacting you in no time!
Design a Stunning Cafe Business Card:
1. Select a template. When you browse our wide selection of cafe business cards you'll see there's something for everyone. Choose a template that will fit your goals and your brand's aesthetic.
2. Edit text. You can personalize your business cards with the text and font of your choice. Remove text boxes to streamline your design or add text to engage your customers - whatever you see fit.
3. Add your logo and photos. With our easy-to-use design tool, you can quickly drag and drop your own images and logo anywhere you'd like.
4. Switch colors. Swap colors on the card to mimic your cafe's aesthetic, or experiment with new colors to evolve your brand's image.
5. Order the prints. Once your cafe business card is a finished product, you can order the prints through our print department. Your cards will arrive wherever you need them, in as little as one business day.
6. Change your cafe business card at any time. Your completed cafe business card is permanently saved to your MustHaveMenus account - access it whenever you need.
Magnificent Cafe Business Cards
Our design team is constantly creating business card designs to meet the needs of cafes and restaurant businesses. Our focus on creating marketing materials and business cards for restaurants makes it easy for you to locate the template of your dreams without searching through dozens of irrelevant designs. In addition to our business cards, you'll have access to our designs for logos, punch cards, Instagram posts, and many more!
Cafe Business Cards Creator
Create stunning cafe business cards in just a few clicks with our unmatched design tool. We'll do all the design process heavy lifting, then you add the finishing touches to fit the template to your brand, making it instantly recognizable for your customers. If you run into any problems, our helpful Customer Service team will assist you with anything you need.
Print Cafe Business Cards
You've finished your design - now select the printing paper you would like from our wide range of high-quality options, then order your new prints. We ship in as little as the next business day, so you'll be outperforming the competition before you know it!
Get Started!
Create your new cafe business card with any of these templates below.