Burger Menu Maker by MustHaveMenus
Create a Burger Menu
Looking for a menu with a little more meat on it? Check out our collection of beautiful, full-color burger menus for pubs, fine-dining, build-your-own burger restaurants, and much, much more.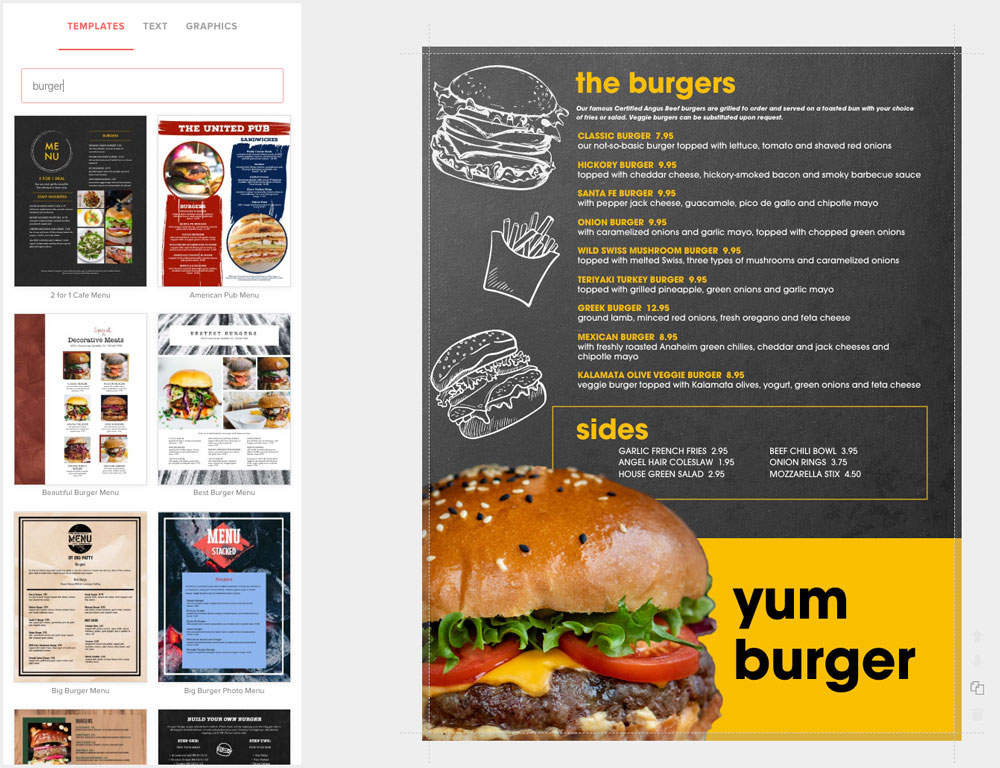 Creating a new burger menu is easy. Pick a template that fits your restaurant, customize it with our easy-use Menu Maker or Lite Editor, then download your PDF or order your prints. No design skills required to create the perfect menu to display your burgers.
How to Design the Perfect Burger Menu:
1. Find a template. Choose a template that works for you. We have designs for every burger menu possible, from high-end artisan burgers to fast food style cheeseburgers.
2. Add photos. With our Menu Maker, you can easily add and swap photos of your best burgers. Set a pic of each burger next to its description, include photos of your sides, and much more.
3. Insert your logo. Drag and drop your logo into the design. You can also add fun graphics of burgers, toppings, etc.
4. Edit the text. To change a text box, just select it with your mouse and enter your own menu copy. It's that easy.
5. Switch colors. Change the menu colors to match your restaurant's brands with just a few clicks.
6. Order prints. Once you've created the perfect burger menu, choose your paper type and order your prints. We ship next day!
7. Update whenever. Your design is saved to your account, so you can update your burger menu whenever! Update your logo, add in more sides or drinks, and much more.
Fun and Fresh Burger Menus
At MustHaveMenus, we're burger experts. We've spent over a decade partnering with restaurants that serve them, and we've spent a lifetime eating them. We put that experience into every one of our burger menu templates to create unique looks that elevate your presentation and round out your restaurant experience.
Burger Menu Maker
With our simple-design Menu Maker, creating a new burger menu is easy. Once you've chosen a template, you can customize it to reflect your burger selection and your restaurant's personality. Adding photos, uploading a logo, changing text and switching colors is straightforward and fast. If you run into any issues, our renowned customer service team is here to help you out.
Professional Printing
As soon as you're thrilled with your burger menu design, choose from our selection of high-quality papers, then place your order. We'll print and ship your new menus to you the next business day. It's that simple. You can also post your new burger menu online to enhance your restaurant's internet presence.
Get Started!
Start designing your new burger menu with any of these templates below.