Seafood Menu Maker by MustHaveMenus
Create a Seafood Menu
A food as diverse and unique as seafood deserves a menu that stands out and catches the eye. At MustHaveMenus, we have dozens of gorgeous, easily customizable menu templates for seafood restaurants, from oceanside cafes to oyster bars, crab shacks, and more. Find and design your new seafood menu today.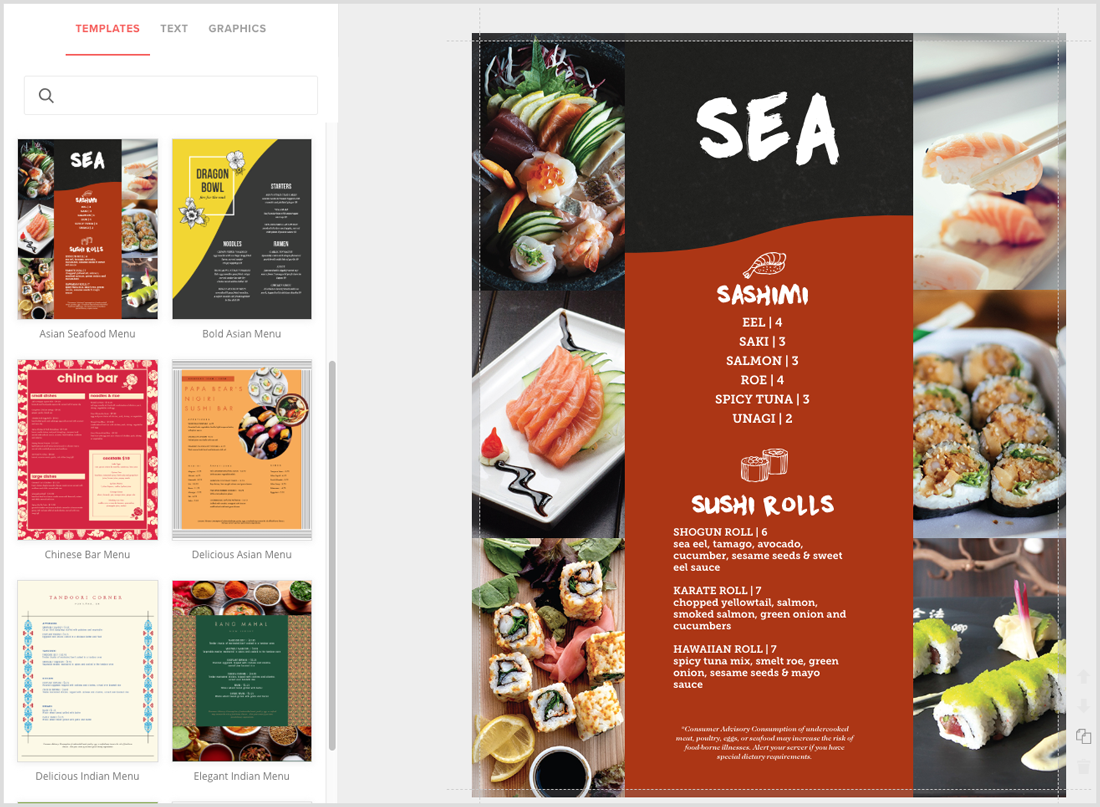 Designing your next seafood menu is easy. Pick a template that fits your restaurant, customize it with our easy-use Menu Maker, then download your PDF or order your prints. No design skills required to create a seafood menu that's perfect for your restaurant.
How to Design the Perfect Seafood Menu:
1. Find a template. Browse our collection of seafood menus to find one that works for you. We have menus for oyster bars, crab shacks, high-end lobster restaurants, and everything in between.
2. Add photos. With our Menu Maker, it's easy to add and remove photos. Show your salmon cooking on the grill or a delicious lobster lathered in butter.
3. Insert your logo. Your menu is an integral part of your branding, which is why we make it easy to upload and drop your logo into the design. You can also add fun graphics of crabs, fish, lobsters, etc.
4. Edit the text. Editing the text is easy and only requires a few clicks. Select the box you'd like to change, and type in your new copy.
5. Switch colors. Change the menu colors to match your restaurant's brands with just a few clicks. Add in blues and whites to simulate crashing waves, or tans and oranges for the beach.
6. Order prints. Once you've created the perfect seafood menu, choose your paper type and order your prints. We ship next day!
7. Update whenever. Your design is saved to your account, so you can update your seafood menu whenever! Include more photos, add sides or drinks, and much more.
Gorgeous Seafood Menus
At MustHaveMenus, we're food experts. We've spent over a decade partnering with restaurants that serve it, and we've spent a lifetime eating it. We put that experience into every one of our seafood menu templates to create unique looks that elevate your presentation and round out your restaurant experience. All of our seafood menus are created specifically for oceanside cafes, crab shacks, oyster bars, and any other restaurant that serves up fresh seafood, so you don't need to wade through hundreds of generic designs to find a seafood menu that fits you.
Seafood Menu Maker
With our simple-design Menu Maker, it's easy to create a new seafood menu. Once you've chosen a template, edit the text so that it represents your seafood spread and pricing. Add photos, upload a logo, change text and switch colors, all with a few clicks. If you run into any issues, our renowned customer service team is here to help.
Professional Printing
Once you've designed a seafood menu that you're thrilled with, choose from our selection of high-quality papers, then place your order. We'll print and ship your new menus to you the next business day. It's that simple. We also provide the option to post your seafood menu to your website to build your online presence.
Get Started!
Start designing your new breakfast menu with any of these templates below.