Free Social Media Posts for Facebook and Instagram
Create a Social Post
Want to easily promote your restaurant on Facebook and Instagram? Check out our library of free social media templates that are professionally designed to connect with your customers online.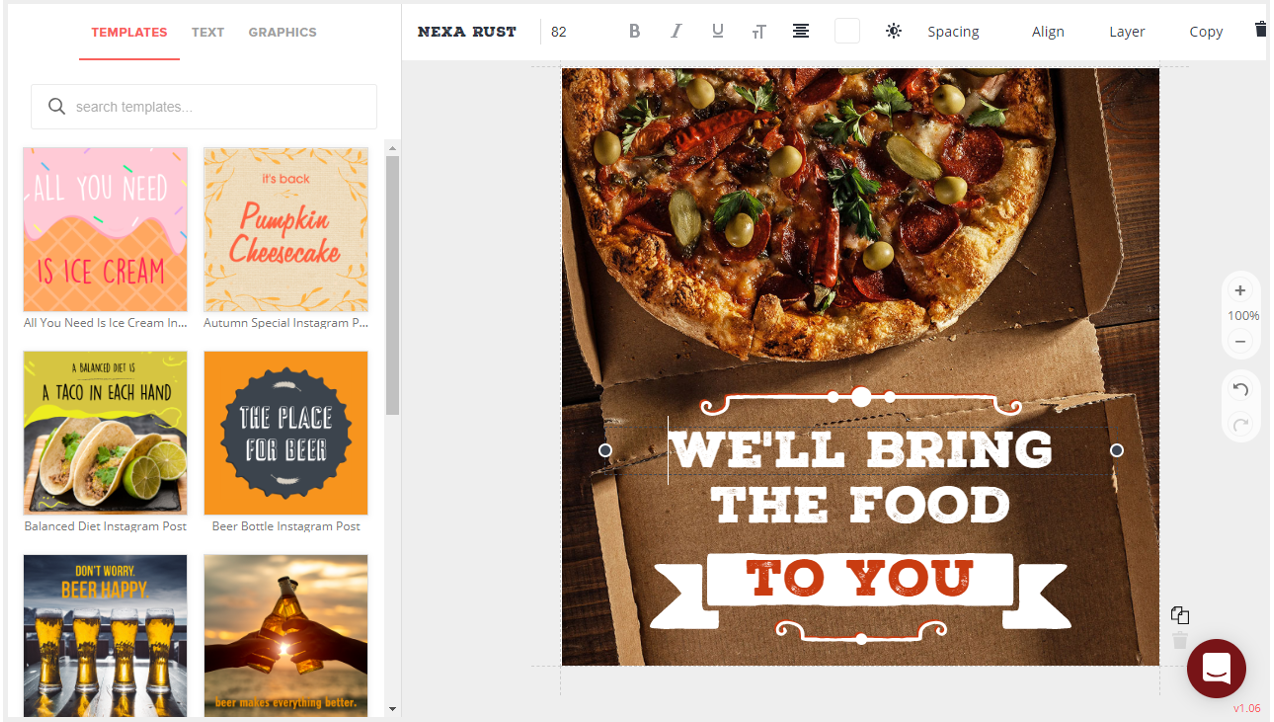 Easily customize your post with our drag-and-drop editor. Change colors, swap fonts, and add your own photos. Once you're thrilled with the design, you can post it straight to your restaurant's Facebook or Instagram pages for free.
How to Create Facebook or Instagram Posts for your Restaurant:
1. Pick a post design. Choose from our library of pre-made posts for Facebook and Instagram.
2. Add photos. Using our simple drag-and-drop editor, you add imagery to grab your followers' attention as they scroll by. Upload your own photos, or choose some from our library.
3. Edit text. Edit the text so it represents your business and your brand voice on social media.
4. Upload a logo. Make sure your brand stands out in the busy world of social media by uploading and adding your logo to the design.
5. Swap colors. Switch colors to make your post match your aesthetic and stand out from the grain.
6. Share. Once you're happy with your design, just post it to Facebook or Instagram. For free!
7. Update your design. Your social media post saves to your account, so you can edit your design or make a new one whenever you want.
Social Media Designed for Restaurants
Like most businesses, restaurants should have a social media presence. It's a great way to engage with customers, keep them up-to-date, and get their feedback. At MustHaveMenus, we design all of our Instagram and Facebook post templates for restaurants and their specific marketing needs.
Make It Your Own with Customization
Social media marketing is a great way to promote your restaurant and engage with your customers online. After picking a pre-made Instagram or Facebook template you like, it's easy to customize it with our drag-and-drop editor before posting it. Make it your own by adding photos, swapping fonts, adding filters, or changing colors.
Made to be Shared
Once you're thrilled with your design, just post it to your Facebook or Instagram. It's really that simple. Stop stressing about your restaurant's social media and see if any of our pre-made Facebook and Instagram templates fit your social media marketing needs.
Get Started!
Start your restaurant social posts with any of these templates below.