Create a Pizza Flyer with MustHaveMenus
Design a Pizza Flyer
We already know that your pizza pies are catching everyone's eyes - now you just need a beautiful marketing companion to show your beautiful creations to the world! Flyers are highly convenient marketing companions, whose size allows them to be plastered pretty much anywhere. You've gotta look good for your eager customers, so MustHaveMenus allows you to quickly create a gorgeous flyer from a selection of hundreds of outstanding templates. Customize your template to your heart's desire, order the prints, and show off your new marketing materials to all your eager customers!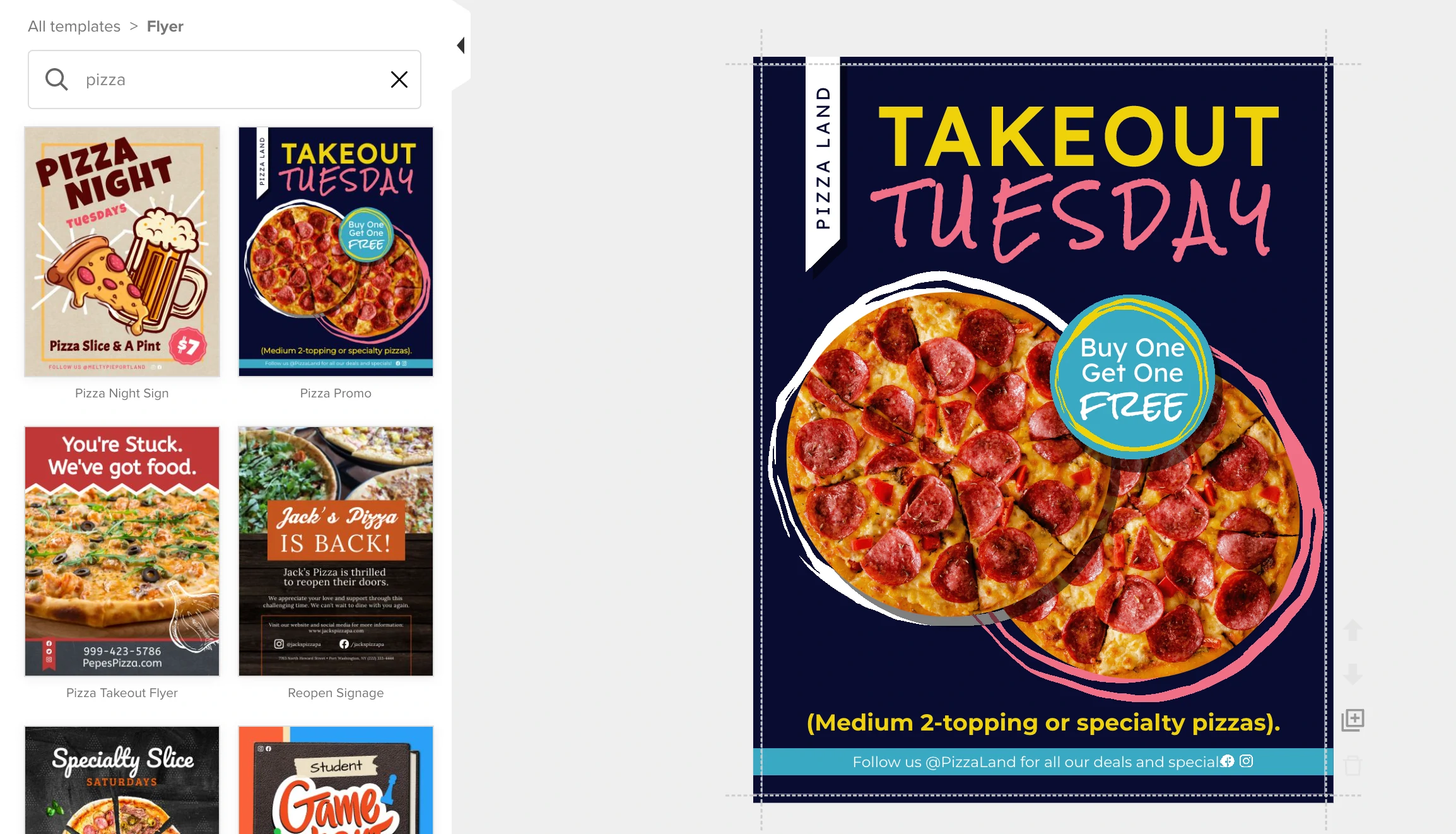 Design a pizza flyer with little effort and in little time with our exceptional design tool, and get ready for marketing success after marketing success! Just follow the design steps below, create your print order, and you'll be on top of the marketing game in a flash!
Make a Perfect Pizza Flyer:
1. Pick a template. To get started, browse our vast selection of pizza flyer templates. There are plenty of options, but you'll know it once you've found the design that you think will complement your business most effectively.
2. Include your logo and photos. Say "cheese", because it's time to incorporate photos of your cheese-tastic pizzas into your design. Photos will get customers' appetites soaring and only increase their excitement for dining at your pizza place. Your logo is also highly important, so you can drag and drop your insignia wherever you see fit.
3. Change text. Having pizza images on your design can often seal the deal for an eager customer, but don't forget the importance of text. With our arsenal of stylish fonts, you can focus your customers' attention on your delicious pizza deals, or maybe highlight a new product that is coming soon.
4. Swap colors. Brighten up your pizza flyers with our color palette. Maybe you want to use primarily reds and yellows to enhance the colors of your pizza images, or draw on your inner artist and go all out with a rainbow of colors.
5. Order the prints. Once your pizza flyer is a high-flyin' finished design, order the prints right from our accessible website. Your flyers will show up in as little as the next business day, wherever you'd like them.
6. Alter your pizza flyer whenever. We know that your new pizza flyer is close to your heart, so we'll save it permanently to your MustHaveMenus account, right at your fingertips! Edit it at your leisure.
Priceless Pizza Flyers
Our design team is the best of the best - and once you get lost in the template section of our website, you'll see why! They're constantly cranking out designs for all manner of restaurant-related templates, so you won't have to worry about getting stuck in a sea of unrelated templates. When you sign up with us, you'll have access to designs for pizza menus, BBQ menus, Italian menus, and much more!
Create Pizza Flyers
Design pleasant pizza flyers with no blood, sweat, or tears using our unmatchable design tool! Choose a template, add your customizations, order your new flyers, and voila! You're done! If you run into any problems, let our friendly customer service team know and they'll be with you almost instantaneously.
Pizza Flyers Printing and Delivery
You're at the home stretch, and there's just one more thing to do! Access our printing feature, select the printing papers you want, and order the prints! You'll have your flyers in short order, ready to wow your customers and your competition. We can't wait to see you again for all your design needs!
Get Started!
Create your new Pizza flyer with any of these templates below.