Make Instagram Stories with MustHaveMenus
Make an Instagram Story
Have updates to share on social media? With our Instagram story templates, it's never been easier to update your followers on the fly! These stories are sure to get people to pause and take a closer look, and are the perfect way to let them know about events, updates, deals, and more. Oh, and did we mention? They're free!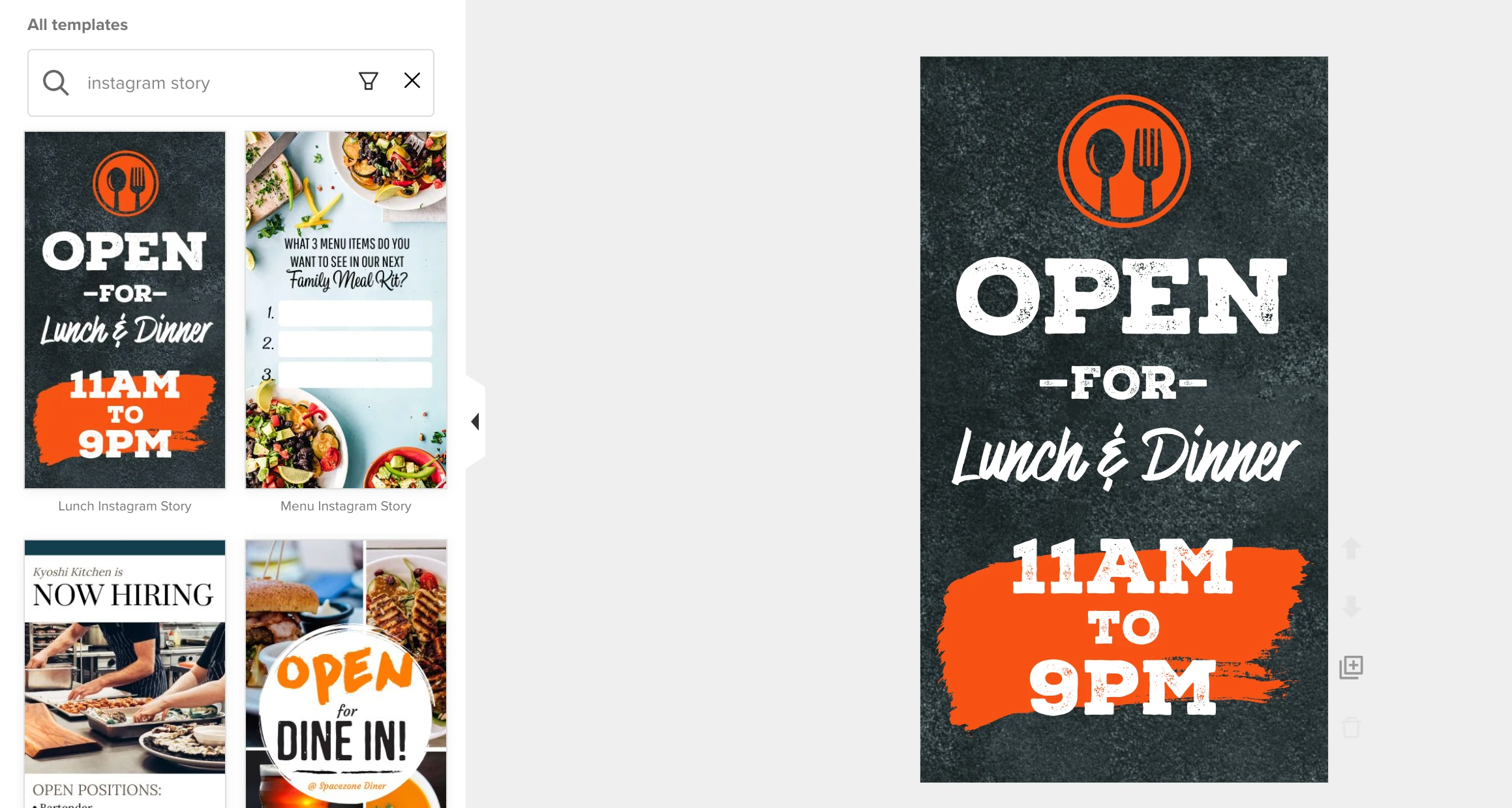 Our quick and easy design tool allows you to create show-stopping stories in minutes. Simply choose a template, make edits to text and colors, insert photos, then share. Some templates won't even need edits and are ready to be shared as is.
How to Create Attention-Grabbing Instagram Stories:
1. Choose a template. Pick from tons of professionally-designed Instagram story templates to find the perfect one for your restaurant's announcement.
2. Edit text and colors. Click on the text boxes and replace with what you need. Keep it simple, and add a fun or clever message to make your update stand out from the rest.
3. Insert your photos. Drag and drop photos of your tantalizing food that will get customers jumping to leave Instagram to call you and place an order.
4. Share with ease. Once you've finished your edits, simply download the design and share to your Instagram. You can use the image right away or save for later use.
5. Make changes at any time. Your Instagram story is saved to your account so you can always come back to make a quick edit whenever you like.
Instagram Stories Designed for Restaurants
With years of experience in restaurant design, we know what it takes to create quality social media templates that will impress. And no need to sort through a bunch of unrelated templates, our designs are created with you in mind. We understand the fast-paced nature of your business, and the need to quickly update your followers online, so our Instagram stories are designed specifically by our expert team with few edits required. In some cases, you may not need to edit at all! Plus, you'll have access to all our other social media templates, stickers, business cards, and more.
Professional Design Tool
With our intuitive drag and drop design tool, it's easy to make an Instagram story that best reflects your restaurant's style and vibe. Just choose a one-of-a-kind story template and alter it to incorporate your unique logo, colors, photos, and message. In a few clicks of your mouse, you'll be ready to download and share. If you have any issues, don't hesitate to contact our Customer Service team and they'll help you create your ideal Instagram story.
Easily Share to Instagram
Once your design looks great, you can download the image to your device, open the Instagram app, and share your new Instagram story. You can also share the link which allows others to view your design or link it from your website. It's easy and you can do it all with MustHaveMenus for free.
Get Started!
Start designing your new Instagram story with any of the templates below.