Holiday Menu Designer by MustHaveMenus
Create a Holiday Menu
Celebrate the next holiday with a specialty menu from MustHaveMenus. We have professional menu templates for every holiday, including Valentine's Day, Mother's Day, Christmas, New Years and more. Choose the template that best fits you restaurant, and then customize it with our easy-use Menu Maker.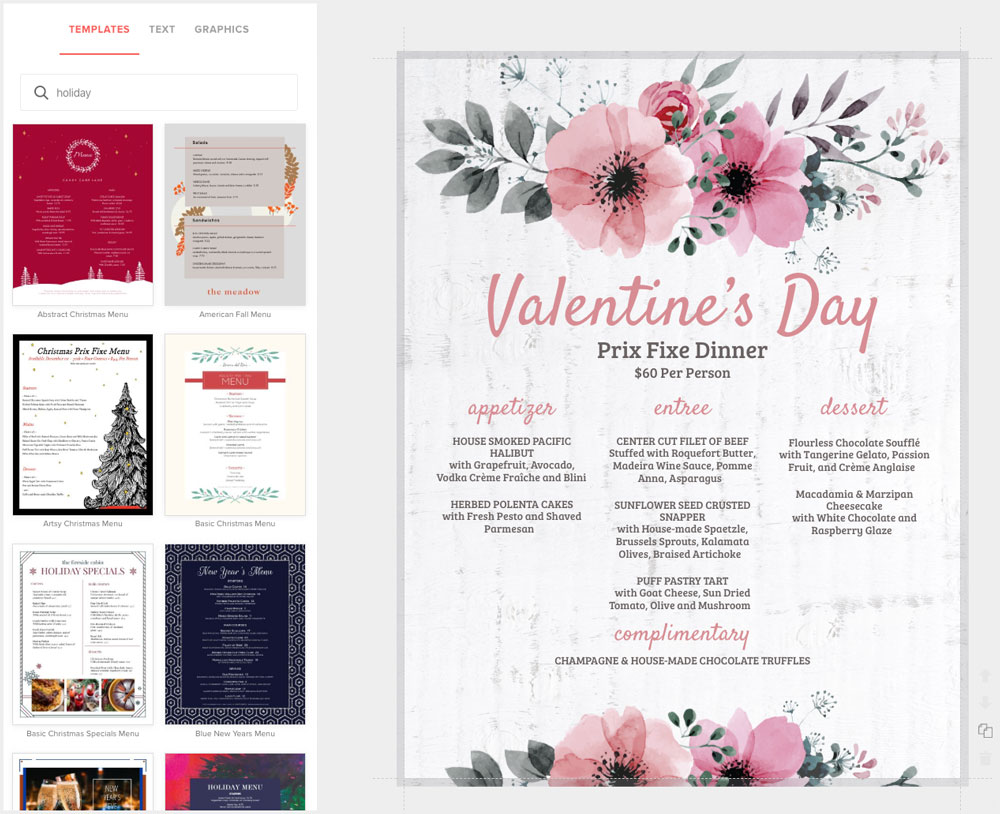 Entice customers to come to your restaurant for the next special occasion with our Holiday Menus. Make the menu a reflection of your restaurant and your holiday specials with a professional template. Our restaurant templates and easy design editor make it easy to find and customize a Holiday Menu that's perfect for you.
How to Create the Perfect Holiday Menu:
1. Choose a template. Choose a holiday menu template that works for you. We have you covered for all major holidays, and most of the minor ones as well.
2. Add photos. With our Menu Maker, you can easily add and swap photos of your best holiday dishes. Show off your massive turkeys and delicious Christmas roasts.
3. Edit the text. Changing the menu text to represent your holiday offerings is simple. Just click on a text box, and type in your new information.
4. Insert your logo. Drag and drop your restaurant's logo into the design. Specialty menus should match the rest of your brand.
5. Switch colors. Change the menu colors to match your restaurant's brand with just a few clicks. While our templates are designed to match the holiday's colors, there's also room to include some of your own.
6. Order prints. Once your menu is ready for your holiday, just order your prints. We ship next day, so it's easy to get menus fast and ready for the holiday.
7. Update anytime. Your holiday menu design is saved to your account so you can make edits and updates whenever!
Holiday Specials Menus
At MustHaveMenus, we specialize in food service and restaurants. All of our templates are created for restaurants, so you don't have to search through hundreds of generic templates to find one works for your restaurant and your holiday celebration. Edit it to include your special food dishes and holiday messaging, then order prints.
Holiday Menu Maker
Build your own Holiday menus for every occasion with our online Menu Maker. It's easy to customize your menu for any restaurant and any holiday! Just select a holiday menu template, then edit it to include your logo, food photos, font and more. If you run into any problems, our Customer Service team is here to lend you a hand.
Print and Share Holiday Menus
Once you're thrilled with your menu design, place your order and we'll ship the holiday prints right to your door. You can also download a PDF and post your menu online. Next day shipping!
Get Started!
Start creating your new holiday menu with a template below.