Make a Restaurant Gift Certificate with MustHaveMenus
Make a Gift Certificate
Help customers give the gift of your food to their friends and family with gift certificates customized for your restaurant! Gift certificates are great for bringing in extra cash, building customer loyalty, incentivizing repeat business, and expanding your brand.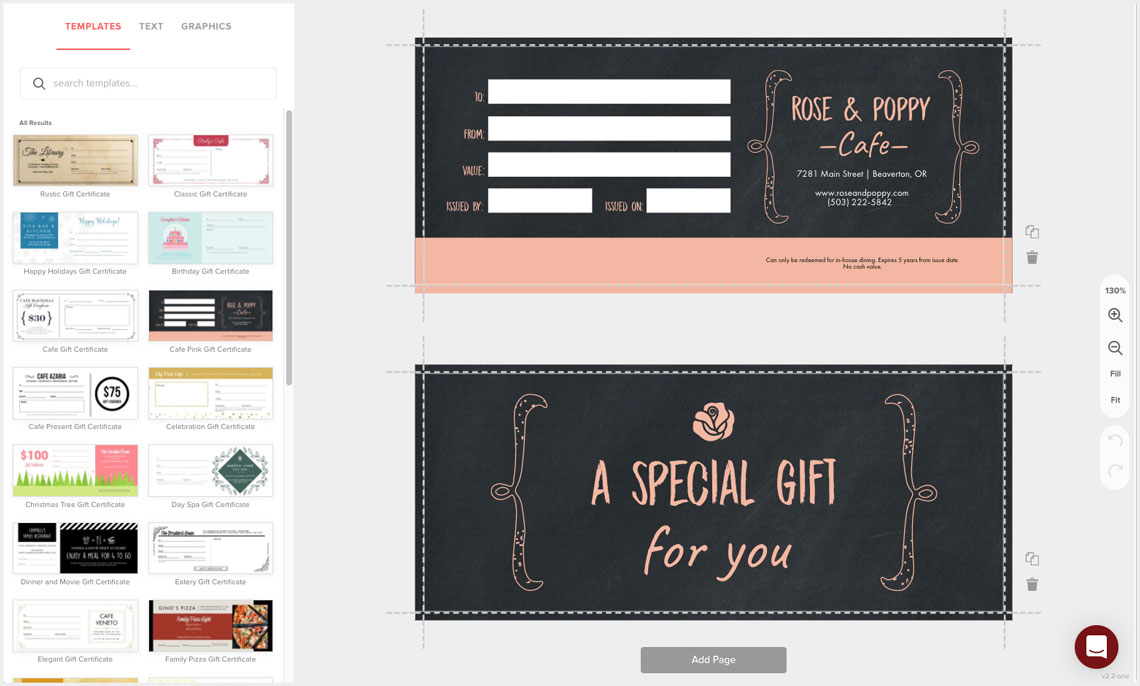 Using our state-of-the-art editing tool, it's easy to create impressive gift certificates. Choose a template, insert your own logo and images, alter colors, edit text, and change fonts to easily create professional-quality gift certificates for your restaurant.
How to Create Gift Certificates for Your Restaurant:
1. Select a template. Choose from our collection of professionally-designed restaurant gift certificate templates designed for any occasion. Choose from designs that reflect your business to celebrate birthdays, feature special events, promote certain items and more.
2. Edit text. Replace text with your own by clicking on the text boxes and adding the sections you need. Most of the designs will only require a few quick edits and you'll be on your way.
3. Upload your logo and photos. Include your logo by dragging and dropping it anywhere onto your certificate. A great option is to insert graphics or professional photos of your menu items to add some flair and get customers excited to come in.
4. Change colors. Feel free to change or add colors as you see fit. When possible, highlight your restaurant's unique color scheme to further solidify your brand in customers' minds.
5. Order prints. Once your design looks great, order your new professional prints through our top-of-the-line print services. They'll arrive ready to use, right to your door. Place them anywhere where they are easily accessible or visible. Envelopes are included with your order.
6. Come back whenever you need. Your restaurant gift certificate is saved to your account so you can make changes at any time.
Gift Certificates Designed for Restaurants
Our exceptional graphic design team creates our gift certificates specifically with restaurants in mind so whatever your specialty is, you can count on finding a restaurant gift certificate that fits your needs -- no sifting through hundreds of irrelevant templates. Plus, you'll have access to all our other designs for loyalty cards, QR code templates, punch cards, social media templates, and more.
Gift Certificate Design Tool
With our drag-and-drop design tool, it's easy to make a gift certificate that's unique and customized to your restaurant. Just choose a professionally-designed gift certificate template, and alter it to incorporate your logo, fonts, colors, and content. If you have any issues, our friendly Customer Service team is ready to help you create the perfect certificate for your business.
Gift Certificate Printing and Delivery
When you've designed the gift certificate that's right for you, all you have to do is order the prints and we'll cover the rest. Our gift certificates are printed on a thick cardstock with a noticeable weight that is sure to impress your customers. We hold the G7 Master Qualification for printing, a certification for the highest accuracy, consistency, and quality of full-color printing -- plus a 100% satisfaction guarantee from our team -- so you'll always be amazed with how your restaurant gift certificates turn out. And fast delivery of our products means you'll be bringing in more business in no time!
Get Started!
Start designing your new gift certificate with any of these templates below.